We use affiliate links. If you buy something through the links on this page, we may earn a commission at no cost to you. Learn more.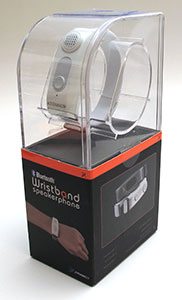 We all know that due to safety reasons, we shouldn't talk on cellphones when we're driving. That's why some states have instituted laws that prohibit holding a phone up to the side of your head to talk while driving. They require hands-free devices like visor mounted speaker phones and Bluetooth headsets. Today I want to show you another alternative – the Atomic9 Bluetooth Wristband Speakerphone.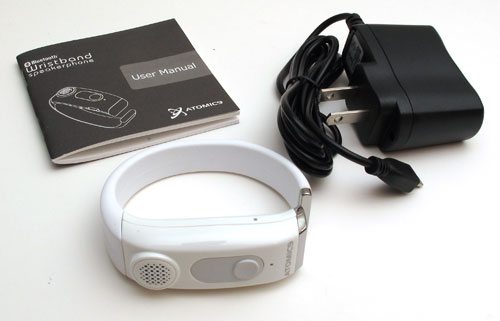 Package Contents
Wristband Speakerphone
User Manual
AC Adapter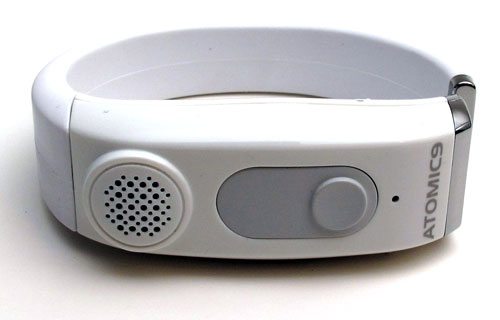 The Atomic9 wristband is available in White or Black. As you can see, I was sent the White version. It is made of plastic with a somewhat flexible band that is split to slide over your wrist.
The top surface has a speaker, a multi-function button and a status LED. The top button powers the speaker phone on /off as well as pairing and answering/ending calls. You can also use it to redial the last number or transfer audio back to your phone. As with all multi-function buttons, you just have to remember how to do all those commands with one button. I pretty much forget all the commands except the most basic.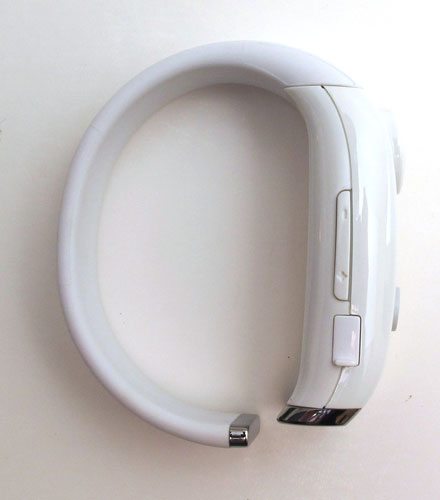 One side has the volume up/down button and AC adapter port (which is protected with a little door that is tethered to the wristband with a short piece of plastic.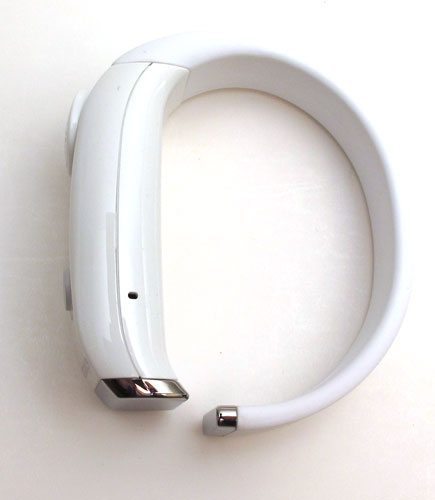 Never miss one of our posts again. Sent MON, WED, and FRI with the latest gadget reviews and news!
The microphone is located on the opposite side of the wristband.
The chrome colored parts aren't anything special, they are just for show. The bottom part of the wristband can pull open so that you can slide your wrist into the slot.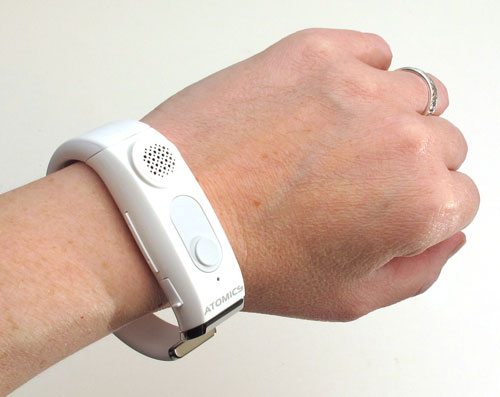 Once on your wrist, the size / fit of the wristband can't be adjusted. My wrist is pretty thin (5.5 inches), so it kind of flops around a little bit.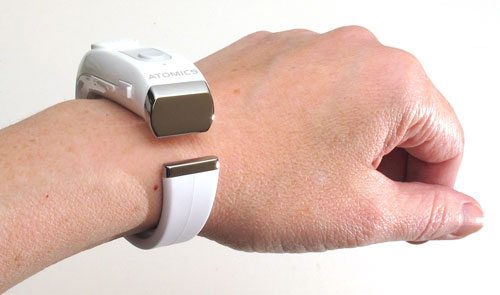 Just to note, the way I'm wearing the wristband in these images is incorrect. The microphone is pointing away from me, which is obviously the opposite of what you want. 🙂  In my tests of this product, I did have the microphone on the correct side. Let's hear it in action.
Ok, time for a sound test. Below is an audio clip of the Atomic9 Bluetooth Wristband Speakerphone in action. This will give you an idea of what it sounds like to receive a call from someone using this device. I used the free voicemail / fax service from K7.net for this test. I signed up for a free account, got a phone number and called it using a Motorola Droid X while paired with the Atomic9 speakerphone. The resulting voicemail was then emailed to me. Pretty nifty! At test time, the phone had full signal strength. Click to listen.
atomic9-driving – WAV file (524K)
From the sample, you can hear a little clipping of the audio. In real use, I found that the speaker is just adequate. I could hear the person on the other side of the conversation, but to do so, I would have the volume cranked almost up to max, which would sometimes overdrive the little speaker. In quieter locations, it works a little better, but for driving (even with the windows up and the radio off) it's not so great. The sound quality could be improved if the speaker was on the side of the device (like the microphone) instead of pointing straight up.
People on the other side of the call complained that I didn't sound very clear or that I sounded like I was in a can.
For me, the only time I would use a speaker phone like this one, would be in a car. I would not wear this into Walmart and talk into my wrist when someone would call me. I be considered a geek, but I'm not THAT much of a geek 😉
After testing this device for a few days, I've come to the conclusion that I prefer visor mounted speaker phones over one like this. They seem to do a much better job as far as audio on both sides of a conversation – and, you don't have to worry about the fit.
If you would like to check out one for yourself, the Atomic9 Bluetooth Wristband can be purchased for $99.99 from Amazon.
Product Information
Price:
$99.99
Manufacturer:
Atomic9
Pros:
Cons:

Sound quality isn't very good on either side of the call
Can't adjust the fit
Speaker should be on the side instead of top