We use affiliate links. If you buy something through the links on this page, we may earn a commission at no cost to you. Learn more.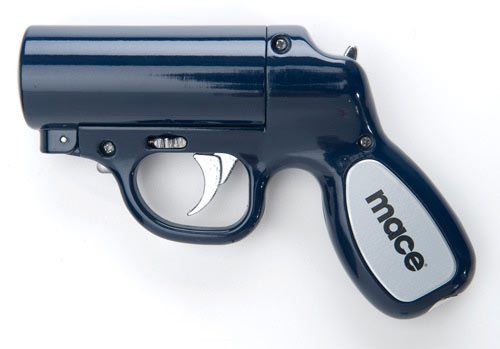 For the third time in a month, my dog has been attacked by other dogs (unleashed) while out on our walks.  I started carrying a pepper sprayer after the second incident but this last time I could not get it whipped out fast enough, determine where the nozzle was, and could not fumble for the trigger, which requires you to rotate it before it can be squeezed.  So I started looking for an alternative and bumbled upon the Mace Gun.
It uses a disposable pepper (0.74 Capsaicinoids) cartridge and has an LED light.  The site even lists water cartridges so that you can practice without actual pepper.
$50.99 at SafetyGirl
The site also lists several holsters for the gun.
UPDATE
A few folks commented on the color of the gun, it does come in a few other colors: