The Gadgeteer is supported by readers like you! If you buy something through links on our site, we may earn an affiliate commission at no cost to you. Thank you! Learn more.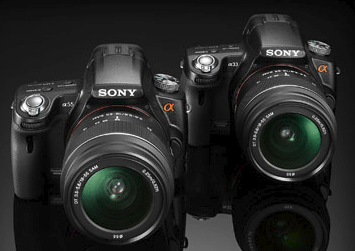 Sony just announced their latest cameras in the Alpha line of DSLRs, the a55 and a33. Both utilize a new technology that uses a translucent mirror that does not have to move resulting in maximum frames per second of 10 from the a55 and 7 from the a33. They both can record 1080 60i compatible video in AVCHD: 1920 x 1080 (59.94i recording, 29.97 fps image sensor output / Average bit rate 17 Mbps) or MP4: 1440×1080 (29.97 fps / Average bit rate 12 Mbps) , 640 x 480 (29.97 fps / Average bit rate 3 Mbps). The a55 has a 16.2 megapixel sensor and the a33 has a 14.2 megapixel sensor. Both are APS-C sized sensors rather than full-frame.
Both are available for pre-order. The a33 body-only is listed at $649.99, or $749.99 with an 18-55mm lens. With an estimated ship date of 9/15/2010. The a55 body-only is $749.99 or $849.99 with an 18-55mm lens with an estimated ship date of 10/10/2010.
I was hoping for an Alpha camera that supported video before I needed to replace my aging a100, but I was disappointed to see they use SD or Memory Stick media rather than Compact Flash. This is not quite the same old Sony story of using their own format (the SD option is standard in point and shot cameras) but I would have preferred Compact Flash which supports higher capacity, faster speeds, and better value over SD and Memory Sticks. It appears they are only using Compact Flash in their full-frame DSLRs now (though my old a100 is Compact Flash).
Their website includes more information on the new features of the cameras. The focus performance looks spectacular. The video on the SonyStyle site is pretty impressive as well. I've embedded below:
These look like very strong additions. I can't wait to hear how well the new mirror design works. I worry what impact it could have on exposure, since it will obviously block some of the light that would normally get to the sensor. And I am disappointed by no Compact Flash.