We use affiliate links. If you buy something through the links on this page, we may earn a commission at no cost to you. Learn more.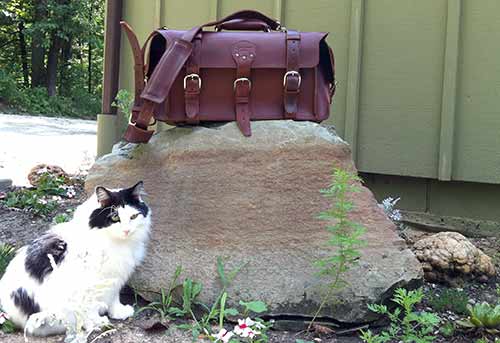 We've reviewed quite a few Saddleback Leather Company bags, pouches and cases over the years. I'm a big fan of their rustic good looks and their rugged last-a-lifetime construction. Today I want to show you their Duffel Overnight bag. This is the biggest bag they've sent me so far and wow, you can sure pack a lot of stuff in it.
Note: Most of the images in this review are clickable. Click to see a larger version.
As with their other products, Saddelback constructs their bags to last forever. This one is made with 100% waterproof full grain boot leather 4-5oz. (2-2.2 mm) thick. This is thick stuff folks. It will take a missile to pierce this cowhide. I bet you could drag it behind a pickup truck on a gravel road, hose off the dust and dirt and it wouldn't be any worse for the wear. 😉
The Duffel / Overnight bag is available in 4 colors, including Carbon Black, Chestnut, Dark Coffee Brown and Dark Tobacco Brown. I was sent the Chestnut version.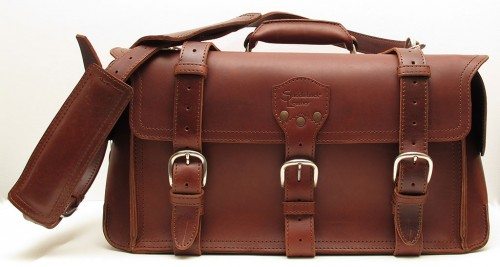 Like I mentioned above, this bag is large: 22″W x 11″H x 12″D (55.88cm x 27.94 x 30.48cm) End pockets on each side are 2 1/2″D (6.35cm).
The top flap is held closed by 5 buckles. The 3 on the front and the 2 on the side. This keeps your contents secure, but it also means that you won't be able to quickly open the duffel with that many buckles to deal with.
Two thick straps on either side of the center buckle, wrap all the way around the bag to strengthen and stabilize it.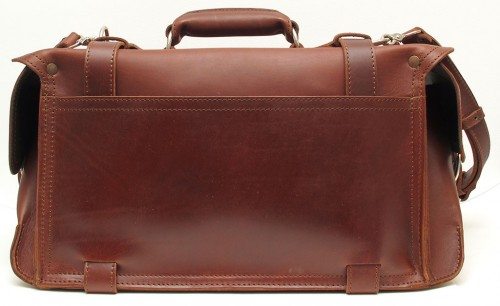 You'll notice the large leather wrapped handle on top of the bag, that will allow you to easily grab it off a baggage carousel or trunk of your car.
In the image above, you can also see that the top flap extends beyond the sides like a roof, to keep rain, dirt and dust out of the main compartment.
The back of the bag has a large horizontal slot that can be used for magazines or other flat objects.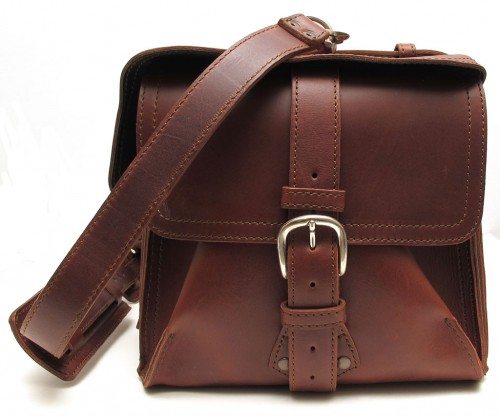 Both sides of the duffel have a roomy flap covered pocket that is large enough for all sorts of items. Just to give you an idea of the size of these pockets, I was  able to stuff in 3 cans of Diet Coke.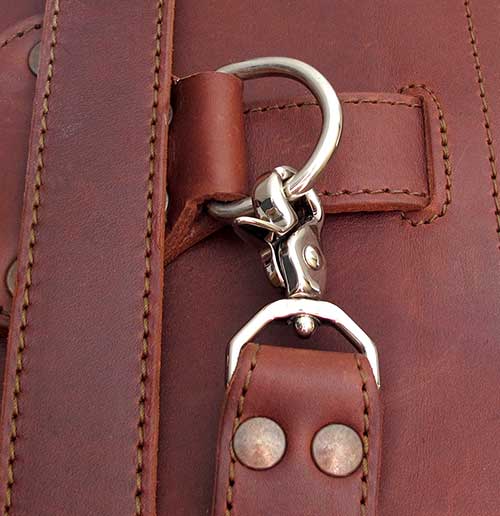 A thick shoulder strap with two pads is included with the bag. The straps are  attached with strong clips.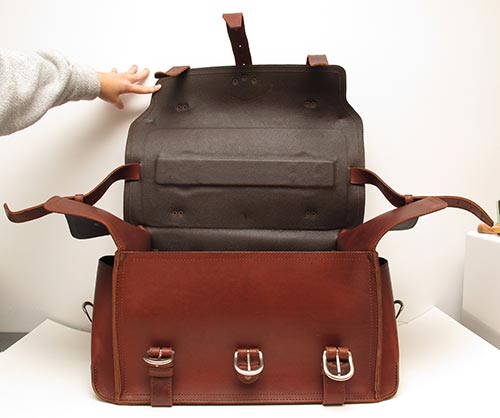 I mentioned earlier that in order to open the main bag flap, you have to unbuckle 5 separate buckles. Three on the front and one on each side. If I have one complaint about this bag, that is it. Also, the way the bag is designed, when you open the flap, it also pulls open the side pockets.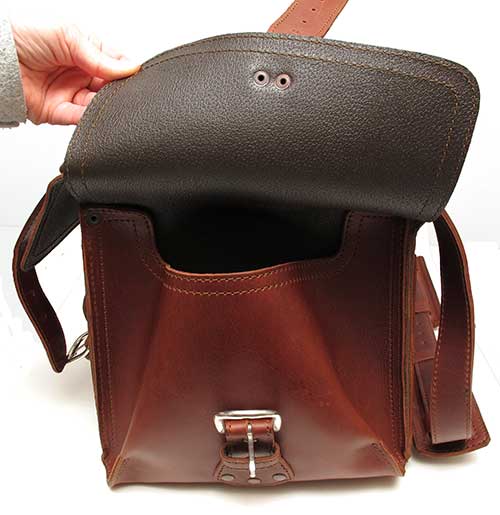 I understand their reason for the design, but in my opinion, the side flaps get in the way when I want to access the main compartment and I'd rather they remain closed.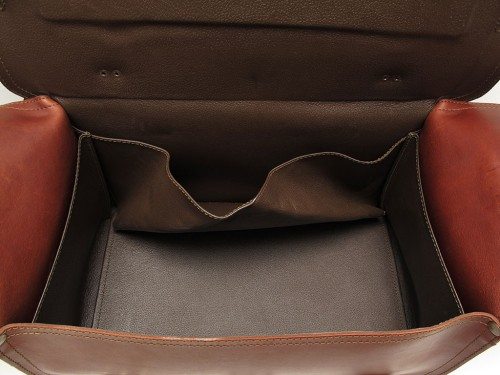 The main compartment is one large open area with three open topped side slots. The two side slots are flat to the bag, but the back slot is larger. One thing I didn't like with my bag is that the leather used for the back pocket is very stiff and misshaped. I would much rather see a softer more flexible leather used for this part of the bag.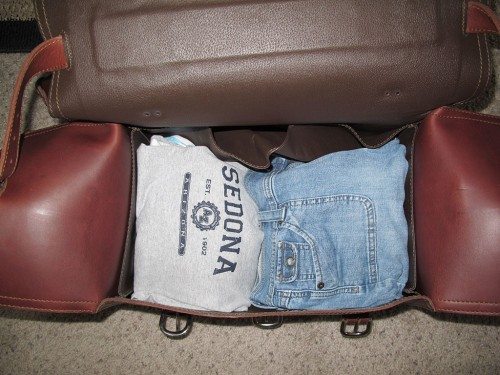 To give you an idea of how much stuff you can cram into the duffel, here it is with 7 folded t-shirts and 3 folded pairs of blue jeans. There is still plenty of room for other items, so it does make a great overnight bag.
But like all of Saddleback's bags, this one is heavy even before you start filling it with your stuff. When empty, it weighs in at 10 lbs. 7 oz. on my scale. I definitely would not be carrying it on my shoulder. I wish it had built in wheels. If I were going to use this bag for traveling, I would most likely use it with a small folding 2 wheeled hand cart.
The $500 price tag is substantial, but I'm sure that people who buy designer luggage pay a lot more than that for their Louis Vuitton junk. Sorry, I've never been a fan of LV stuff. Saddleback Leather bags are more my style and from the leather, to the marine quality thread, to the hardware used to construct their bags, you get what you pay for.
Note: The links to Saddleback Leather Company on this page are affiliate links. If you use one of these links to make a purchase, we will earn a small percentage of the sale, so we appreciate it if you click through.
Product Information
Price:
$537.00
Manufacturer:
Saddleback Leather Company
Pros:

Rugged
Built to last a lifetime
Lifetime warranty

Cons:

Heavy
Interior leather pockets are stiff
Too many buckles for main flap