We use affiliate links. If you buy something through the links on this page, we may earn a commission at no cost to you. Learn more.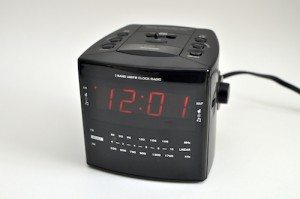 At one point or another, we all find ourselves in a situation where it would be beneficial to be a fly on the wall; whether it's to figure out who it is that keeps stealing Netflix envelopes out of your mailbox, to keep an eye on the babysitter, or to reveal an even more unfortunate deceit, we all eventually find a need to have a view into someplace that we can't always be.  Fortunately, there's a spy camera out there for every such need, and the fine folks at Spy Gadgets were kind enough to provide me with a review sample of one of their newest pieces of surveillance equipment, the Infrared Spy Camera Cube Clock from Spy Gadgets.
Specs:
Video Resolution: 720×480 / 320×240

Frame Rate per Second: 1, 2, 3, 5, 15, 30fps
Video Compression: MPEG-4
•Video System: NTSC
Camera: CCD-Black and White LOW LUX .0001 – Color is Day and night Auto Switching CCD Low Lux .05 color camera switching to black and white CCD low Lux .0001
Video Recording Mode: Motion 150 grids user selectable, Continuous, Overwrite, Scheduled
Play back: Multi-playback with event search function
AV out and SD card play back on Windows media player version
Embedded Time/Date Stamp: On video and Position Selectable
Storage Media: 32 GB SD (support SDHC)
Control: IR remote control
Firmware Upgradeable: Through SD card
Operating Temperature: 0~+50°C

High Def resolution 1080 x 720 coming soon
First Impressions
First off, let me just say that what I received in the box isn't exactly what I was expecting.  I've seen spy gadgets before, and the unfortunate majority of them are a tiny, low-resolution camera jammed into some sort of device that looks sort of like an innocuous household item, but still bears some tell-tale signs that something isn't right:  an AC adapter with a SD card slot in the side for some reason, or a landline telephone that would look out of place in most modern homes.  Imagine my surprise when I opened the box to discover a perfectly normal-looking clock radio.  The styling is relatively modern, the device is entirely functional as a clock-radio, and unless you were to pick it up and give it a thorough examination, there is nothing to suggest that it is anything other than a regular clock-radio.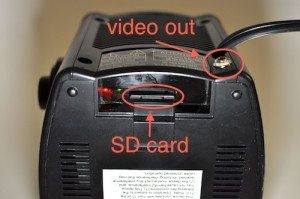 So what are the giveaways?  Well, for starters, one of the recessed holes for the case screws has been replaced with a jack for video output.  The other is that the backup battery compartment has been re-purposed as a home for the SD card slot (though it is important to note that the battery compartment cover conceals even this from casual inspection).  So yes, if someone were looking for a spy camera, this would not stand up to a thorough inspection.  But in any other case, this device is entirely incognito.
Before receiving the review sample, I had presumed that the various settings would be controlled through series' of button-press combinations, as so often seems to be the case with lesser spy camera devices.  Fortunately, I was wrong:  the video out jack provides a view of the setup menu, which is navigated with the included remote control.  This is preferable both because it is a very easy way to adjust settings, and also because it allows for a very broad range of configuration options — which this unit has in spades.
Setup and features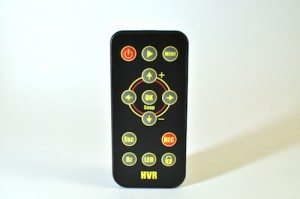 Setup using the on-screen menus was a piece of cake.  I simply plugged the included video cable into the jack on the back of the device and into the V-AUX composite port on the front of my home theater receiver, and plugged the Cube into the power outlet, and I was greeted with a full-screen view of what the device's camera was seeing.  Pressing the "menu" button on the remote brought up the settings menu, and though the included manual does a good job of detailing what each setting does, I found most of them to be fairly self-explanatory.
The configuration menu allows you to select recording resolution, frame rate, and video quality, and in doing so you are given a rough estimate of the amount of video that you can store on the currently-inserted SD card.  The Cube is capable of always-on recording, or only when motion is detected.  Motion-sensitivity is configurable, which I expected, but what I did not expect is that you can set "active" areas in the camera's field of view.  For example, perhaps you have a pet that may wander into the camera's view, but that you don't want to trigger a recording.  You can make the area at the bottom of the camera's view "inactive", and any motion that occurs in that area will be ignored, and will not trigger the motion detector.  Or perhaps your curtains tend to flap in the breeze.  That area can be deactivated  so that the motion of your curtains is ignored.  The active and inactive areas are presented as a grid of squares, so you really can customize the motion detection to whatever suits your purpose.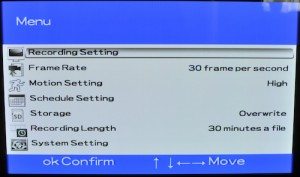 Another unexpected setting is the recording schedule:  you can set up special schedules on a day-by-day basis.  For instance, you can turn recording off completely during the hours that you are normally home, while also forcing always-on recording during a specific window of time on Tuesday morning, and scheduling motion-activated recording only during the weekend.  It's extraordinarily flexible, and thoroughly impressive.
The Cube also allows you to set a maximum recording time for each video file.  The default 30 minute setting, for example, will force the creation of a new video file after each 30 minute mark is reached.  This is nice, not only because scanning through several hours of video is tedious, but also because it could be beneficial in the case of a power outage, which would otherwise render the ongoing recording corrupt and unusable.  In addition, you can specify how the device handles running out of space on the SD card.  You can simply have it stop recording when it's full, or you can have it continually overwrite the oldest recording.
Recording quality
While the video that this device produces isn't up to the standard of what you'd get from a DSLR (or even most higher-end webcams), it's still fine for its intended purpose.  Faces and objects are easily identifiable, and the camera provides a wide-angle view, capturing a sizable portion of any room it's placed in.
One of the touted features of this device is its IR recording capability, and for good reason.  A series of IR light sources are located behind the front panel of the clock radio, emitting IR light that is invisible to the naked eye.  The camera records in full color normally, and when it becomes too dark, it seamlessly switches to a black-and-white camera.  This doesn't require stopping the recording, it just switches midstream, without a hitch.  As the available light becomes less and less, the IR output contributes more and more to lighting the scene.  Even in complete darkness, the IR source is able to produce enough light to illuminate most of what the camera can see.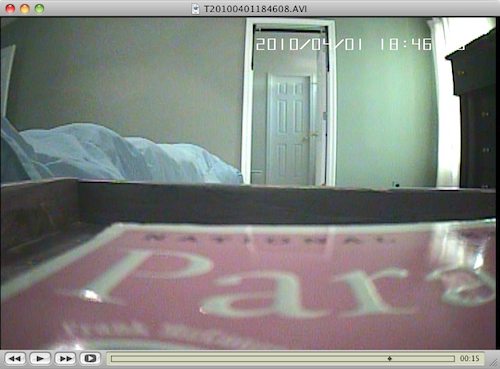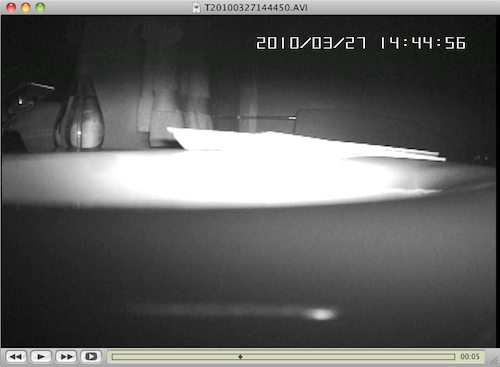 See it in action
Potential issues
Though easily the best, most capable, and most configurable spy camera I've ever laid hands on, the Infrared Spy Camera Cube Clock is not without its issues.  First of all, cutting power to the device results in corruption of the video file that is currently recording.  Manual recordings can be stopped with the remote prior to unplugging the device, but when in motion detection mode, this basically means either getting completely out of the way of the camera and standing still for a few moments prior to pulling the plug, or draping a towel or other cloth over the device so that the camera can detect no motion.  Either way, this is just another reason to make judicious use of the Recording Length setting.
Another issue is that, in commandeering the battery backup compartment, Spy Gadgets has left the clock radio without any sort of backup power.  This means that any time you unplug the device, you will have to set the time the next time you plug it in, or leave it blinking 12:00 like that VCR at your grandparents' house.  This is a minor issue, but annoying, considering that you have to unplug the device in order to remove the SD card safely.  I want to point out that I am speaking only of the display clock on the clock radio here, and not the internal clock used by the spy camera… the internal clock seems to have a backup battery of its own, as it still seems to maintain the proper date and time even after multiple unpluggings and repluggings.
I also have a couple of issues concerning the video output.  For one, this is the only way to set the "active" areas for motion detection, but the only way to really set this up correctly is to hook the video output up to a TV while the clock radio is set up in the exact position where it will be during recording (otherwise, you're just guessing about which areas on the grid correspond to which spots in your recording area).  Unless you happen to be setting it up very near a TV or happen to have a small portable TV at hand, this is going to be difficult at best.  The other issue here is that video output is provided as composite video only, using a special TS to RCA cable.  In an age where everything is going HDMI, and content owners are trying their hardest to close "the analog hole", the Infrared Camera Cube Clock Radio is in danger of becoming unusable for most people.  I'd really have preferred to see some other form of modern video output, such as HDMI or DVI.  Certainly, there are composite video to HDMI converter boxes out there, but they can be expensive, and having to haul out a converter box and its associated cables just to spend five minutes configuring one device seems unnecessarily complicated.
One final, minor issue: the price.  At over $600, this is not a surveillance device for casual use.  In fact, one might be tempted to try to assemble something for less with a netbook, a webcam, and the proper software, but even then one wouldn't get the ability to record in complete darkness.  The price is justified by the array of features and just how flexible this device is overall, but it's still a lot to swallow.
Conclusion
Despite the few issues that I found, the Spy Gadgets Infrared Spy Camera Cube Clock is a quite robust, feature-rich, and capable surveillance device.  If you need to keep a watchful eye on a specific area for extended periods of time — in light or dark — this is a fantastic solution.  I look forward to seeing Spy Gadgets include these same internals in other devices that would be at home in places other than a bedroom or home office.  A digital picture frame would be a natural fit, given that it effectively has a display built-in.
The Infrared Spy Camera Cube Clock is currently available from Spy Gadgets for US$649 (down from $699).
Product Information
| | |
| --- | --- |
| Price: | $649.00 |
| Manufacturer: | Spy Gadgets |
| Pros: | A plethora of configuration options, good video quality, completely incognito, records in total darkness |
| Cons: | video out only through antiquated composite video, no battery backup for clock-radio, can't stop motion detection recording manually, expensive |