We use affiliate links. If you buy something through the links on this page, we may earn a commission at no cost to you. Learn more.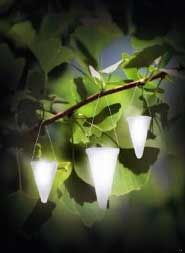 LEDs aren't just for flashlights in your pocket or lightbulbs in your home. They can also be an easy way to add some flare to your garden without having to run wires or even use electricity to power them. Today we are going to take a look at 3 different solar powered LED garden lights from Britta Products.
Hanging Solar Garden Light
We've all seen outdoor LED accent lights that are designed to stick in the ground, but here's one that you can hang from a tree, deck railing, etc.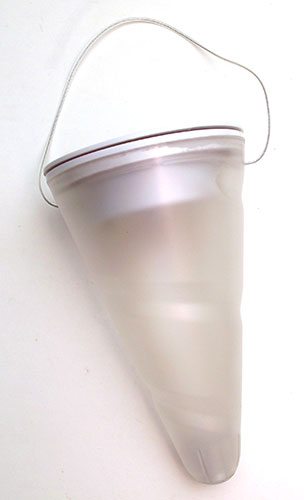 These frosted plastic cone shaped lights come in a set of 3. Don't they remind you of a Christmas ornament?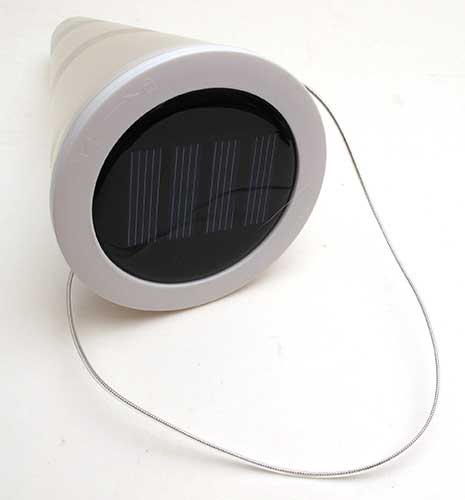 This light is made of two parts. The opaque cone and the solar cell / battery / LED housing. As you can see, there's also a plastic coated cord that is used to hang the light.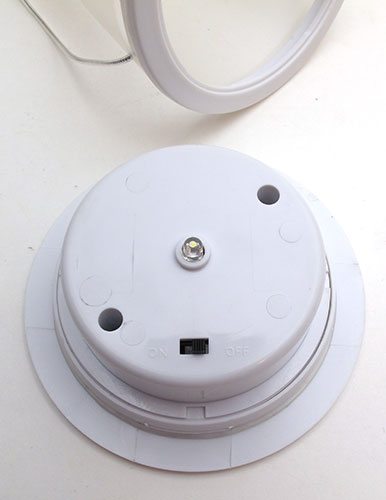 The battery / solar cell housing pulls out of the cone so that you can turn the light on and off for storage. You can see the LED bulb in the center of the housing.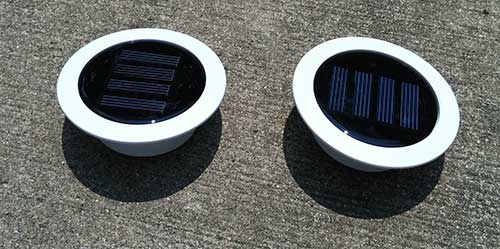 Because these lights are solar powered, you have to charge the internal batteries with the sun. The instructions that are included with the lights suggest at least 5 hrs of direct sunlight. So that's what I did.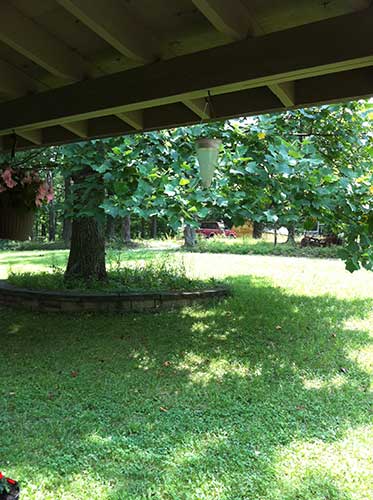 After the charging time was complete, I hung the lights from the roof of my covered porch and waited for night to fall. All of these lights have circuitry that only turns on the LEDs when it's dark outside.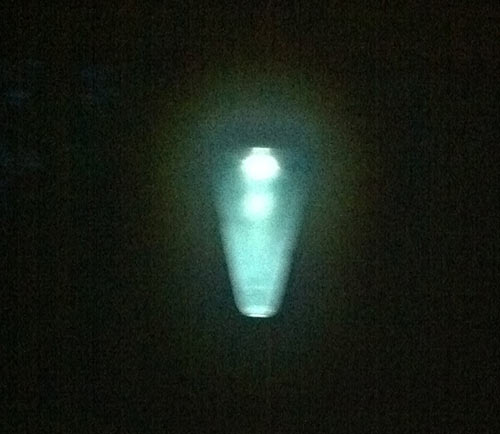 Once night fell, the lights started glowing. Sorry for the crummy image. It's difficult to take pictures in the dark.
These lights don't put out a lot of light, so don't expect to be able to read with them. They are just accent lights.
I was able to get 3 nights of enjoyment from them before the internal batteries were completely drained. Since the lights were hanging under the roof line, they did not get any direct sunlight during the day to keep the batteries charged. That's something to consider before buying them. Hanging lights are very unique, but the fact that you have to make sure they get a few hours of direct sunlight, might make them more trouble than they are worth if you have to take them down every few days to recharge them.
They are available from Amazon in a set of 3 for $39.95.
Solar Ray Garden Path Light
These light are more traditional as far as how they are located in your garden. They stick into the ground. That's were the traditional design ends, because they look very futuristic.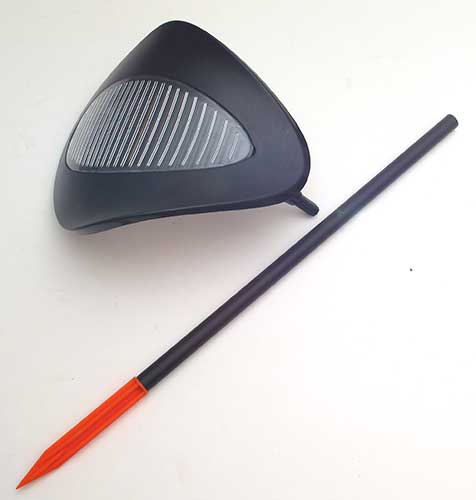 The lights have two parts. The light itself and then metal and plastic stake that sticks in the ground.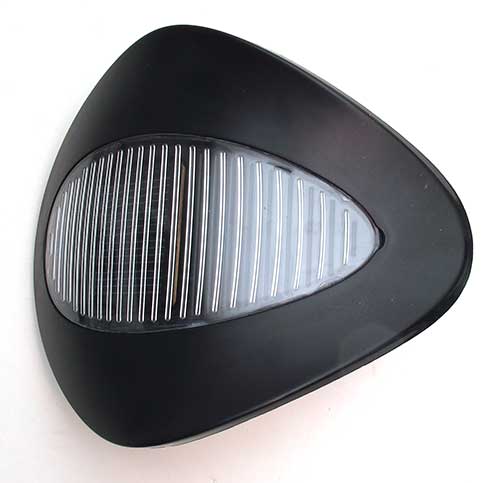 I call this the cobra light because it looks like the head of the poisonous snake. Their design / style probably isn't for everyone. The person I live with says they are hideous 😉
The light head is made of Black plastic, with the large solar cell on top.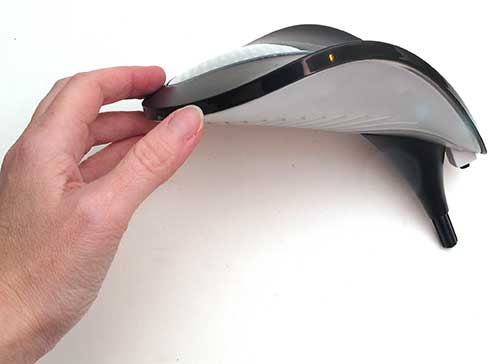 These lights are larger than most that I've seen before, but they are light weight.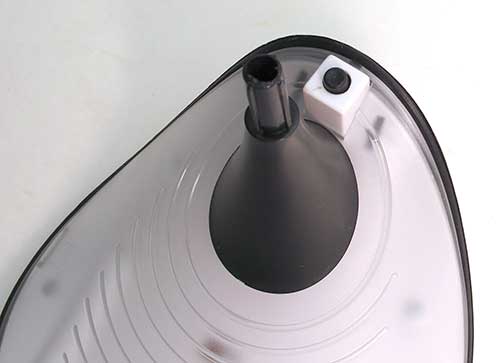 Behind the stake post, there is an on / off switch.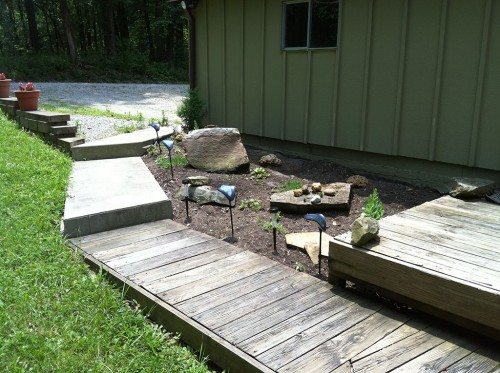 Like the cone shaped light, this one also needs to be charged before it can be used. These lights are easier to manage as long as you locate them in an area where they can get a few hours of direct sunlight each day. You can click the image above to see how I arranged them next to my side walk.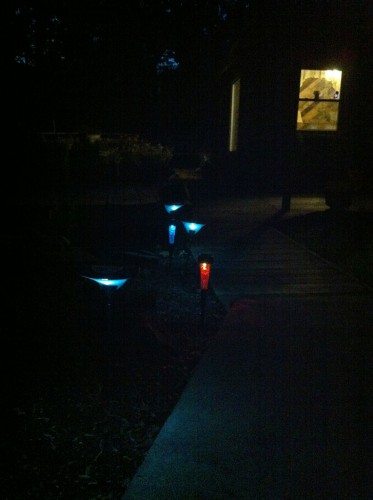 Here they are in the dark along with the multi-colored lights that I'll talk about next.
I haven't had any issues with these lights and I do like that they turn on at dusk instead of when it's pitch black out.  That said, I'm not really a fan of the way they look. They look too modern for my rustic setting / style. But that's just me.
They are available from Amazon in a set of 4 for $39.95.
Solar Multi-Colored Garden Path Light
I saved the best for last… These lights are my favorites because they don't just glow white (you can switch them to white only though), they have a cool color cycling feature.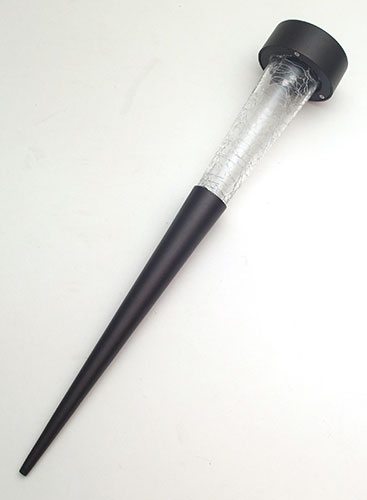 They are one piece with a metal wrapped stake and a snowflake glass light housing. These lights feel much more robust than the other two.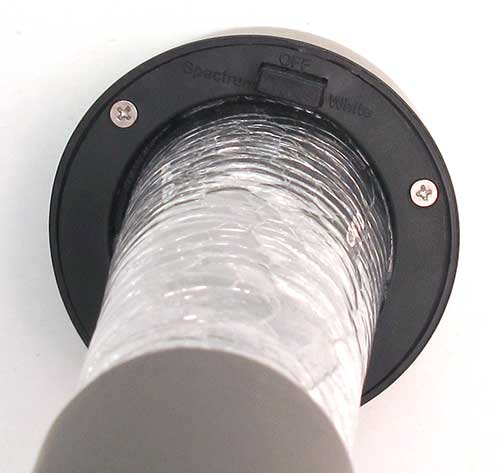 There's a switch on the underside of the solar cell that controls power and the white vs. color cycling feature.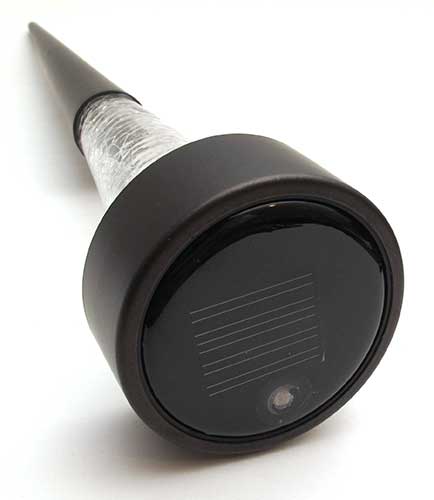 After you charge the solar cell in the sunlight for several hours, you can enjoy the unique color feature of these lights, that cycles red, blue, green and all the colors in between.
See it in Action
Like I mentioned above, these are my favorite of the 3 lights reviewed here. The only thing I don't like about them is that they don't come on till it's very dark outside. Other than that, they are unique and add a cool touch to your garden.
They are available from Amazon in a set of 2 for $19.95.
Product Information
Price:
See review
Manufacturer:
Britta Products
Pros:

No wiring needed
Multi-Colored Garden Path Light has color cycling feature

Cons:

Requires several hours of direct sunlight to keep the internal battery charged