We use affiliate links. If you buy something through the links on this page, we may earn a commission at no cost to you. Learn more.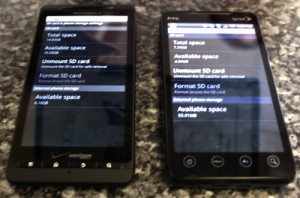 The upcoming release of the Droid X on Verizon is an obvious answer to Sprint's EVO phone. When I received the phone, I arranged to meet with Craig (who posted on the Palm Pre previously). My goal was not to declare some kind of winner, but to look at how the two phones compare. These are part of the crop of 1 GHz Android phones that includes the HTC Incredible, and the upcoming Samsung Galaxy S (under different names with different carriers). I will look at the EVO and Droid X first, and then discuss why you may not want to cancel your Incredible order yet.
Droid X and EVO Size
Both phones sport a 4.3″ screen, and are quite large. The Droid X is a touch taller and is a little thinner on it's thin part, and a little thicker on the end with the camera:

This is going to sound weird, but these phones are at the same time startlingly huge, and not too big. I can understand why some folks might find it to be too big, but I don't. And the screen real estate. Wow. It will be hard to go back. Here is a shot of the backs: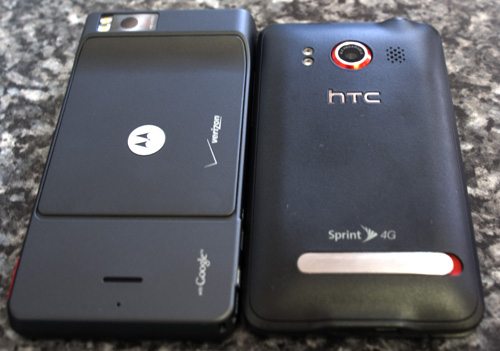 Controls
I love the fact that the Droid X has physical buttons for menu, home, back, and search. Craig commented that he was surprised how hard it was to push the buttons after getting used to his EVO. It's not an issue with the Droid buttons, but the fact that he is so acclimated to the buttons on the EVO now. One big advantage of the Droid X (for me) is the inclusion of a camera shutter button. It makes the camera app more accessible (long-touch launches camera app). No physical start and end call buttons though.
Benchmarks
I am not a HUGE fan of benchmarks. I think we can obsess on them at times. But it is a somewhat objective measure. Craig had picked some benchmarks. One was Neocore, which surprisingly does not report a score. But we ran them side by side, and the Droid X slowly pulled ahead. It shows a 3D animation. Another benchmark was the Fps2d to test graphics. On this one, the Droid X buried the EVO: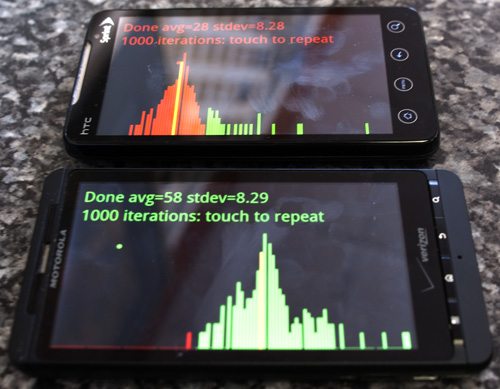 It looks like this is due to a hardware setting that pegs the EVO at 30 fps. So this appears to be an issue that can be fixed. The Droid X averaged 58 fps, and surpassed 60 at times. The final benchmark was BenchmarkPI. The Droid X beat the EVO slightly here as well.
I did promise to share the one victory for Craig, the Network test. We used Speedtest.net. The EVO crushed on download speeds (and we are not in a 4G city). But, as Craig pointed out, that just proved that his Sprint phone got better reception in La Mexicana in Newport, KY than my Verizon phone, at that time. I found that this test varied greatly on scoring, though I was not able to approach his 1607 download on any of my attempts on 3G.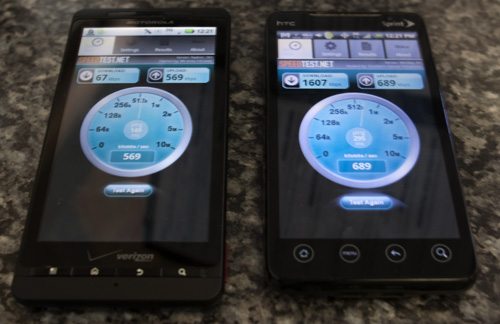 So those are the stats. The Droid X comes out ahead, but not enough to make it a clear winner, at least in my opinion.
EVO Perks
The EVO offers two things the Droid X does not. A 1.3 mp front-facing camera and 4G capabilities (if you live in a city with coverage). Also, the EVO has the Sense UI, if you prefer it.
Droid X Perks
The Droid X has 6 GB of internal memory versus EVO's 512 MB. It also comes with a 16 GB SD card versus EVO's 8 GB. I like all the extra internal memory, though when Froyo (2.2) is available, internal memory will be less of an issue.
Death of the Incredible?
You can re-read the review on the Incredible, but I think this is still a viable super-phone. It has the memory advantages of the Droid X and an 8 mp camera like both. All in a really nice compact form factor. It comes down to whether you like the size enough to carry around such a large phone. I do not find it too big, but you might. If you are concerned it is worth a visit to a store.
Battery Life
The battery life on the Droid X has been good. The first day it struggled to get through the day, but since then it easily makes a day, and I have even made it last a day and a half (I don't leave GPS on). I also want to share that Craig has not had the battery issues others have had with their EVO. He gets a day out of his easily.
What's Next
I am spending time working with the media sync options on the Droid X. Motorola includes some nice tools to sync media on your phone (though Windows only). I also will provide some samples and opinion on the camera (still and video). But what questions do you have? I only have a few more days with this phone. If you have burning questions, or tests you want me to perform, let me know in the comments.