We use affiliate links. If you buy something through the links on this page, we may earn a commission at no cost to you. Learn more.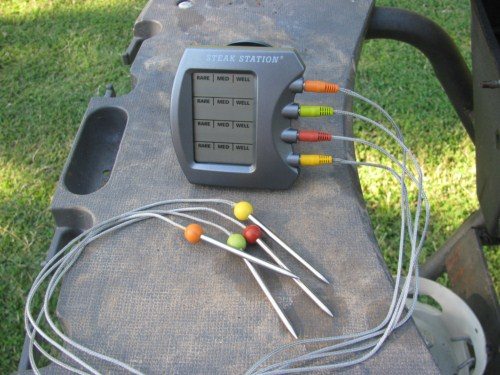 The Charcoal Companion Steak Station was designed to make your time at the grill more productive and relaxing by letting the Steak Station keep track of the meat temperature while you relax and enjoy your beer.  So does it work?  How does it compare to those digital meat thermometer forks that we have all used for years?  Let's find out!
First things first… let me apologize for the appearance of my grill.  I am in the market for a new grill because this one is on its last legs.  But it has served me well over about 7 years, so let's not have any smack-talking on my pitiful looking grill!  Ok, there, I feel better.
For years I have used a digital meat thermometer fork that allowed me to pick the type of meat I was grilling and measure the meat temperature by sticking the fork into the meat.  I have had it for about 5 years now and it is showing signs that perhaps it is time to replace it.  So I jumped at the chance to try the Steak Station.
The Steak Station has a digital display that shows the temperature reading for 4 individual prongs. Each prong has a colored rubber(?) pliable ball at its base, and then a stainless steel cord extends just under 2 feet, with a matching colored connector on the other end of the cord.  You then plug the colored connectors into the 4 jacks on the Steak Station and insert the prongs into your meat, making sure that each prong tip is placed right in the middle of the meat.  You then turn on the Steak Station and it begins to monitor the temperature of the meat.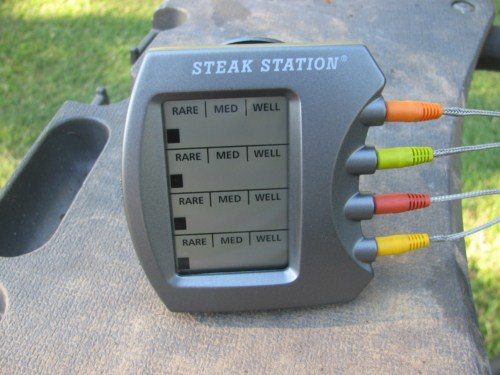 As you can see from the pictures, the adjustable fold-out kickstand on the back pops out into various positions, so it feels sturdy when sitting on the grill.  It also has some plastic tabs on the back that allow you to wrap the cords around the back of the unit when not in use.  Also, the prongs slide into holes behind each jack so that they are basically stored inside the Steak Station.  The display, which is bright and clear in direct sunlight, shows each of the 4 readings in a scale from "Rare" to "Well".  The black blocks seen below each scale are an indication of the temperature of the meat.  As the temperature rises, the more black blocks appear toward the right.  Keeping track of which prong is measuring which piece of meat is easy because of the colored indicators.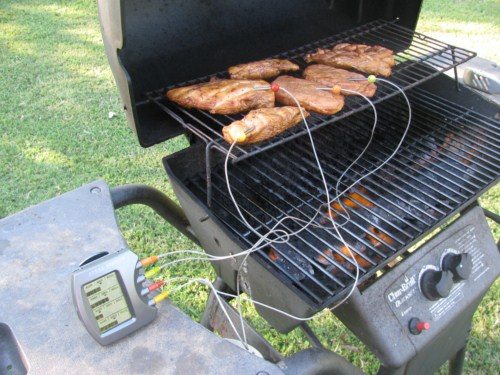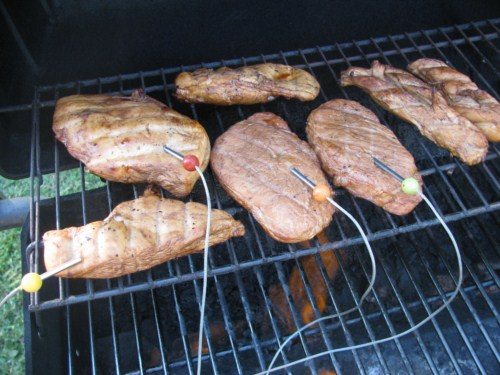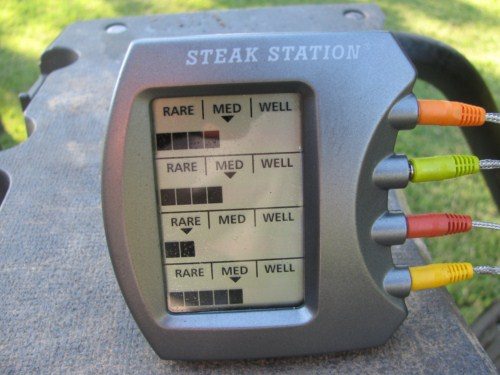 It only uses 1 AAA battery so it requires very little power.  I used my old temperature fork at the same time to compare the temperature readings with the Steak Station.  I was encouraged to see that the temperature readings on the Steak Station were consistent with my temperature fork.
I wish the temperature gauge on the display screen would actually show a numeric temperature instead of categories of rare, medium, and well.  It does make sense to have these categories because when someone asks you what you want your meat cooked to, you don't say "150 degrees", you say "medium well" or whatever.  So the categories do make sense, but it would be nice if instead of the black blocks to signify the increasing temperature, it showed a numerical temperature.
I do believe that the stainless steel cords are not long enough.  More than once I accidentally pulled the monitor off the grill because I was fiddling with cords in the meat.  Also, I wasn't free to place the meat wherever I wanted to put it… I had to put the meat close to one end of the grill so that the cords would reach.  I also don't think these cords are long enough to be used with my oven.  I also had to work hard to not get the cords tangled up with each other.  I don't really count this as a negative though, and over time I think I would get used to managing the cords.  It was just awkward the first couple of times I used it.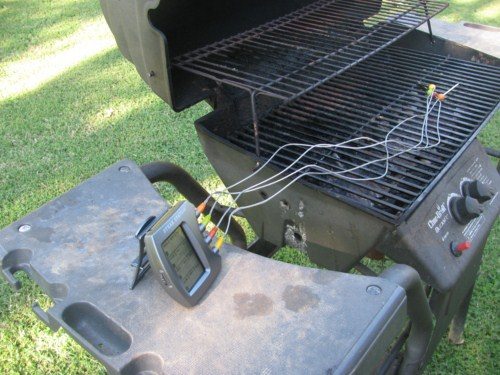 Obviously, once the grill gets going, those cords and prongs get very hot.  So you can't use your hands to move them or adjust them.  This was a problem for me because when you have a large piece of meat, you invariably want to know what the temperature is in various places in the meat, not just one place.  So I found myself wanting to move the temperature prong from one end of the meant to the other, which was difficult to do because I was unable to handle the prongs with my hands.  So I had to use my tongs to manipulate the prongs.  It wasn't that hard pulling it out of the meat because each prong has a soft rubber ball where the cord connets to the prong.  As you can see in the picture below, it is quite easy to pull it out when you grab that rubber ball.  The problem was trying to get it pushed back in the meat.  I had to use my tongs to pinch the cord right next to the ball so that I could push the prong into the meat.  It was a bit awkward, and my only analogy that I can think of is that it would be similar if you put the end of a toothpick between your teeth and then tried to push the toothpick into something.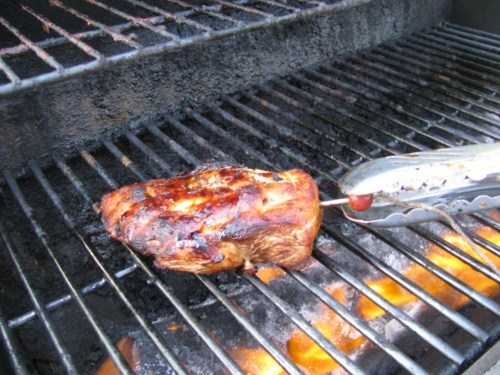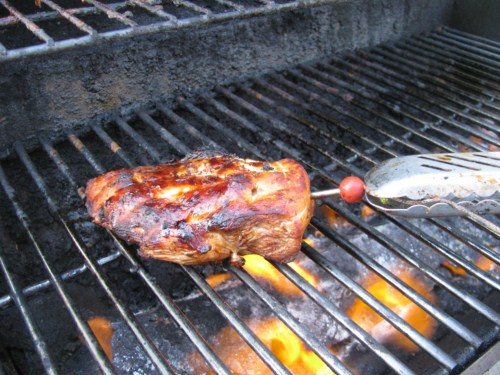 Now, for smaller pieces of meat, I don't think that would have been an issue because I wouldn't have had a desire to move the prong around to test the temperature different places.  But with larger pieces of meat, it caused me problems.  Perhaps this was unique to me though, because maybe other people don't have a desire to do that??  In the past, with my traditional temperature gauge I would simply insert it wherever I wanted to test the temp and it was very easy to quickly insert it other locations.  This device works best if you leave the temp prongs alone, which is why I think smaller pieces of meat work best.
I think it is important to state that it only has 4 prongs.  This isn't really a negative I guess, but since there are 6 in my family, I rarely only have 4 pieces of meat on the grill.  And I am a little paranoid about making sure that meat is not undercooked, so I was forced to use my old temperature fork to test the other pieces of meat.
So what is the bottom line?
It performs exactly as it is purported to perform.  It is compact and easy to store, easy to clean, and provides accurate temperature readings.  For a large family who does lots of grilling, I am not sure that this unit would get used alot, because of the awkwardness of moving the prongs around.  Some grills get very hot, so trying to manipulate those prongs could get dicey.  I think that grilling just a few pieces of meat is what works best with this gadget, and you could even use a couple of prongs for the same piece of meat, on different ends.  I do wish that the temperature readings were numeric instead of graphic blocks, but I can live with that.
The cords need to be longer, and this further worries me because I am in need of a new grill and I have my eye on some of those sweet grills at my local big box store.  A larger grill means that these cords aren't gonna reach.  And finally, I keep wishing that this thing was wireless instead of having these cords.  I mean, c'mon, for years we have been able to purchase those remote temperature gauges for your house so you can set the part outside that reads the temp and then transfers it to the unit in your bathroom, right?  But I have to remind myself that this thing is only $29.99, which is not a bad price for what you get.
If you grill large quantities of meat on a regular basis, perhaps this gadget isn't for you.  But I think it does make a great gift for the dad who is a gadget freak, who also happens to like to grill the occasional steak or 2.

Product Information
Price:
$29.99
Manufacturer:
Charcoal Companion
Pros:

Accurate temperature readings
Easy to clean and store
Great price

Cons:

Cords not long enough
Only 4 temperature prongs
Prongs awkward to move around