We use affiliate links. If you buy something through the links on this page, we may earn a commission at no cost to you. Learn more.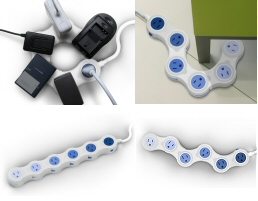 The clever folks at Quirky have just released Pivot Power: A Creative Outlet (which just might be the best product tagline ever), an adjustable electrical power/surge protector strip that flexes around furniture and corners to conserve space.  Bending into circular, semi-circular, zig-zag and of course old-school straight shapes, it features six outlet 'pods', which can be adjusted so that large power bricks don't hog space.  Includes an off/reset button, and is available in both 110v American and 240v European versions, each $25.00.
Quirky engages participants to collaborate in every aspect of product creation — from ideation, design, naming, manufacturing, marketing, right on through to sales. Anyone can participate!  Got an idea?  See the Quirky site for details.