We use affiliate links. If you buy something through the links on this page, we may earn a commission at no cost to you. Learn more.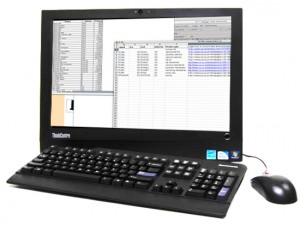 Starting today, 21 web sites will be giving away a brand new Lenovo A70z all in one PC exactly like the one I reviewed here a few weeks ago. The Gadgeteer is lucky enough to be the first site to start our contest! The other sites will have their own type of contest and start dates, so you'll want to check out each one on the opening day of their contest to see what you have to do to enter. Details on our contest and a list of the other participating sites after the jump.
Contest Details and Rules
First Prize:
Lenovo A70z All-in-One Desktop PC
Processor: 2.93 GHz Intel E7500 Core 2 Duo
Operating System: Microsoft Windows 7 Professional
RAM: 2GB (max 4GB)
Display: 19 in (diagonal) Widescreen LCD, 1440 x 900, TFT active matrix
Graphics: Intel GMA X4500
Hard Drive: 320GB Serial ATA-300 7200 rpm
DVD-Writer
Webcam: 1.3 megapixel camera
WiFi: 802.11b/g/n
Ports: USB 6 ports, Ethernet 10Base-T/100Base-TX/1000Base-T, Mini-phone stereo 3.5 mm, PCI Express Mini Card
Dimensions & Weight: 2.9 in x 14 in x 18.6 in, 17.6 lbs
Included Software: Adobe Flash Player , Adobe Reader , Lenovo Online Data Backup , Microsoft Office 2007 (60 days trial) , Norton Internet Security 2009 (30 days subscription) , Roxio Creator Business Edition , Roxio My DVD , Skype , ThinkVantage Power Manager , ThinkVantage Product Recovery , ThinkVantage System Update , ThinkVantage Toolbox
How to Enter
1. Fill out an easy 12 question survey located at http://gadgeteer.questionform.com/public/contest
2. After you fill out the survey, come back to this page and leave a comment to this post.
That's it! Easy! Just please be honest and helpful with your comments on the survey.
3. One winner will be chosen at random at some point 7/2 from all the valid entries and will be posted here.
Rules
1. Winner must be located in North America (Canada/US), as the PC you've been evaluating is only sold in US and Canada.
2. This contest is not open to anyone affiliated with The Gadgeteer (writers or their families).
3. You can only fill out the survey one time per person.
4. Individuals who've won at another site are ineligible to win a second time.
5. If your entry is chosen as the winner, you must respond to my email within 48hrs or another winner will be chosen.
CONTEST CLOSED – the WINNER is entry #158 – Dennis. Dennis has 48hrs to respond to my email, or I'll choose another winner.
Update 7/5/10 – Dennis failed to respond to my email after more than 48hrs, so I've chosen #32 – BJ Swanson as the winner, and he has already claimed his prize.
Below is a list of all of the sites, and the start/end dates of their contest:
Special thanks goes out to Ivy WorldWide for sponsoring this great contest!