We use affiliate links. If you buy something through the links on this page, we may earn a commission at no cost to you. Learn more.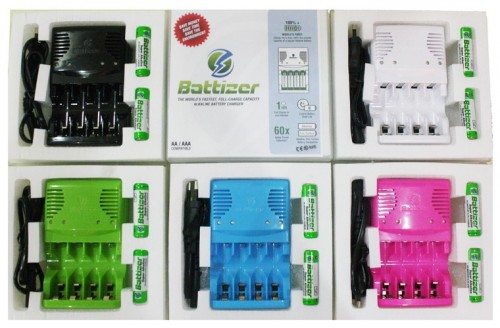 With today's endless amounts of tech being utilised around the home, I bet you're just like me and have quite a few products that use AA or AAA batteries.  If so, then this product could prove to be your very best friend!
In fact, if like me you also have children who enjoy playing with endless amounts of toys that use these types of batteries, you'll be investing in one, I'm quite sure of it!   
If I were to list the items around our house that use AA/AAA cells, I'd be here for quite some time.  So, a quick run down would include: Remote Controls, Radio Control Cars/Helis, Mechanical toys, Clocks, Xbox controllers, Digital Cameras…. and so on.  I'll also admit that I've never been a fan of rechargeable batteries, as they don't seem to last long between charges, especially for products that drain the power quickly.  Instead, I find myself popping into my local ASDA store to buy a pack of 18 AA batteries for around £8 ($12) which to be honest, don't go very far in my house.
So, when Julie asked if anyone would like to try out this gadget, I simply jumped at the chance!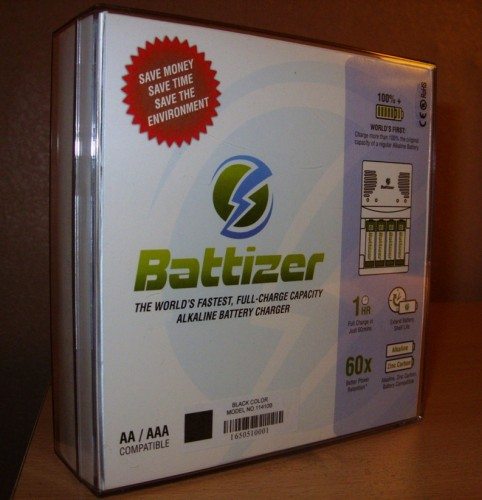 It's called the Battizer.  And, with help from a built-in microprocessor that constantly monitors the battery charging process, it has been designed to recharge any discharged AA or AAA Alkaline, Zinc Carbon, NiMh and NiCD batteries.  In fact, the manufacturers state that the Battizer will do this within one hour, without any heat (which we all know is one of the main causes of battery damage) and it will also charge a battery to 'more' than its original capacity.
Not only this, but the Battizer has also been designed to erase the memory effect that can occur on rechargeable batteries, reconditioning and effectively restoring the cell to its full charge capacity.  Plus, it has been designed to operate quicker than a normal battery charger, helping you to save money in the long-term, which in turn helps the environment.
Let's take a closer look!
What's in the box?
I received my review unit directly from Battizer and it arrived in a nicely sealed plastic case which also provided lots of information, in the form of pictures and text about the unit itself and what it can do.  The products were all securely fitted inside, thanks to the foam insert.
Inside the box you'll find:
The Battizer
4 x AA Battizer 'Super' 1.5V Alkaline cells (Designed especially for the Battizer)
Power cable
Instructions on CD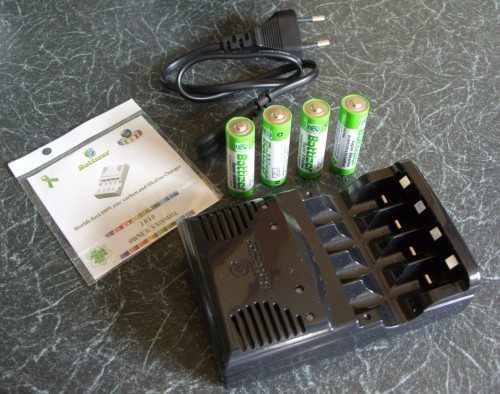 Although, I have to point out that the plug on the cable is a two pin Euro plug (Type C), which unfortunately is no good in the UK.  I had to provide my own plug converter so I could use it in the three-pin sockets that we have here.
However, the unit itself has been designed to work with either 110 or 220 volts, so it's universal when it comes to the voltage that it will accept.
In use
To be honest, the Battizer is so simple to use, my kids could use it.  There are no switches to move or buttons to press. You just place each battery into the holder and provide power from the mains.  Each LED on the panel above each cell flashes during the charging phase, but will remain solid when it's complete.  Although, I have point out that if you choose to charge NiMh or NiCD cells, the LED's will not light up.  You simply insert them in the normal way and then watch the clock for an hour until they're done.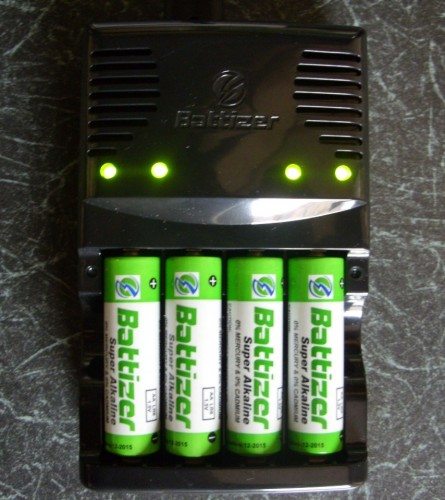 As stated earlier, there are four alkaline batteries included, which have been designed specifically for the charger itself, so I placed each one into the Battizer and plugged it into the mains.  The LED's immediately began to flash and after approximately 50 minutes, the LEDs were a solid green, indicating that the charging phase had completed.  There is no audible warning to alert you that charging has completed, nor is there an automatic switch off, so you'll have to keep the unit in sight to ensure you remove the cells once they are fully charged.
Whilst the unit was plugged in, I also wanted to charge some used cells (cheap alkaline types that I paid about £1.50 for) that I knew were ready to throw away.  They had been used in my R/C Heli the previous week and were removed from the controller.  They were no longer providing any charge to the heli, so I knew they were pretty much wasted.  So, I inserted them both into the unit and waited until the LED was a solid green.  This took just a little under one hour and once removed they weren't warm at all, compared to other chargers that tend to heat up cells.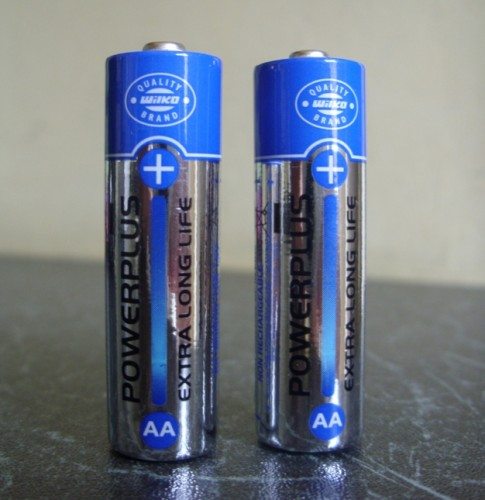 I then tested these by placing them into my digital camera, which indeed showed a full battery indication!
It has to be noted however that although the Battizer does indeed charge drained alkaline batteries, as per test above, Battizer DO NOT recommend doing this unless they are either rechargeable types (NiMh or NiCD) , or the specially designed alkaline cells provided for you in the box.  Standard alkaline or zinc carbon batteries from companies such as Duracell are really not designed to be recharged, so if you do decide to use it for this purpose, you do so at your own risk.  Please take care when doing this, as damage could possibly occur.
Battizer also recommend that you:
Do not charge leaking batteries, as chemicals will damage the charger
Recharge drained batteries immediately in order to achieve the best results
Do not attempt to recharge batteries that have been stored for a long period of time
Use it with the recommended Battizer Super Alkaline Batteries
Dispose of any discharged batteries responsibly
After testing the alkaline cells, I also charged two NiMh cells that I had sitting in my cupboard.  As mentioned earlier, I'm not a huge fan of NiMh cells at all, so tend not to use them much.  However, once charged I did notice that they took far more pictures in my digital camera than they normally would after a couple of hours in the standard charger.  I think continued discharging and recharging using the Battizer will restore them to their normal charging capacity.
Whichever way you look at it, the Battizer is definitely a worth-while investment.  Not only does it allow you to recharge alkaline batteries, but thanks to it's advanced design features, it will also help retain the overall charge of a cell for longer and also help to keep your rechargeable NiMh or NiCD cells in top condition.  It's also kinder to the environment thanks to it's quicker charging times.
A Battizer Alkaline Battery Charger costs $77, which if you think about how much you'll save in the long term is a great bargain!  This also includes a 30 day money back guarantee, if for any reason you are not happy with the product.
Each charger also comes with a 12 month warranty and there are five colours to choose from (Black, White, Pink, Green & Blue) and you can buy one directly from Battizer.
Product Information
Price:
$77 (£52)
Manufacturer:
Battizer
Pros:

Easy to use
Very fast charge times
Cells do not get warm
Small & Lightweight

Cons: