We use affiliate links. If you buy something through the links on this page, we may earn a commission at no cost to you. Learn more.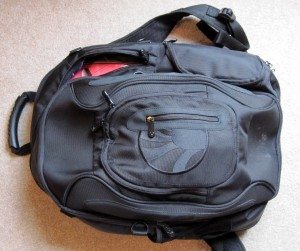 The SLAPPA M.A.S.K. is a serious backpack.  It even comes in its own bag!  I've had a lot of backpacks over the years but this one tops them all. Last weekend I went on a business trip and used the bag as my suitcase and was able to get all my stuff in for this short trip.  Granted, it is Spring and the clothes I packed were not too bulky.  If the bag were used as a carry on or extra bag on a trip the amount of "stuff" you could pack in there is basically endless.  Pocket lovers rejoice. Besides the two main compartments, this baby has at least 13 other pockets/storage areas.
When you order your backpack, you have a choice of several "models", with slightly varying design.  There are two options for the configuration of the front of the backpack, shown here.  Then you have a choice of three different lining colors. Lastly, you have a choice of one of 12 "liners" which I will discuss later.  The company touts this as the ultimate "laptop+gear" backpack, and I think they're right.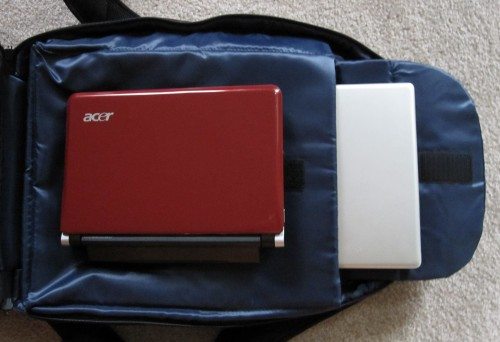 One of the two main compartments has a large laptop pocket. The company calls this section a "quick-scan laptop and peripheral section that allows you to keep your laptop inside the bag when you go through airport security". This is done by opening this section of the backpack and laying it flat.
Shown here is the half of the section that holds the laptop. My 10″ acer is shown on the compartment and my 12″ Macbook inside.
This is the other side of  the "laptop" pocket.  It of course has multiple smaller pockets.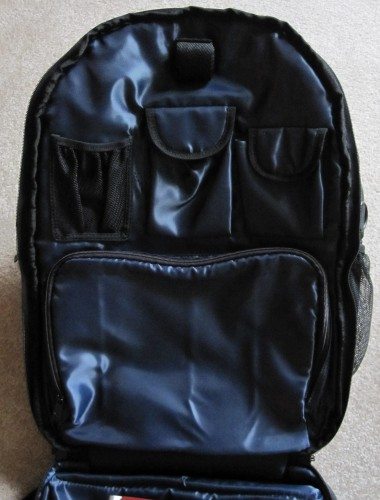 The face of the backpack actually zips right off the larger pocket, as shown below, and can be replaced by another style face.  The company currently lists two different faces on their website, but I imagine more will follow. Removing the face also allows you to change the liner inside the backpack.  They currently have 12 different liners; all of which resemble what I imagine an LSD trip to look like. The one included with mine, shown above, is the liner my 8 year old son calls the "Snazzy Girls."  Velcro snubly hold the thin liners in place.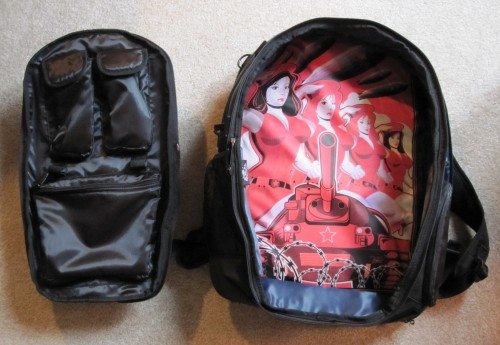 This is a view of the larger pocket, with the face zipped back on the backpack.  Plenty of room in there. Hello Ladies!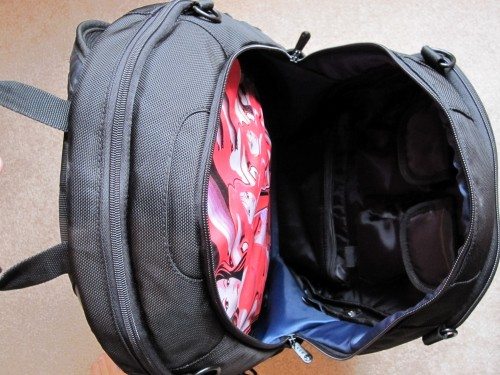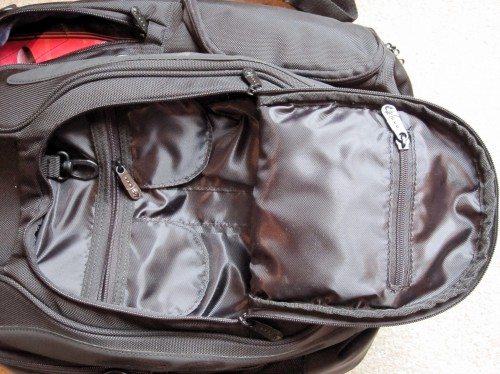 The outer pocket of the liner opens up as shown here, revealing even more storage pockets. The backpack straps are well padded and very comfortable, and the back of the pack is also padded, so it rests very comfortably on your back! I'm not sure what else the company could add to make this backpack any better.
Product Information
| | |
| --- | --- |
| Price: | $130.00 |
| Manufacturer: | SLAPPA |
| Pros: | Very well made, versatile, and can be reconfigured. Reasonable price for this quality. |
| Cons: | |