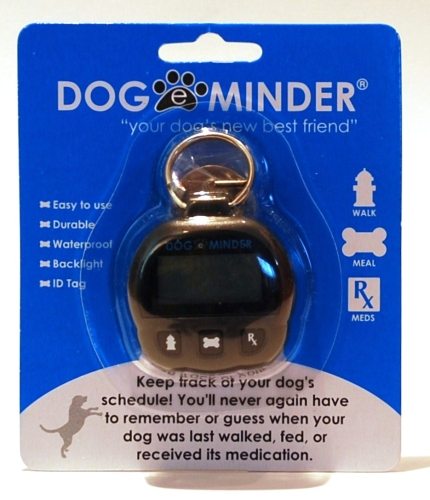 If you own a dog, you have to incorporate his schedule into the family's schedule.  Every day, you have to make sure your dog is walked at least a few times and fed a couple of times each day.  If your dog requires it, you may also have to give him medicine.  If you are the only one handling the care of your dog, you may have an easy time remembering to do everything.  If you tend to be forgetful or if you have other family members or pet walkers also caring for your dog, you may need to log who did what and when so that Fido doesn't end up getting fed three times and never walked during the day.  You could have a paper log, but that's an extra step that sometimes gets ignored – and it's SO non-gadgety!  When Julie told me about the Dog-e-Minder – a little computer that your dog wears on his collar – I asked if I could try it out with my dog, Teddy.
The Dog-e-Minder is a small, plastic fob that you attach to your dog's collar.  It's about 1.5" W X 1.5" L (2.25" L including the attachment ring) X 0.5" D.  The Dog-e-Minder has an LCD screen with 2 lines of information.  There are three small buttons on the front labeled with a fire hydrant (for walks), a bone (for food), and the ℞ (Rx) symbol for prescriptions.  If you don't need to log walks, food, and medicine, you can assign the buttons to any three activities that you prefer.
The Dog-e-Minder comes in red, pink, blue, and black.  I received a black one in the packaging and a pink one that had already been set up for a dog named Max.  I set both of them up for Teddy.  (However, since Teddy has what is best described as orange fur and he is a boy, he'll be wearing the black one!)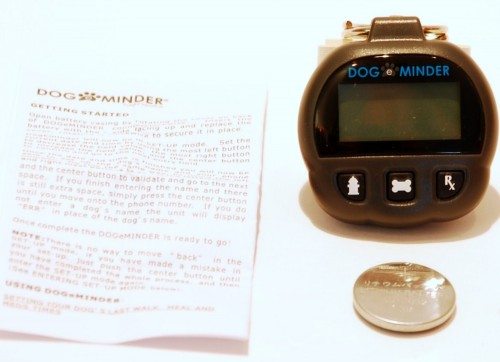 The Dog-e-Minder comes with a battery and an instruction sheet.  After you insert the battery (and every time you replace the battery), you must enter the current date and time.  You use the three activity buttons for data entry.  The left/right buttons decrease/increase the field value, and the center button saves the entry and advances to the next field.
In addition to tracking your pet's activities, the Dog-e-Minder acts as an ID tag.  You enter your dog's name and your phone number using the same method for entering the date.  I love this ID tag function.  If you change your phone number, you don't have to remember to have a new ID made.  The LCD display alternates between displaying the name/phone number and the day/date/time information.  You turn on a backlight for this mode by giving two quick presses to any one of the buttons.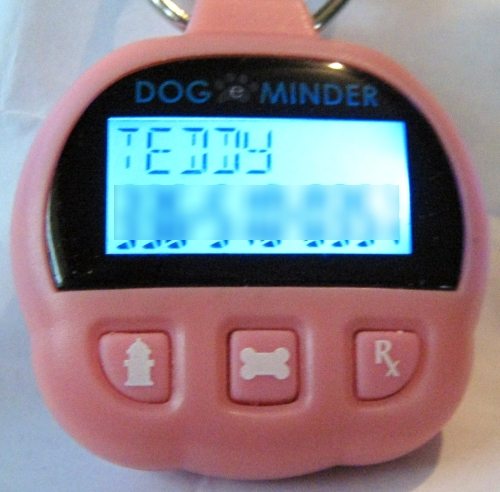 Once set up was complete, I put the Dog-e-Minder onto Teddy's harness.  The ring on the Dog-e-Minder is very thick and strong.  I had to use a little screwdriver to pry the ring apart enough to get it onto the harness ring.  Trust me – you don't have to worry that the ring will stretch or break.  The plastic tab that holds the ring is also thick, so I don't think it will break easily.  Since I had the extra Dog-e-Minder, I tested the pink one to see if I could break the plastic tab.  I really twisted and pulled on the ring, and the only thing that creaked was my fingers.  I don't think the Dog-e-Minder is going to get lost.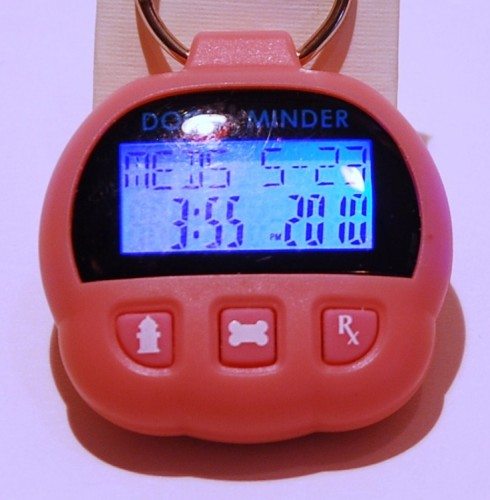 To log your dog's activity, you simply press and hold the appropriate button for about three seconds until the backlight flashes to signify that the date/time has been recorded.  To see the last time the activity was recorded, give a quick press to the appropriate activity button.  The backlight will light and the time for the activity will display for five seconds.  For example, you will see the word Meds and the day, date, and time you gave your dog medicine if you press Rx button.  
Only the most recent time for each activity is recorded; you cannot scroll through a history of times for an activity.  Without a log, you can only be sure that the dog was tended once during the day.  He may have missed doses of medicine or mealtimes during the day and you won't know it.  If the manufacturer would increase the memory a bit and tweak the programming so you could store at least 10 or so times for each activity, the Dog-e-Minder would be much more useful for those people who rely on pet walkers or others (who might not be so reliable) to help care for the dog.
There was something I really liked about the Dog-e-Minder that may not matter to some pet owners.  Teddy has a bright, white ruff of fur on the front of his neck.  The rings on his other tags – AKC, microchip, rabies – have these cheap metal rings to attach them to the collar.  Those cheap metal rings discolored Teddy's fur.  We finally had to get a neoprene pouch designed to keep the tags from jingling and wrap it around the rings to protect his fur.  I haven't seen the slightest discoloration from the ring on the Dog-e-Minder, probably because it appears to be chrome plated.  It also doesn't make a jingly sound, even when Teddy does the typical "Shiba shake."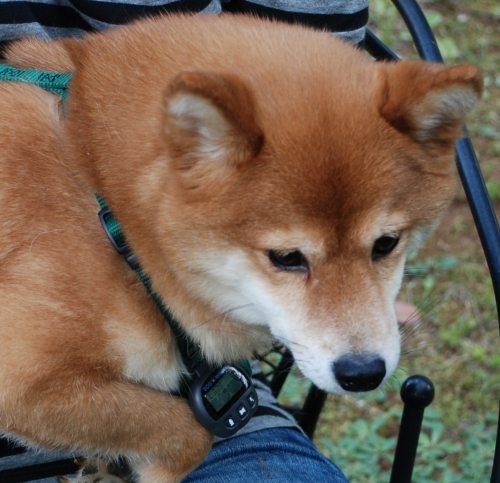 I like the Dog-e-Minder, and Teddy will be wearing it on his harness as his ID tag and to track his monthly heartworm prevention meds.  (You'll have to ignore Teddy's pose in the picture.  He is extremely shy and skittish.  He doesn't like to have his picture taken.)
Support The Gadgeteer
:
We may earn a small affiliate commission from purchases made from buying through links on our site. As an Amazon Associate I earn from qualifying purchases. Learn more.
Product Information
Price:
$19.95
Manufacturer:
Dog-e-Minder LLC
Pros:

Very sturdy
Works as an ID tag
Tracks the date/time for three activities for your dog

Cons:

Saves only the most recent date/time for each activity