We use affiliate links. If you buy something through the links on this page, we may earn a commission at no cost to you. Learn more.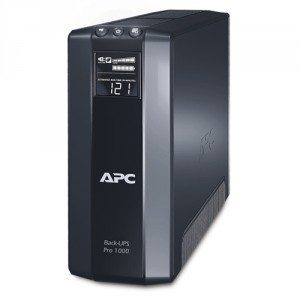 Buy  one. That's the review.  Just buy this UPS.  This device will save your computer's butt.  I know from personal experience. On Monday morning, May 10 about 4 am, another typical Indiana spring storm blew through my small Mayberry-esque town.  A dead branch from my neighbor's 200 year old white oak sheared off and hit the power lines causing a power surge in the lines powering my home.   My husband, a computer software engineer, had installed the APC Back-UPS Pro 1000 to his home office set up.  He works from home for a computer software firm on the west coast and his machines are tapped into to his test machines and et al at the home office.  The LAST thing he needs is for his personal and/or work machines to fry because of a power surge or spike.
And they didn't.   They were sound and did their deeds as if nothing had happened.  That wasn't the case for a friend's computer, speakers, our microwave, our DSL modem, a crappy clock radio, a transformer that powers our kitty Litter Robot, the battery transformer that powers  a battery powered flashlight.  The transformers fried, speakers, crappy clock radio, and the power supply to the friend's computer:  all toast. Fry City.  None of those appliances were plugged into the APC  Pro 1000.     Once we got an Overdrive mobile hotspot, my husband was able to get back online until a new DSL modem was delivered the next day.  My laptop was not plugged in so it was safe from the surge.
There is nothing like waking up at 4 am to the sound of the bass tone in speakers thrumming loud and hard enough to shake the floors of your home because they're in the process of being cooked by a power surge.  These speakers, attached to the friend's desktop that was not plugged into the Pro 1000, were fried.  As was the power supply to her tower.  The speakers were unfixable, the power supply was replaced.
That's not the point.  Neither is the shopping coup reaped later when we replaced our microwave with a cool new one found on Craigslist.  The point is that if you have a home office, if you work from home and have an office set up, if you just have computers, if you have anything that you don't want fried because of a freak storm or because you have a jack-ass neighbor who waited for a bad storm to clue him in to take down a half dead tree before it … oh I don't know… caused some damage to a neighbor's appliances, buy the APC Back-UPS Pro 1000.
A word or two about the PowerChute Edition Software that comes with it.  You don't just plug this device in and you're good to go.  The Pro 1000 comes with software that allows you proactive flexibility and lowers the chances of "nasty surprises" that may come along.  Connect the data port on the Pro 1000 to the USB port on your computer with the cable provided and go online to  download the software.  The fact that there is no CD means less packaging which I give a "green thumbs up" to.  Once the software is downloaded, you can configure this device to monitor your computer's usage of power and be able to ascertain the cleanliness of the power coming into it. You can set the Pro 1000 to notify you by audible alarms  to let you know when you have too much power (ie surge/spike) coming in or too little (power loss).  Upon hearing the alarm, you can then ascertain from the Power Chute window how much time you have before total battery loss.  You can then shut down your computer, save files, do what it is you need to do to prevent any loss or damage to your computer.  If you are going to be away from home, you can still configure the device to shut down the computers in a certain time frame due to power loss.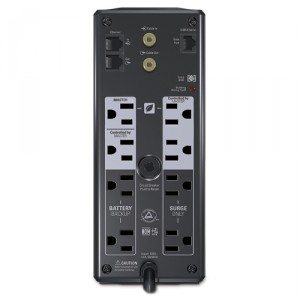 Is the Pro 1000 pretty?  Is it sexy?  Does it come in designer colors?  No.  It's a heavy black box that could substitute for a doorstop if it wasn't busy saving your computer's fanny in a power surge/spike. As it stands, my husband and I had made plans to purchase another UPS for the DSL modem in the future.   The future is now.  And our purchase will be another APC Back-UPS Pro 1000.   We may lose another microwave or crappy clock radio to a power surge or a clueless neighbor.  But with the APC-BackUPS Pro 1000, we won't lose more expensive electronics to Mother Nature's frying pan.  On a Coolness Factor of  one to ten?   The APC Back-UPS Pro 1000 is pretty much off the charts.
Product Information
| | |
| --- | --- |
| Price: | $169.99 on the APC website. Better prices can be found by shopping around online. Still, when compared to replacing computers damaged by power surges/spikes and/or power loss, this is a very reasonable price. |
| Manufacturer: | American Power Conversion (APC) |
| Pros: | Where do I start? Reliable, Comes with Power Chute Software that allows proactive configuration, easy to download software, simple to monitor power supply coming into the machines. Simply put, this device does exactly what it says it will do. |
| Cons: | What can I say? That it's black and boxy and heavy and bulky? It's designed to save expensive electronics from damage, not win beauty contests. That it's boxy and heavy are about the only bad things I can find to say about it and these aren't exactly deal breakers. |