We use affiliate links. If you buy something through the links on this page, we may earn a commission at no cost to you. Learn more.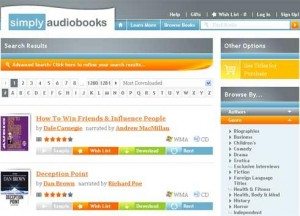 With the advent of computer e Readers, Kindle and Nook, it would seem as though the book in audio form would be obsolete.   I've never been a big fan of audio books.  I like the idea a lot because it makes literature in all forms available to the visually impaired, it's an interesting way to pass time on long trips and it's something to listen to if you are forced to stay in one place for any period of time.  Many audio books are read by entertaining performers who do all the voices and generally make it an interesting listen. 
The Simply Audio Books enterprise follows the same path as NetFlix; you pay a monthly fee based on how many books a month you wish to rent, go online and browse titles, select the titles for your online "bookshelf", (much like the NetFlix queue) and from that, Simply Audio mails the titles to your home.   The titles are in CD format but unlike NetFlix, there is more than one CD. Depending on the book, there are as many as four.  Instead of flat red envelopes, small blue boxes containing the audio books on CDs are mailed.  Because of the weight, it takes a little longer for the titles to get to you by mail than a movie DVD  would.
I requested two titles from Simply Audio:  "How to Talk to a Liberal; If You Must" by Ann Coulter (read by the author) and "Rebecca" by Daphne duMaurier  read (in the abridged format) by Emma Fielding.  I do not know if "How to Talk to a Liberal" is abridged since I have never read the physical book.   But the only audio version I could get of "Rebecca" was abridged.  I'm not fond of abridged books. I don't see the point.   Still, I believe there should be an option between abridged and unabridged versions of the same title which Simply Audio does not appear to offer.
Simply Audio does keep up to date with all the new releases despite the fact that their "Most Requested" fiction title is "Honeymoon" by James Patterson which was published in 2005.  The new tell-all "Oprah" by Kitty Kelly is now listed as available.  The service also boasts an impressive genre list :  even certain cookbooks.  The basic fee for one title at a time is $17.98 a month or for $180.00, which is annual fee and works out to a less expensive $15.00 a month.  The fee goes up the more books at a time that you request.  If this is your only method or means of reading, this fee beats purchasing the audio books in stores certainly.  Simply Audio also offers an Mp3 download as well which is iPod compatible but that is an additional amount per month starting at $13.00.
Simply Audio has a pretty generic website that can be a bit confusing if you're still new to computer websites and there is a demographic that is still computer shy that would utilize an audio book service. In addition,  The site offers samples of the books but many of the selections do not have samples available and the three familiar books I clicked on had the wrong passages in their samples. Simply Audio can boast a  customer service department that is unbelievably friendly.  The customer service at Simpy Audio is such a stark contrast to most customer service call centers in their friendliness and representative knowledge of the product that it is almost ridiculous. In my opinion, every customer service rep should take a page out of Simply Audio's book.  (No pun intended)
As for recommending this service, I have reservations at this moment.  I know that there is a niche, a certain demographic that is probably very grateful for this kind of rental service and I admit that it probably fills a great need.  I am a brand new Nook owner and I am enjoying it immensely so this service would not fill a need for me at this time.
Product Information
Price:
Current: Special Offer 1 book/month $14.95/mo $156.00/ annual 2 books/month $24.95/mo $264.00/ annual 3 books/month $31.95/mo $336.00/annual
Manufacturer:
Simply Audio
Pros:

Excellent for visually impaired
Good listening for long trips etc.
Lighter than books
Very friendly customer service
Less expensive than purchasing books

Cons:

Website is little difficult to navigate.
Some sample audio titles are coded with incorrect passages.
Not all titles come in abridged and unabridged versions.
Prices are a little steep in competition with titles that can be had on Kindle and Nook.