We use affiliate links. If you buy something through the links on this page, we may earn a commission at no cost to you. Learn more.

Julie did an app review on Zinio's digital magazine service a few years ago. At the time, I tried it for myself and read a few of their free samples/examples on my MacBook. It was an alright experience but was definitely not the same as flipping through an actual magazine. While the Touch/iPhone's screen is just fine for reading eBooks they are too small to truly enjoy the pictures and graphics most magazines have to offer. So, I never really embraced Zinio, at least until now.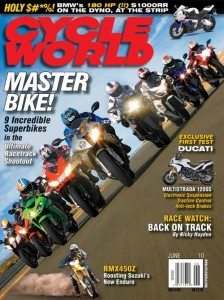 Like Julie, 99% of all the books I read are electronic books (eBooks), historically on my iPod Touch and now on my iPad. As many of you know, eBooks are very convenient, transportable, and you can carry countless in your pocket weighing no more than the device you are reading them on. I firmly believe eBooks and digital publications will be the way we read, study, and absorb information. This fact will reduce the number of trees killed, kids from having to lug around 30 pound backpacks, and ultimately decrease our carbon footprint.
The iPad's large, vivid screen has made me reconsider reading magazines electronically. The more addicted I become to my iPad, the more I want it to do. I am finding it provides me 80% of my media input….books, movies, TV shows, email, surfing the Net, pictures, video games, etc. I enjoy reading magazines over coffee, in the airport, on airplanes, in the car, while I wait for the Mrs, etc. But I really dislike dragging them along with me. They are relatively big and heavy (let's face it, 2-3 of them weigh more than an iPad). With Zinio on my iPad, I can carry years worth of my favorite magazines at once, accessible with a simple tap of the screen.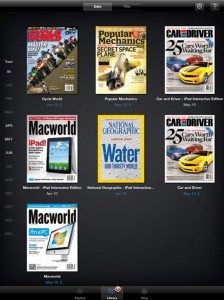 For this experience, I gave myself a budget of $50 to see what type of bang for the buck Zinio's digital magazine subscriptions would give me. With that budget, I was able to get 4 annual subscriptions; MacWorld ($19.95), Cycle World ($12), Car & Driver ($8), and Popular Mechanics ($8). Not really that bad of a deal. It worked out to about $1/magazine….a fair enough cost. So, to put it into perspective, the cost of receiving 4 digital magazines per month is approximately the same cost as one of Seattle's foo-foo coffee drinks ;).
The next step was to get my regular (aka paper) magazine subscriptions transferred to Zinio's digital subscription service, lightening my load, and 'greening' my world just a bit more. Sadly, not all of my snail-mail magazines subscriptions are currently available electronically. However, for those that are, Zinio's help section provides some guidance on how to make this happen:
Q: How can I switch my print subscription over to Zinio?
A: The publishers that partner with Zinio consider digital subscriptions as separate from print subscriptions. If your preference is for the digital version, you can contact the publisher to have them switch your subscription to digital, if they have that capability. If not, simply cancel your print subscription and purchase a new subscription through Zinio.com.
When you contact the publisher, don't mention "digital" until they locate your account. Ask to simply "verify my subscription". They'll ask for your zip code and last name. Once they've found your account they can give you details. If they can switch your account to digital, be sure to provide the SAME email address that you've used to create your Zinio account with. Future issues will be delivered digitally. Please remember that it can take up to 4 weeks for the switch to occur. If you miss any issues during that time, please contact Zinio at [email protected] to request that they be added to your account.
Only one of the 4 regular magazine subscriptions I am currently receiving is available on Zinio. I grant you that Zinio only charges $8/yr for Road & Track but I thought it was worth the effort to see how difficult it would be to have the publisher switch my R&T subscription from paper to electronic delivery.
My first step was to look in the beginning of the R&T magazine itself to find the publishers 1-800 number. Once I had that, I gave them a call and got through immediately. I followed Zinio's instructions to the letter. The lady on the other end of the phone was able to see/verify my subscription within minutes. Subjective as I know this sounds, once I asked if it could be changed/transferred to a digital subscription her tone definitely got more stern and business like. She informed me that I had to go to my 'provider' (guess that is because I ordered it online at one of those discount sites) to see if they could provide the digital service.
Next, I had to wait until the 'clearinghouse' was open. I gave them a call, they were able to see all of my subscriptions but could not modify my subscription type. They did, however, give me another number to those that setup my original order. Initially, the third operator said they could not do it. When I explained I was attempting this for a tech-article, he said he would 'check around the office' to see if it really was possible and would then email me with his findings. I waited 24 hrs after our conversation (he never got back to me….typical) before finishing this write up. My take-away message on this is that the paper-to-digital conversion is not as easy as it should be and will hopefully become less of a hassle with time (I wasted much more than $8 of my time).
So, for convenience sake and to save a tree or two, I will stop my paper subscription to R&T and order it through Zinio before next month. My hope is that eventually the rest of the publishing world will jump into the digital age and begin distributing their magazines electronically. Especially Runner's World, Tennis, and Wired :D.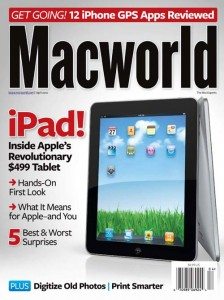 Overall, like my eBooks, I love having my magazines with me a majority of the time without the hassle of having to carry the physical copy. The iPad's stunning display makes flipping through the periodicals a stellar experience.
The paper subscriptions can be found for less on the internet than most of the magazines on Zinio, but the little bit of extra cost is well worth the convenience.
Product Information
Price:
App: Free Magazine subscriptions: Variable
Manufacturer:
Zinio
Pros:

Great interface
Ability to carry many magazines @ once
Reduces carbon footprint

Cons:

Not all magazines are available