We use affiliate links. If you buy something through the links on this page, we may earn a commission at no cost to you. Learn more.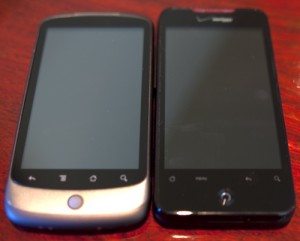 For day three I managed to track down a Nexus user in Cincinnati through Twitter.  Tim was kind enough to meet up for the opportunity to check out the Incredible while I checked out the Nexus.
These two phones are both HTC phones, and very similar in specifications and size.
Controls
Both phones sport the touchscreen buttons that seem to be the thing anymore. I was surprised to see them in a different order. Nexus arranges them Back-Menu-Home-Search while the Incredible arranges them Home-Menu-Back-Search. Not a big issue, unless you get to test lots of phones. I really wish they would settle on a standard order for buttons.
The Nexus has the same physical "track ball" that my G1 has while the Incredible using an optical one. I assume the move away from physical buttons and navigation controls is to make the devices more rugged. I miss a physical call and hang up button though, especially when it is cold and I have gloves on.
Memory
The biggest difference is that the Incredible comes with 8 GB of storage, but not as an SD card. It is actually built into the phone. In addition, you can add an SD card. The only issue with this strategy is that you need an SD card for many applications. It will be interesting to see if they rewrite applications (like QIK)  to work with the built-in memory instead of requiring an SD card. The huge plus is that you have 8 GB built-in. When you decide you want more memory you add an SD card without losing the original 8. Since this supports up to a 32 GB SD card, that mean you can get 40 GB on this phone.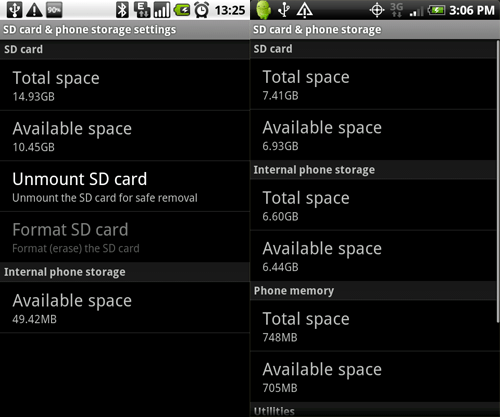 Well, almost 40 GB. Of course you lose some in the formatting, and if you look at the right screen, there is only 6.6 of the 8 GB available. Also, I noticed that the Phone memory is listed as 748 MB, but the specs say 512 MB. Not sure where that is coming from, perhaps that is where some of the missing 1.4 GB has gone?
Camera
Another difference is the camera. The Incredible comes with an 8 megapixel camera with 2 LED flashes. I have not put it through a lot of tests, but I have been surprised at how well it works, Typically you lose light sensitivity as pixels increase, but this does quite well.
Here is a shot with the flash:
Here is one without the flash:
And one more shot, I pulled over to the side of the road to grab this quick picture, proving yet again that the best camera you have is the one with you:
I think all in all the Incredible is a great upgrade over the Nexus. Nothing earth shattering, but a nice evolution. I am also a big Sense UI fan, so that is a big add for me. Of course, that's for another post…