We use affiliate links. If you buy something through the links on this page, we may earn a commission at no cost to you. Learn more.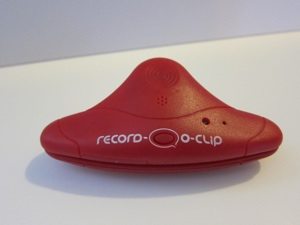 Are you tired of hearing and/or reading about Apple's newest edition to the Cupertino family? No? Well, me either…BUT, if you'd like to divert your attention for a bit, Record-O-Clip may be an equally worthy investment!

Simply put, Record-O-Clip is exactly what you think it is – a clip that records audio which is promptly replayed each time it is opened.  The clip has a fairly strong hinge, keeping bags sealed and coupons, photos, or documents firmly clasped in its clutches.  Record-O-Clip also has a magnetic back, perfect for sticking notes on the fridge along with the pre-recorded message of your choice.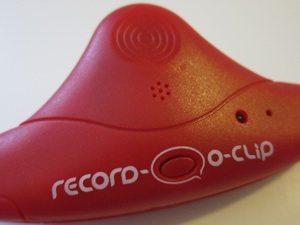 Operation of the clip is quite simple – press and hold the raised button in the center of the clip and speak into the microphone located to the right of the indicator light.  Recordo-O-Clip allows users to record a message upwards of 16 seconds in length – the perfect amount of time to remind yourself that "you shouldn't be eating those chips" or "you need a gallon of milk."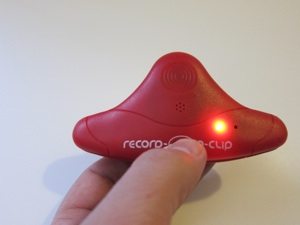 My wife and I both found the Record-O-Clip easy to use and actually used it more than we anticipated.  In order for either of us to retrieve the grocery list from the clutches of the clip, we would replay which message we had left…in some cases, the message actually provided a reminder for things we may have otherwise forgotten (e.g. oil change).
Of course, you may not always like what Record-O-Clip has to say:
See It In Action!
*A word to the wise when it comes to recording messages – we found that your best playback occurred when you spoke clearly – but not too loud – into the microphone.  Using too firm or loud of a voice causes the playback to sound muffled/distorted…less is more with the Record-O-Clip.
Let's face it – most of us use these clips on a daily basis to keep pantry items fresh or place coupons/paperwork/children's art projects aboard our favorite mantle (the refrigerator)…so why not use one that talks back?  The Record-O-Clip comes in five different colors and can be purchased for $8.99.  Not bad.
Product Information
Price:
$8.99
Manufacturer:
Record-O-Clip
Pros:

Strong grip on items
Inexpensive
Convenient

Cons:

At this point, there is only one size