We use affiliate links. If you buy something through the links on this page, we may earn a commission at no cost to you. Learn more.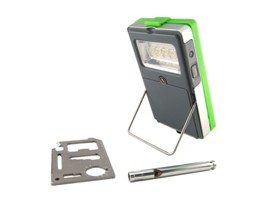 Camping and outdoors season is almost here in the Midwest, so it is time to start thinking about your outdoors gadgets.  Since it is impractical to bring the campfire into your tent or trailer, the outdoors person needs some form of artificial light source.  Let me 'turn you on to the latest, the AltusLumen Lightgear Gre Flashlight. Not only does this unit feature a bright, long lasting light, but it has plenty of other "stuff" to keep a gadgeteer busy.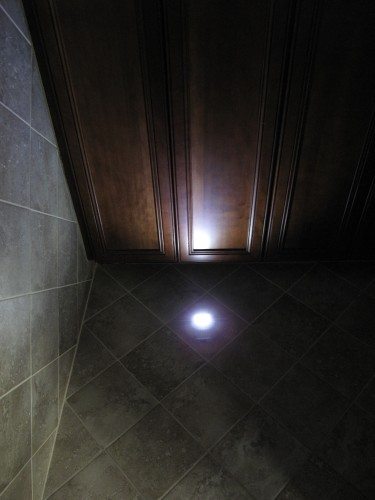 Since I don't have a tent set up yet, I turned the light on in a dark area of my office to see how well it illuminates. As you can see, the small unit gives off pretty good light; certainly enough to help you navigate a campsite or read in the tent.
The AltusLumen folks have designed the light to be useful in various ways.  The light can be hung up or stood up in various ways. It can also be carried in its carrying case with the light portion exposed.  Possible uses would be camping, hiking, bike riding, climbing or even  grilling some burgers at night.
The light unit comes in a sturdy camera-type case that has three separate areas.  The light can be stored inside the case completely, or in an outer pocket where the light is exposed.  A belt loop would allow use of the light hands free while riding or hiking.  I was able to get both the light unit and my Canon SD 780 camera in the case at the same time, so you could conceivably omit one case.  The light "cover" is also a carrying case that has a small compartment that can store small items, such as fishing hooks, needle and thread, etc.  An emergency whistle snaps into the cover. Also included is what the company calls a 10 in One Survival Tool, which includes bottle opener (can't survive a camping trip without one!), knife, can opener, screwdriver, saw and a number of wrenches. The cover is on a swivel, so while the light is in use the cover can swivel into various positions to support the light or completely around to the back of the light to snap out of the way.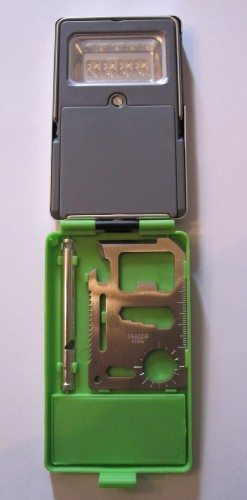 For those who like specs:  the light but sturdy unit measures 13×6.5×2.1 cm.  It has a tested lumen value of 28.  Battery (4xAAA) is listed as over 6 hours.  I've had mine on for over four hours with no noticeable decrease in intensity.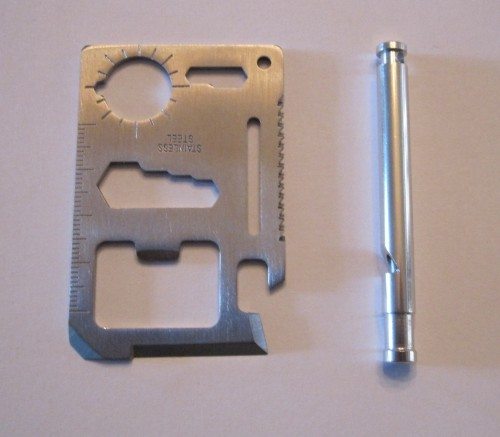 Overall, this is an excellent unit which seems very well built.  I think it would be an excellent addition to any tackle box, glove compartment or to keep with your camping supplies! The light comes in at about $30, which I think it is well worth.

Product Information
| | |
| --- | --- |
| Price: | About $30 |
| Manufacturer: | AltusLumen |
| Pros: | Lightweight, well built, useful |