We use affiliate links. If you buy something through the links on this page, we may earn a commission at no cost to you. Learn more.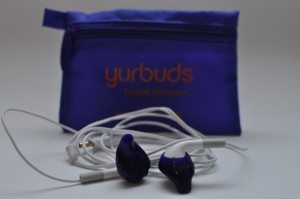 Ears.  Everybody has them, and everybody's are different.  So different, in fact, that it has been suggested that our ears might be suitable as a basis for biometric identification.  So if our ears are as unique as our fingerprints, why is it that our earbuds are not?  Yurtopia is a company that was started in an effort to address just that problem, and I was recently given the chance to try out their solution to the issue: Yurbuds.
I've always had a love-hate relationship with earbuds in general, but primarily with the way that they fit.  Apple's earbuds and other one-size-fits-all earbuds fall out too easily.  Earbuds that come with multiple sized earpieces will stay in when fitted with the right earpiece, but they aren't comfortable; they're always just a little bigger than my ear canal, or they use a compression-and-expansion method to stay in place, and it's only logical that your ear is going to start hurting eventually if something is trying to expand inside it.  The only remaining option, then, is custom earbuds.
Custom-fit earbuds aren't exactly a new idea.  What they are, generally speaking, is expensive.  Etymotic offers a custom-fit option for their hf2 earbuds (if you live in the UK, that is), but it effectively doubles the price of the headset, which already retails for $180 in the US.  Yurbuds attempt to bring the benefits of custom-fit earbuds down to an affordable price point.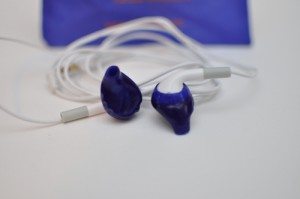 The first point worth noting here is that Yurbuds are not actually molded to fit your specific ear canals.  Rather, you send Yurtopia a photo of your ear with an item (a US quarter or an Apple earbud) as a size reference, and they analyze the photo using their FitScan technology.  This allows them to identify which of the half-dozen sizes of Yurbuds will best fit your ears.  If you have an iPhone, this process becomes even easier; the Size Yur Ear iPhone app automates this process, allowing you to take a picture of your ear with your iPhone and send it straight from the app.  Yurtopia informs me that, in the future, they plan on providing a version of the app that can perform the measurement directly within the app, without having to send a photo.
The Yurbuds themselves are simple caps of medical-grade silicone that fit over your earbuds.  They look somewhat alien compared to regular earbuds, because of their more organic shape.  Their appearance may be off-putting to some — they certainly don't look as sleek and modern as most high-end earbuds, but then again, these are going in your ears, so who cares?  The package that I received from Yurtopia included a pair of Yurbuds pre-installed onto their Yurphones, which look and sound a lot like the standard Apple earbuds.  The fit, to be quite honest, is amazing.  Once I got past the initial weirdness of their appearance, I placed them into my ears, and they settled right into place.  The Yurbuds were comfortable enough that I was able to wear them for hours on end without the discomfort or pain that I'm used to from extended wear of normal earbuds, and they stay put well enough that I didn't have to adjust or re-seat them even once during several hours of exercise and chores around the house.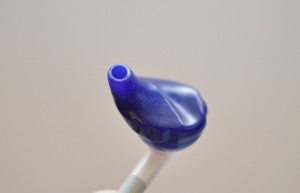 Upon first sight, I was a little worried that the Yurbuds might prove deleterious to sound quality; they basically redirect the sound directly into the ear canal, and I was concerned that there might be some noticeable absorption of sound in specific ranges.  I'm pleased to report that my concerns were without merit, as I didn't notice any degradation of sound with the Yurbuds installed on the Yurphones, as compared to the Yurphones alone.  In fact, the Yurbuds improved the transmission of sound, since they form a better seal than the standard Apple earbuds.  Not only that, but I found that the Yurbuds helped to isolate others from the sound of my music.  Sitting right next to me in a quiet room, my wife could not hear a single sound from my headphones, even as I listened at a very comfortable volume.
Sadly, I was not able to test the Yurbuds with the earbuds that I've been carrying for the past several years, a pair of Sony MDR-EX71s.  The Yurbuds simply did not fit on these earbuds correctly, something that I could have learned if I had contacted Yurtopia in advance.  Yurtopia welcomes questions about which earbud models are compatible with their Yurbuds, and provides a number to call if you have questions about headset compatibility.  As a general rule, however, it appears that Yurbuds basically work on anything that provides an earpiece roughly the size of the Apple earbuds.
It would be nice if Yurtopia would be a little more proactive about this, perhaps providing a list on their website of earbud models known to work with the Yurbuds.  They could even crowd-source this info, asking the Yurbuds-owning community to submit reports on which earbuds and Bluetooth headsets do or do not work with the Yurbuds.  Given that my MDR-EX71s are incompatible, I find myself wanting to buy a new pair that will work with the Yurbuds, and it would be nice to have a list of compatible models to shop from, rather than having to call a long-distance number to ask about each pair I'm considering before I purchase them.  It's notable that there are scattered references to "Yuradapters" on the site, and a quick Google search turns up some YouTube videos detailing the installation of a small adapter that allows one to use Yurbuds with earbuds that would otherwise be incompatible.  Yuradapters do not appear to be available for sale on the Yurtopia site or elsewhere, however.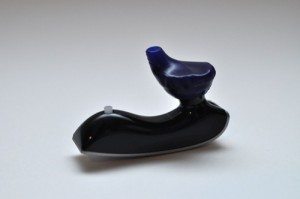 That said, I did have one other audio device that I decided to try the Yurbuds on, and am I ever glad that I did.  It's no secret that I really like Jawbone's headsets, but the one thing about them with which I've never been 100% satisfied is how they fit in my ear.  They will fit and they will mostly stay, but they form a poor seal in my ear, and it becomes very hard to hear the person on the other end, especially in a noisy environment.  So I slipped one of the Yurbuds onto my Jawbone Prime (over the medium-size earpiece, mind you) and put it into my ear.
Never miss one of our posts again. Sent MON, WED, and FRI with the latest gadget reviews and news!
Let me say this for the record:  never before has putting something in my ear made me so happy.
The fit — as before — was perfect, but this was something else entirely.  The Jawbone stayed put in place without the aid of the ear loop, the voice sensor was firmly against my face, and I could hear every sound coming out of the headset with surprising clarity.  At this point, it did not matter to me how well the Yurbuds worked with stereo earbuds, because their performance on my Bluetooth headset alone was worth it.  I can say with absolute conviction that I plan to have Yurbuds on every Bluetooth headset I own from this day forward.
One more nice thing to note about the whole Yurbuds process is that, when you buy a pair, Yurtopia includes the size of Yurbuds on the invoice.  This makes it a simple matter to order additional pairs if you need them, without having to photograph your ear and re-submit it.
Yurbuds can be ordered by themselves for $19.99 (or with a pair of Yurphones for $29.99) directly from Yurtopia, or can also be found at a number of brick-and-mortar electronics and sporting goods retailers.  Retail packages include the two most common sizes of Yurbuds, as well as information on sizing your ear and obtaining a different size if neither of those fits.
In short, I have been quite pleasantly surprised by how much Yurbuds improve the earbud-wearing experience, and I have to say that a Jackson is a small price to pay to turn your favorite great-sounding but ill-fitting earbuds into the perfect pair of earbuds.
Product Information
| | |
| --- | --- |
| Price: | $20 |
| Manufacturer: | Yurtopia |
| Pros: | Comfortable, improved sound isolation, inexpensive, stays in place |
| Cons: | No maintained list of compatible earbud models |