We use affiliate links. If you buy something through the links on this page, we may earn a commission at no cost to you. Learn more.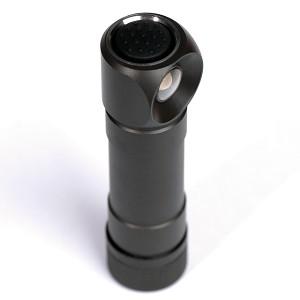 If you're looking to get away from the bright city lights, there are few places on earth darker than a moonless night out on the Western frontier of Afghanistan. A good light source is indispensable in this environment. In fact, several lights are part of most Soldiers' kits. One light that has found a permanent home in my kit is the Zebra H501 Headlamp from ZebraLight Inc. I purchased the light soon after they became available last year. The $59 H501 has a number of features that distinguish it from the sizable pool of choices in the LED light market. The right angle mounting of the XR-E Q5 LED is perhaps the most distinguishing characteristic. A more subtle, yet infinitely more significant feature is its use of a single standard, and readily available AA battery. I have yet to visit a part of the world where I couldn't get a AA battery (though I've paid a bit too much for them at times).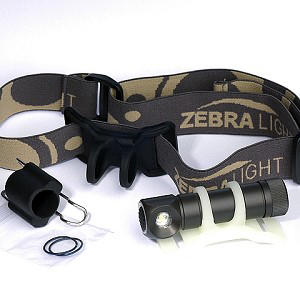 I should state early on that the H501 is not a tactical flashlight. It dispenses its light in an 80° flood pattern making it ideal for a variety of task lighting needs. Around the FOB (Forward Operating Base), it's hard to beat the compact pocketability of this light, and you don't feel a need to be stingy with its use, since you know you'll be able to get batteries to feed it. The light pattern is smooth and even across the entire 80° arc with an almost non-existent halo.
The technical specs on the H501 are impressive for such a diminutive light. The light is very white having a color temp of about 6,000k. I understand that there is now a warmer version of the light available that has a 4,000k color temperature at the expense of a few lumens of output. The H501 that I own has three intensity settings: 96, 15 and 2.7 Lumens. I get about 2 hours of run time with a standard Energizer battery at the highest setting, and I have yet to actually drain a battery using only the low setting (it would take at least a couple days of continuous use).
Construction is solid. The body housing is of a good quality aluminum. O-rings keep all the fittings water tight. The unit is water proof to 5 meters, but I haven't tested that claim. I have had no moisture issues from rain, and the occasional dunk in a mud puddle. The emitter is seated in a recess that protects it from the occasional airborne trip to the ground, and the finish is durable enough to show no significant wear after a year of being carried in a (usually sandy) pocket.
Operation is simple and intuitive. You can get to every setting fairly quickly. To start at the lowest setting, press and hold the button until the light comes on. Continue holding while the light cycles up through the settings from low to high. To start at the high setting, press once and release. Press again as necessary to cycle down through the other intensity settings. To engage the strobe feature, double press the button while the light is on high.
The unit ships out with a variety of accessories. It's billed primarily as a headlamp, so naturally, it comes with a comfortable elastic band, and rubber holders to fit it to the flashlight. One enormously useful accessory is the glow-in-the-dark holder (it comes with a boring black one, too). Considering the number of times I have had to find it in a pitch black tent, I'd be hard pressed to live without this great feature. Also in the box are a couple spare O-rings, and a slip-on clip. This clip is just the right size to fit into a "MOLLE" loop system which is standard for most current Army equipment. I use it quite a bit on the front of my IBA (Individual Body Armor).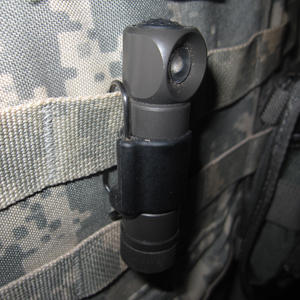 There are only a few things I would change on the H501. The button should be recessed enough so that pressing the light against a flat surface won't activate it. I find that it's necessary to twist open the battery cap slightly to ensure the light doesn't come on in my pocket. The clip works great for MOLLE loops, but isn't long enough to fit on a standard issue uniform belt. Finally, there are no filter options for the H501. I would find it useful if there was a blue/green filter that could be snapped over the front of the emitter. You can, however, get a dedicated red emitter version of the light.
The H501 is an all together great light. It's a joy to handle, with performance that never fails to amaze. It's economical to use, and convenient to carry.
Short bio – I am a 25 year veteran with multiple deployments to location around the planet. I started my career as an infantryman, and I am currently a CH-47 Chinook pilot. I'm always looking for useful high quality gadgets. My line of work and the environment I live in does not forgive sub-standard equipment.
Product Information
Price:
$59.00
Manufacturer:
ZebraLight Inc.
Pros:

Economical to use
Convenient to carry

Cons:

Button not recessed enough
Clip not long enough for uniform belts