We use affiliate links. If you buy something through the links on this page, we may earn a commission at no cost to you. Learn more.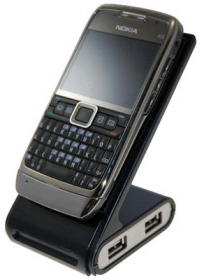 When it came to my gadget list, the one thing I was missing was something to place my Blackberry on when I'm at work.  I have used desk stands for devices in the past, but they generally start getting in the way and eventually end up in my desk drawers!
Now, normally I would just arrive at the office and stick my Blackberry on charge, or simply leave it in its pouch and check it every now and then for any recent messages, e-mails or calls.  Well, that's just no good I hear you say!  So, I was very pleased when I was sent the Desk Genie from Mobile Fun to review.
In short, it's a mobile device desk stand, however it's not just a gadget for your device to sit and look pretty on, oh no!  It also doubles up as a device charger, a memory card reader, (with slots available for a host of memory cards) and it's also a USB hub!
And, as Julie mentioned in her spotlight gadget post of the Desk Genie back in December, what makes this little gadget rather unique is the way that it holds your device in place, but we'll take a look at that in more detail soon.
Specifications
Front plate is designed with a 'non-slip' rubber material
Holds your handset or accessories very firmly
Sleek and Stylish design
Integrated '8 in 1' memory card reader
Integrate USB Hub with 2 x USB ports
Fully compliant with USB 2.0 (480Mbps)
Backwards compatible with USB 1.1 (1.5 or 12Mbps)
Plug and Play
Supports:  Windows 2000 / XP / Vista / Mac OSX and Linux
Dimensions: 59 x 102 x 106mm
Weight: 95g
What's in the box?
The device arrived in plain packaging, so I wasn't sure what it was until I actually opened it.  However, everything inside the box was packaged well.
1 x Desk Genie
1 x 90cm Mini USB cable
1 x Charger Output Cable
8 x Handset Connectors
1 x Easy to read User Manual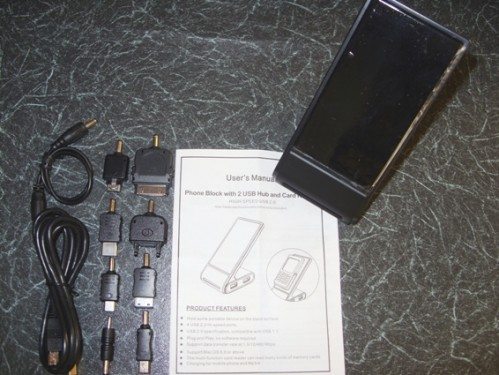 The collection of connectors that you get the box will fit a massive range of devices, including iPhone/iPod, Blackberry, Samsung, LG, Nokia, Panasonic, Palm, Sagem, Ericsson, Toshiba and so on.
In Use
Never miss one of our posts again. Sent MON, WED, and FRI with the latest gadget reviews and news!
So, I prepared a space on my desk (not that the Desk Genie needs a lot of space however as it's nice and compact), then plugged in the cables to the laptop and my Blackberry.  The first thing I noticed was a blue LED power indicator on the front of the unit, which means it's drawing power from the laptop.  Nice touch!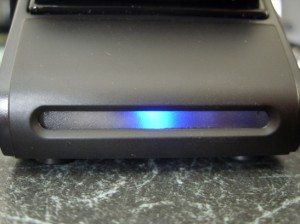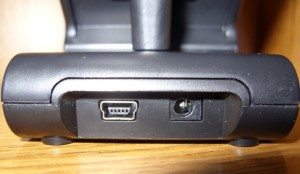 The obvious feature to any Gadgeteer is the Desk Genie's ability to hold any device in position (landscape or portrait), very securely and at a great viewing angle, so you can easily read e-mails, watch videos or play a game.  It does this with tremendous ease by using a special rubber material on the front plate.  Although the material feels tacky to the touch, it leaves no residue whatsoever on the device.  Although, I must admit I was just a little apprehensive about putting my brand new 8300 onto it at first!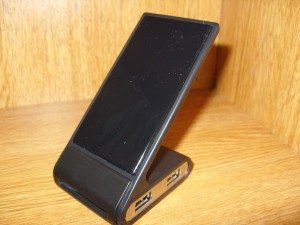 However, once I saw how well it held the device in place, I was seriously impressed!  It sticks like glue, but as I mentioned, it leaves no residue at all on the device.  It even managed to hold the phone in place when it was vibrating!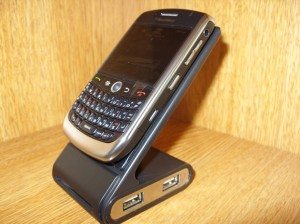 Once the adhesive properties of the rubber begin to wear off, or begins to collect dust and doesn't appear to be as sticky as it was, you simply dab clean water over the rubber, then wipe with a clean cloth and the pad becomes tacky again, just like new!   However, I've been using it for almost two weeks now and it's still as sticky as it was when I got it out of the box, so you'll not have to clean it that often.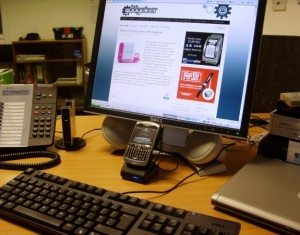 And of course, the Desk Genie is flexible enough to be used anywhere, not just on your desk in the office.  If you want to use it stand alone, maybe next to your bed or even in the kitchen, you can purchase a USB Mains adaptor (5V DC – not supplied) and charge your device wherever you like!
Plus, it's small enough to fit into my gear bag, so I can take it to another office if I'm traveling around.  Bonus!
I think the the only downside was the length of the output cable which connects from the desk stand to your device.  With it being only 20cm in length, you'll probably have to detatch your device from the desk stand first if you want to use it for any reason.
Extra Features
As I mentioned earlier, the Desk Genie incorporates a card reader on one side of it's base, with 2 x USB ports on the opposite side.  There are 4 slots for memory cards (M2 / Micro SD / MS & MS Pro Duo / SD, Mini SD, MMC & RS MMC).
It's quite straight forward for anyone to use, as long as you're connected to your PC/Laptop, just pop in a flash card into the appropriate slot and and it's ready to use.   And, unlike a lot of card readers on the market, this reader allows you to insert MicroSD and M2 memory cards without using adapters.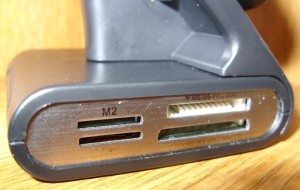 The USB ports are useful too, especially if your laptop lacks available ports.  I found it rather handy to have my iPod Shuffle dock plugged into the side, as the nearest available port was on the left side of my monitor and not exactly the best place to plug my iPod dock into.  At least using the Desk Genie, the cables are kept tidy and I can keep the iPod close to my other gadgets.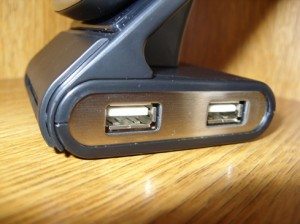 So, in conclusion, the Desk Genie isn't just your average device desk stand, it's much more!
And, as it retails at a price of just £14.99 it's outstanding value, especially for what you get.  It's well made, incorporates a host of features and it's one of those gadgets that actually looks stylish, without trying hard.
Product Information
Price:
£14.99 (~$24.00)
Manufacturer:
Mobile Fun
Pros:

Stylish Design
Plenty of Features
Great value for money
Portable

Cons:

Output cable not long enough