We use affiliate links. If you buy something through the links on this page, we may earn a commission at no cost to you. Learn more.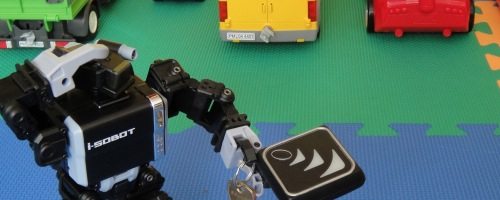 In the mid 1990s, my best friend and I took a trip to DisneyWorld in Orlando.  Every time we returned to the parking lot, we faced a familiar scenario:  We couldn't find our rental car.  Simply too many cars!  Adding insult to injury, our rental car was a red Chevrolet Corsica… which was a staple of rental car agencies back then.
When I saw the Auto-Finder from Finder Technologies, I knew I wanted to try this.  You see, my undergraduate senior design thesis was on radio-direction finding methods.  I've participated in many amateur radio "fox hunts", where a buddy hides somewhere in town and a bunch of college guys without girlfriends on a Saturday night (yes I was one of them) run all over the hills with radio receivers trying to find the hidden "fox".  Oh yes, a fun bunch we were. Would the Auto-Finder lead the way?
The basic kit is composed of a battery-operated beacon that stays in your car, a keyfob "locator" and a leatherette carry case.
1. Pointer Remote – battery powered transceiver carried by user and attached to keychain
One "Locate" push button for activation
Three LEDs for direction indication
A speaker that produces tones proportional to correct direction
Two custom, patented antennas used for determining directionality
2x size 27A batteries (12V)
2. Beacon – battery powered transceiver mounted in the vehicle
A speaker for reporting status
Two omnidirectional antennas
3x size AA batteries
Hardware Specs:
Pointer Remote
Transceiver frequency range: 2405 – 2480 MHz
Transmitter output power: +19 dBm
Internal operating voltage: 3.0V
Batteries: Size 27A, 12V Alkaline (x2)
Battery Life: approximately 6 months (typical use)
Dimensions (WxLxH): 1.87″ x 1.87″ x 0.63″
Weight (with batteries): 4.75oz./135g
Antennas: PCB trace antennas
Beacon:
Transceiver frequency range: 2405 – 2480 MHz
Transmitter output power: +19 dBm
Internal operating voltage: 3.0V
Batteries: Size AA 1.5V Alkaline or non-rechargeable Lithium (x3)
Battery Life: approximately 6 months (typical use)
Dimensions (WxLxH): 2.75″ x 3.54″ x 1.02″
Weight (with batteries): 7.0 oz/ 200g
Antennas: Embedded antennas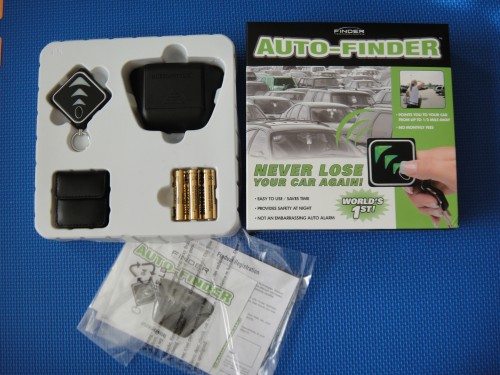 This wedge-shaped object is powered by three AA batteries and can be attached inside your car with the supplied hook-and-loop tape.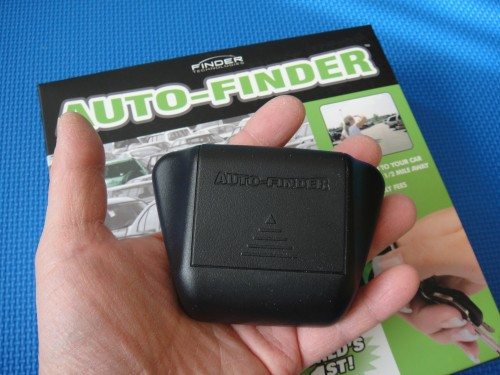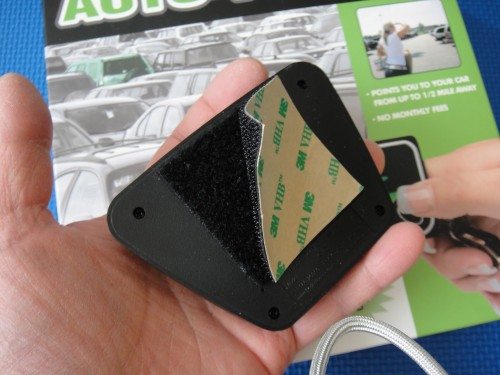 The keyfob is roughly the size of an everday car alarm fob, although perfectly square.  Fits into the included carry pouch perfectly if you don't wish to attach another fob to your key ring.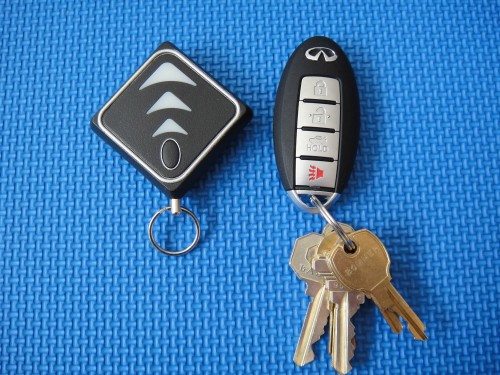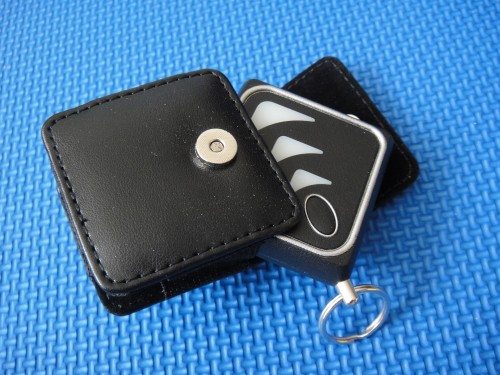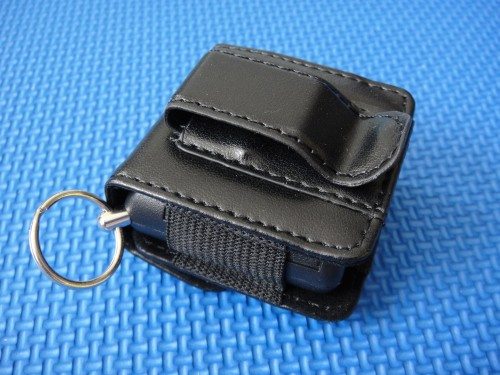 So how does it work?  To test this, I tried the Auto-Finder in two typical parking setups:  Inside a concrete parking structure with lots of hard surfaces, and while parked in an outdoor, open-air flat parking lot.  I knew reflected radio waves were going to be the enemy, so I thought this was prudent.
To operate the Auto-Finder you simply press the keyfob button.  It sends a signal to the beacon.  The beacon then sends a locating signal for the keyfob to home in on.  So far, so good.
The keyfob has three green LED arrows.  The stronger the signal, the more arrows.  There's also a chirping speaker inside the keyfob that beeps with increasing tone and frequency the "hotter" you get.  All this makes perfect sense.
What I found, however, that the Auto-Finder is easily confused by reflected waves and bombards you with a cacophony of bleeps in rapidly changing tones.  The green LEDs were not much help, either;  They would frantically flash to the beat of the beeps, seldom providing any useful information.
The instructions suggest sweeping around in an arc while standing in place:
Stop
Press the Search button and slowly scan the whole parking area
Observe the sounds and arrows for the strongest indication
Release the Search button
Walk in the direction of the strongest indication
I got many odd stares by passers by as I was using this modern-day divining rod.  I was used to it.  After all, I'm a geek.
What surprised me was there was no change in accuracy or usability for me in a concrete parking structure vs. an open air one.  In either case, the Auto-Finder appeared overwhelmed by all the signals and spat out bleeps and beeps and green lights.
One thing that did work, however:  If you are VERY close to your car, the Auto-Finder's beeps change into a constant tone.  BEEEEEEEEEEEP..!  This is better than nothing.  But at this point, if you're right next to your car and need this kind of electronic assistance, you may be better served honking your horn with your car's remote.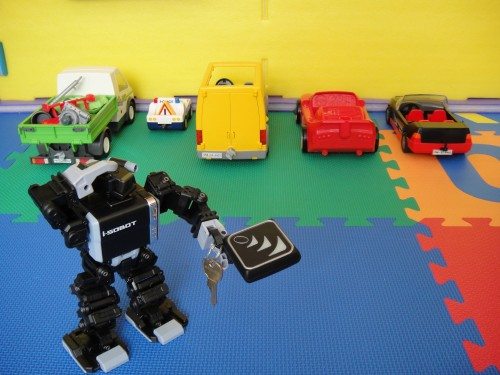 Does it work?  Sort of.  But I can appreciate the kind of challenges in a a product like this.  The remote itself is very small, so the antenna receiver design is limited.  A receiver sensitivity switch or knob would be handy, allowing the user to "fine tune" and reject stronger multipath signals.   But adding that would be difficult to explain to non-techies.
In the end, I like the idea.  It doesn't rely on GPS so you don't need a clear view to the sky.  It doesn't draw attention to yourself by honking the horn of your vehicle (although you may get strange looks as you're beeping away).  You can even purchase a multi-unit kit for the entire family.  It may need a little more work before it earns a permanent place on my key ring, however.
What did we do with our rented red Chevy Corsica?  We tied a green ribbon to the radio aerial.  It was the only way!
Product Information
Price:
$99 for the Essential Kit (as shown)
Manufacturer:
Finder Technologies
Pros:

Works with any car
Move from car to car
Does not rely on GPS signals, or subscription services
Batteries included

Cons:

Keyfob receiver seems overwhelmed by all the reflected signals