We use affiliate links. If you buy something through the links on this page, we may earn a commission at no cost to you. Learn more.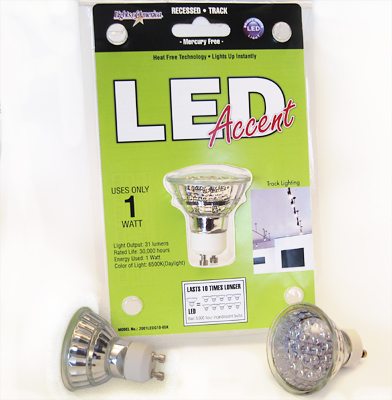 Serendipity is a term used to describe a situation that turns for the better without any effort on the part of the receiver.  This is how I would describe the finding of these Lights-of-America LED lights that are replacements for the GU10 Halogen bulbs that I have in the track lights above my kitchen sink.
While the Halogens produce a lot of light, they are also hot and one-by-one have burned out, all in less than three months.  Grrrrrrrr.  So when looking for Monkey Butt Powder at Ace Hardware one morning (yes they have that), stumbling on to these LED GU10 replacements was serendipitous indeed.  (The town I live in is kind of small and we don't get a lot of high-tech cutting-edge gizmos so I was really astounded at being able to purchase such a thing at a brick-n-mortar store live and in person.)  As usual, though, I was skeptical.  I knew the LEDs would not be as bright as the Halogens but also would not put out as much heat.  And I needed them.  What did I find out?  Let's find out.
First, note that the location and purpose of my track lights is as a supplementary set of task lighting within my kitchen:  they are not the source for the overall ambient lighting.  I bought the track lights to help alleviate the shadows that the ambient light casts onto the kitchen sink counter when someone is at the sink area.  The track lighting really brightened up the area.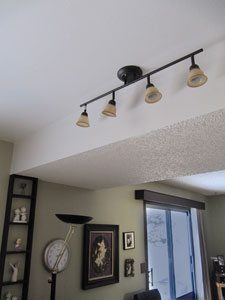 As mentioned, the track lights originally came with the MR16 GU10 50 Watt (250-300 Lumens) type of Halogen bulb.  These are small and strong (and cheap — $4-$6 each) but pump out a lot of heat.  They also burned out one-by-one, which forced me to start thinking about replacement bulbs.  And that's when I happened to bumble onto the LED replacements.
I shouldn't use the term "replacement" however: the LED's have the word "Accent" right on the packaging in red letters.  So that should send up red flags: these are not meant to be replacements for task lighting.  But, in my defense, those letters are in artistic script and look like a cute marketing flourish rather than a warning that these are not going to be one-for-one replacements for your existing GU10's.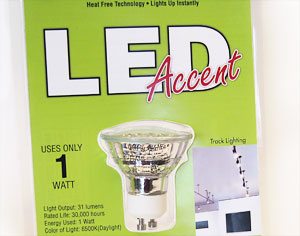 These are the specifications for the LED's from the package:
Light Output: 31 Lumens
Rated Life: 30,000 Hours
Wattage: 1 Watt
Color of Light: 6500 Kelvin
And, for comparison, these are the specifications from a GU10 similar to the originals in my track lights:
Light Output: 250 Lumens
Rated Life: 4000 Hours (aha!)
Wattage: 20 Watts
Color of Light: 2950 Kelvin
And here are specifications from a similar compact fluorescent GU10:
Light Output: 250 Lumens
Rated Life: 10,000 Hours
Wattage: 11 Watts
Color of Light: 2700 Kelvin
As I installed the LED's into the track lighting I thought it would be an interesting test to photograph the area using the light from the one remaining Halogen bulb against the newer LED's.  The following photos show just this.  The camera was set up on a tripod at the same location, shutter speed and F-stop.   Unfortunately it's difficult to tell  from the photos.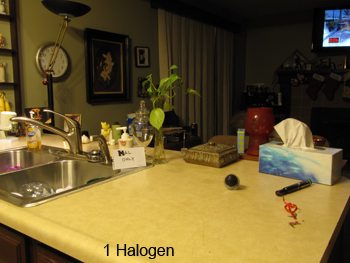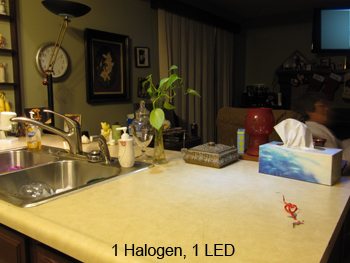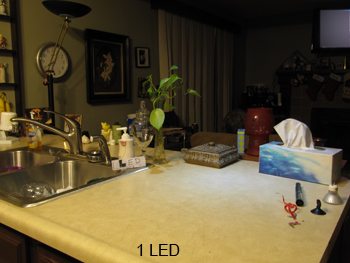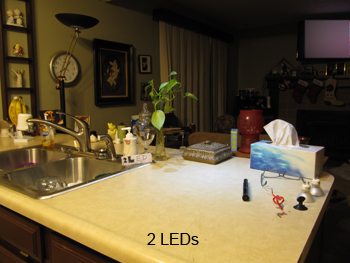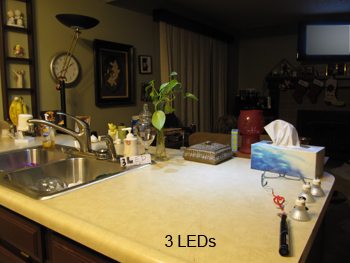 I can tell you, however, what you probably already know:  the LED's are not as bright as the halogens were.  And the amber color of the track lights' shades are rendered into a harsher blue tone, that was something that again I didn't expect but probably should have.  So the lights now have a more high-tech look than old world style.
All-in-all though, I'm content about the following points:  First LED bulbs are now coming into their own and are no longer found only in large cities or on the Internets; they are not as expensive as they once were; they do not put out as much heat as the Halogens; they light up instantly (unlike CFL's); they supposedly have a longer lifetime (I say supposedly because I'll believe when I see it).
Something you should consider before taking the plunge:  They are more expensive than the halogen counterparts; they will not produce as much light (but hey, just put up more track lighting); they can alter the color of the shades of your lights.
But I'm sticking with these and will be buying more (hopefully not because they burn out).
UPDATE
The original photos were taken on December 31, 2009.  Here is an update of the photo with three LEDs taken on January 29, 2010, almost a month later . . .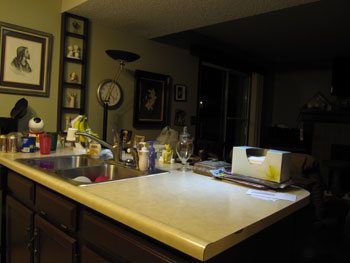 Update #2 — taken March 09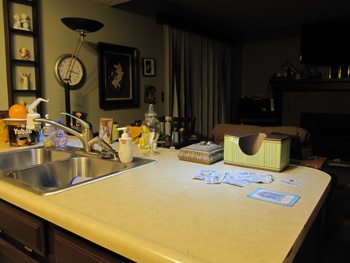 Update #2 — taken May 01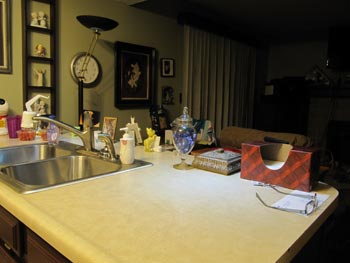 Product Information
| | |
| --- | --- |
| Price: | $10 |
| Manufacturer: | Lights Of America |
| Pros: | Less heat, now available, longer-life, mercury-free, instant on |
| Cons: | Not as bright as halogen; little more expensive; casts blue tone |