We use affiliate links. If you buy something through the links on this page, we may earn a commission at no cost to you. Learn more.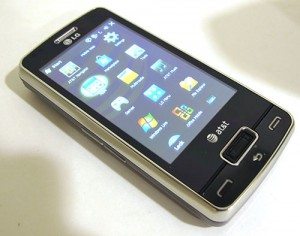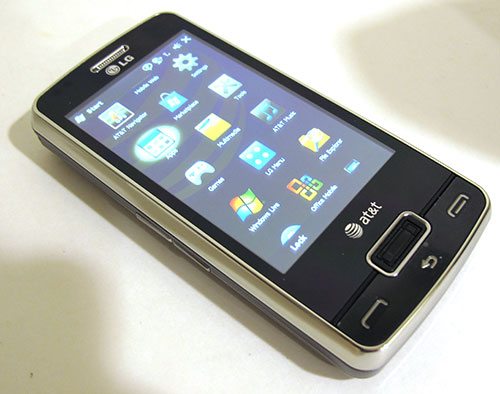 My first five days with the LG eXpo Smartphone has been a mixture of good and bad experiences. Good because I like the phone's hardware and bad because I've had issues with that hardware. Life with gadgets is never perfect is it?
In this installment, I'd like to talk about the user interface, using the touch screen, D-Pad and keyboard. I will also talk about how it performs as a phone.
User Interface
This is the part where I have to tell you that I'm spoiled by the iPhone's interface and it's tough not to make comparisons when I'm reviewing other devices. Am I biased? I'll admit that yes, I probably am. For those of you that have ever used an iPhone and know how well thought out the interface is, how finger friendly it is and how smooth it is to scroll and tap items on the screen, you understand where I'm coming from.
With that said, I have been giving Windows Mobile 6.5 a fair try and have been using the eXpo as my primary phone for the past week.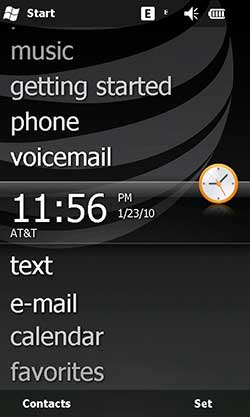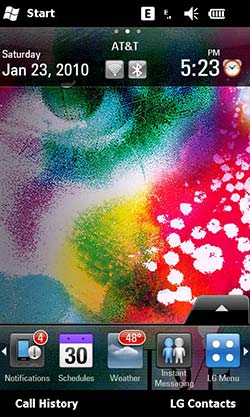 By default the Today screen appears as it does in the image above on the Left. It's basically a list of items that you can scroll and tap on to gain more info. The image on the Right is LG's Today screen, which gives you basically the same info, just arranged in a different way. Instead of a vertical scrolling is, there's a horizontal list along the bottom edge. There are also 3 different screens. The one you see there, favorite contacts and favorite media.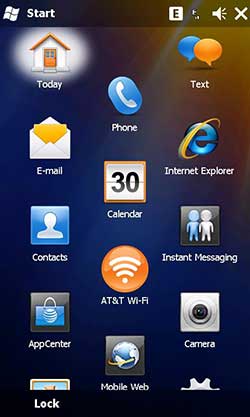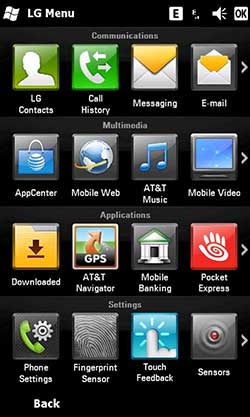 Pressing the Start menu at the top Left will give you a scrolling list of icons. If you tap the LG Menus icon in the LG Today view, you'll be presented with rows of icons that can be scrolled horizontally.
I like the screens of icons, but here's where I find myself missing the scrolling smoothness of the iPhone. The LG eXpo has a resistive display unlike the capacitive display that the iPhone has. This is great because you can tap it with your finger, a stylus, a gloved hand, etc. But, the smoothness isn't there. If I put my finger in the middle of the display and flick my finger up and down to scroll through icons, often nothing will happen and I'll have to try again. Or, my finger will activate an icon instead of scrolling the screen and will launch a program. It's even worse with the LG Menus because the icons are much closer together. For that fact, I rarely use those menus.
Never miss one of our posts again. Sent MON, WED, and FRI with the latest gadget reviews and news!
Windows Mobile is powerful and relatively easy to use, but as it is implemented, it's not very finger friendly. You'll notice that the OK button in the upper right corner of many screens is very tiny. I have to use the tip of my fingernail to tap these elements. Windows Mobile has come a long way, but I really hope version 7 turns the corner and allows everyone to finally get rid of old fashioned stylus input.
Fingerprint Sensor / D-Pad
If you have problems scrolling the screen using your finger, you have another way to scroll. It's the integrated touch D-Pad, fingerprint sensor that is located directly below the AT&T logo below the display.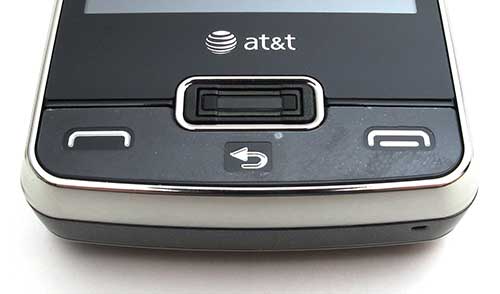 The D-pad can be used to scroll lists up and down as well as left to right. To use it this way requires no training, you just swipe your finger across the surface of the button. You can also press the button in to select items. It works pretty well, but I often have to swipe more than once to get the results I expect.
In addition to scrolling, this button is a fingerprint reader that you can use to secure your phone from unauthorized access.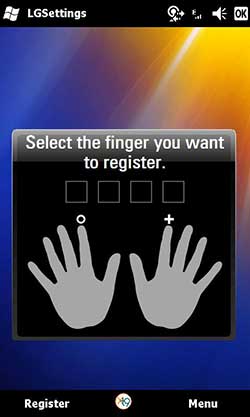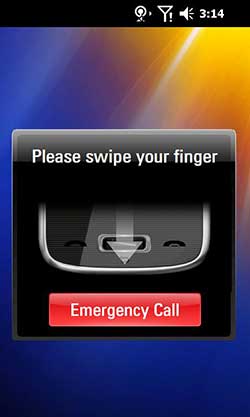 To use your fingerprint as a locking mechanism for the eXpo, you first have to register one or more fingerprints. To do this, you just swipe the figure you choose four times to teach that print to the phone. Then when you press the power button along the top edge of the phone, it will ask you to swipe your finger to unlock it. I had no issues registering my finger prints or using this unlock feature. I actually think it's pretty cool.
Using QWERTY Keyboard and Touch Screen for Input

Entering text on LG eXpo can be done through the slide out keyboard or the touch screen.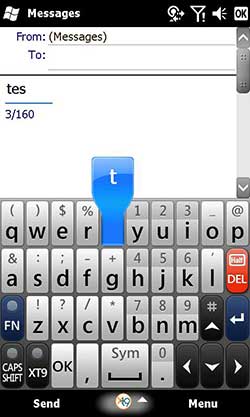 The soft keyboard is pretty cramped as you can see from the screenshot above. It works best for me when I use my thumbnails to tap the keys. I'm not sure how well it would work for someone with large thumbs and no nails though. I suppose they would be better off using the slide out keyboard.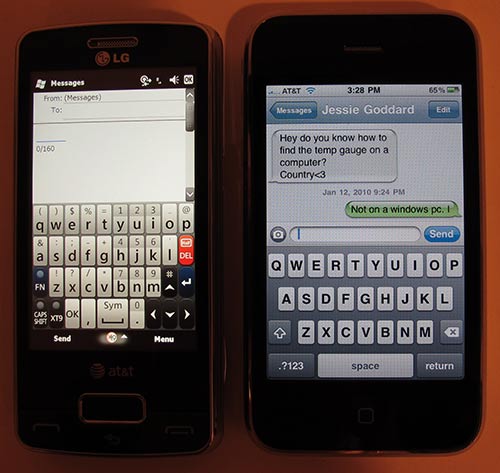 Here's the LG keyboard compared to the iPhone's keyboard. Unlike the iPhone, the keyboard on the LG will not rotate if you hold the phone in landscape mode.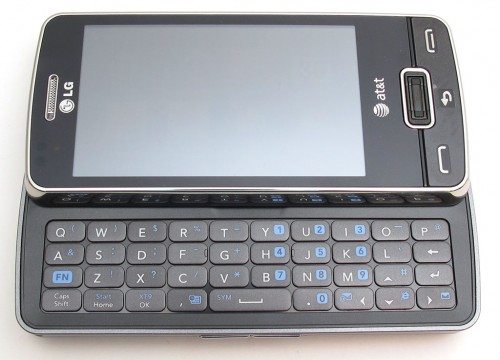 The slide out QWERTY keyboard is comfortably roomy, with large flat backlit keys. The layout (click image to see full size version) is good and I had no issues typing quick text messages with it. The size of the keys is also very thumb friendly.
Making and Receiving Calls with the LG eXpo
I've found that it's easier to make calls with the eXpo than it is with my iPhone. This is true for me because there are physical buttons that you can press to initiate, answer and end calls.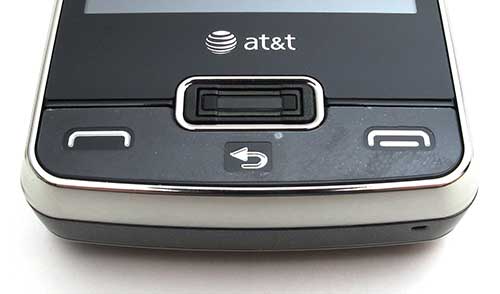 The call Send and End buttons are located along the bottom front edge of the phone. If you double click the Left Send button, it will automatically redial your last dialed number.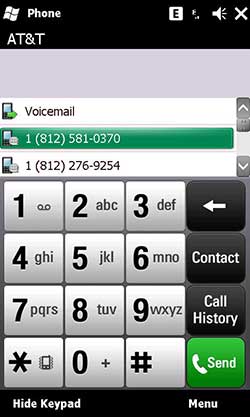 If you press the Send button once, it will popup the keypad screen that you can use to tap out a number.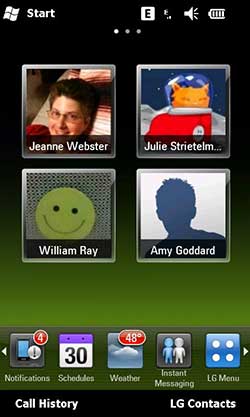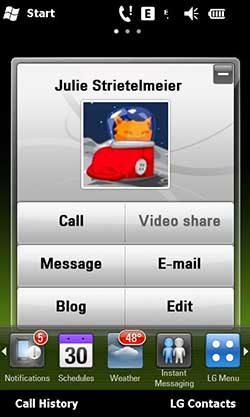 You can also dial by favorites if you use LG's Today screen.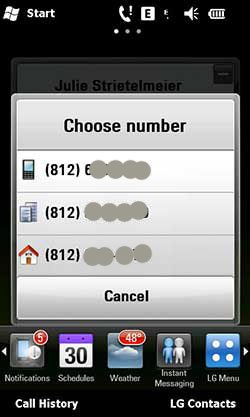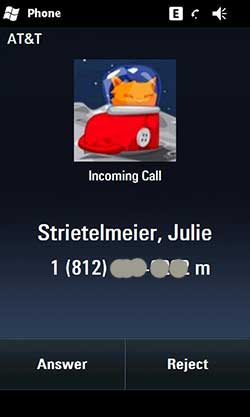 Incoming calls can easily be answered or rejected by pressing the soft keys on the screen or the Send and End keys on the phone.
Call volume and clarity are really good with the LG. Most of the time I have to turn the volume down when I'm in a call, which seems to be a rarity for most phones I've reviewed.
I mentioned at the beginning of this installement that I had some issues with the hardware this week. The eXpo started spontaneously rebooting for no apparent reason. A couple of other people (Judie of Geardiary.com, Lisa of MobileTechReview.com and Clinton of ClintonFinch.com) reviewing the same phone had similar problems. Judie narrowed the issue down to a problem with 3G coverage. The eXpo apparently isn't happy when it's in an area with little or no 3G service. The bad part is that there is no option in the phone to turn off 3G and just go with 2G. There's a way to do it if you have the super secret test mode code though…
I also had a problem with charging the phone using the included USB cable and my iMac. One morning I tried to use the phone after it had been plugged in all night and it died and wouldn't come back to life. I plugged it back into the USB cable and the LG logo popped up, but it wouldn't power on. I even took out the battery several times to no avail. Judie suggested that I plug it into the wall because she had similiar experiences with Nokia phones and charging them via USB. Sure enough, plugging it into the wall charger and waiting for 30 minutes resurrected it again. Weird, I'd never had such an issue with phones before.
So far I have mixed feelings about the eXpo. I think I'd like it a lot better if the Windows Mobile user interface was more finger friendly. As is, it can become frustrating for me.
In the last part of this series, I'll be covering:
5MP Camera
Optional Pico Projector