We use affiliate links. If you buy something through the links on this page, we may earn a commission at no cost to you. Learn more.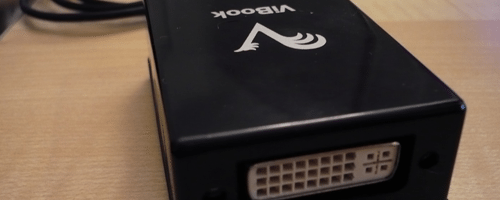 I am a master of multiple monitors. At my last job, I wrangled my way into having a total of four LCDs connected to my workstation, which was pretty fantastic for multitasking. The downside was that such a configuration requires more than one video card (usually).
Your run-of-the-mill video card has either one or two video outputs. If you want to add extra monitors, you need to get another video card. Not only can this be costly, it's completely unfeasible if you're working with a laptop or an all-in-one machine like an Apple iMac. This is where DisplayLink technology comes into play. DisplayLink is a new hardware standard that allows passing a video signal over USB instead of more typical connections like DVI and VGA. One such manufacturer of DisplayLink products is VillageTronics, who sent me their ViBook adapter to test and review. We'll see how it compares to the more traditional method of adding an extra internal video card to your computer.
The hardware is, as with many USB products, extremely simple. Install the software, plug the device into your monitor and a USB port on your computer. The software handles the rest, and bam – you have a whole extra monitor onto which you can extend your desktop and application windows. DisplayLink is supported by both Windows and Apple's Mac OS X operating system, and the ViBook is no different.
In the box
The ViBook comes with everything you need to get started:
ViBook device
18″ DVI-to-VGA cable
DVI-D male/male adapter
VESA-compliant mounting bracket
Documentation and drivers disc
The hardware
The device itself is very straightforward – it's a small black box with a female DVI-I connection on one side and a recessed USB mini-B port on the other. The included USB cable has a large square block around the mini-B plug, so that it sits well in the recessed USB port on the ViBook.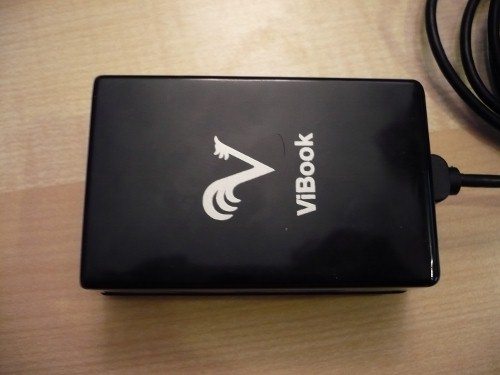 The DVI-I port on the other side is the same DVI connection found on modern video cards. DVI-I includes the ability to transmit both digital DVI signals and the older analog VGA signal standard, so it can be used with a DVI-to-VGA adapter.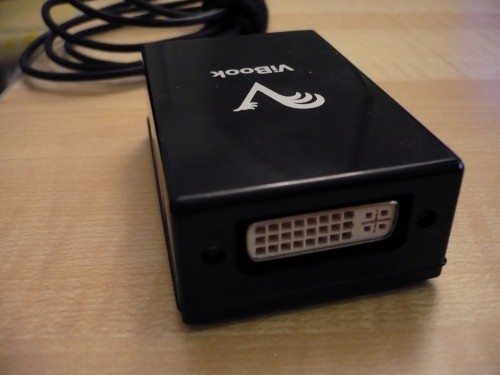 The included 18″ DVI-to-VGA allows you to connect the ViBook to the VGA output on your monitor with minimal excess cable length. Then, if you choose, you can mount the ViBook to the back of your monitor with the included VESA bracket. It's compatible with both 75mm and 79mm VESA mounts, so it should work with any normal desktop LCD monitor. Two adhesive 3M-branded foam pads are included as well, in case your LCD doesn't have VESA mounting holes.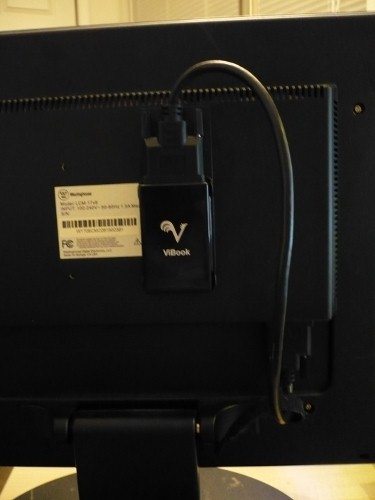 In addition to the aforementioned cable, the ViBook also includes an adapter to connect it to your monitor's DVI port. For some reason, only a small gender-changer type adapter is included, rather than an actual cable, so you can't use the VESA bracket with it. For the price, it would have been nice if a short DVI-to-DVI cable had been included with this device.
The software
VillageTronics includes a CD-ROM with software for both OS X and Windows. The Windows software is actually a product called UltraMon, which I have used in the past. The license for this application is nearly $40.00 USD, so it's definitely a nice bonus with the ViBook. VillageTronics rebranded the software as VT MultiDisplay, but for all intents and purposes, it's UltraMon.
This is a great piece of software, and I highly recommend it if you use multiple monitors on a regular basis with your computer(s). It provides extra buttons in the title bars of your windows to move them between displays, and puts a taskbar on every monitor so that your applications don't all put taskbar buttons on your primary display. There is, however, one downside to the VT MultiDisplay software – UltraMon has yet to be officially compatible with Vista and XP, which means that the ViBook's included copy isn't necessarily going to work well. I've used UltraMon in Vista, but the extra taskbar functionality has been unstable.
This doesn't mean the drivers necessary to use the display are incompatible – I've had no problems using the ViBook with my Vista Ultimate SP2 installation.
The ViBook also comes with software for OS X. However, it's Intel-only and all my Macs are old PowerPC machines, so I can't test it.
Performance
I'm not entirely read up on the nitty gritty of how DisplayLink works, but from my testing scenarios, it seems like the ViBook (and, I imagine, DisplayLink in general) piggybacks off your computer's internal GPU (graphics processing unit). On my desktop PC with an nvidia 9500 GT, I was able to play Runes of Magic (a World of Warcraft-style MMORPG with better graphics) with high graphics settings at about 30fps. On my netbook, however, which uses the Intel integrated graphics chipset, video performance was what you'd expect from integrated graphics – games were unplayable.
For general-purpose computing, the ViBook will more than suffice.
The bad
As with just about everything I've reviewed, I have a few minor complaints about the ViBook. The DVI port on the device itself is framed by the plastic cover of the box, which prevents DVI plugs from being completely secured to the port with the screws on either side of the connector. This isn't a huge deal, but I'm of the school of thought that when it comes to somewhat expensive technology, the details matter in the overall fit and finish of the product.
The verdict
Overall, I'm pretty happy with the ViBook as a piece of geeky hardware. I think it's more useful in general than needing a mini-DVI or mini-DisplayPort adapter for your laptop (which is how Apple laptops have been configured for awhile now). If you have a desktop computer, I'm not sure that the ViBook will be particularly useful, since you can easily add a second video card for less than half the cost of this device. On the other hand, it's plenty handy for hooking up a monitor to a laptop or iMac, especially since it doesn't use a big bulky video cable. The included software helps to offset the cost of the hardware, so I call it a win.

Product Information
Price:
$129.99
Manufacturer:
VillageTronics
Pros:

Versatile - use with laptops and desktops
Mac compatible
Mounts to LCD

Cons: