We use affiliate links. If you buy something through the links on this page, we may earn a commission at no cost to you. Learn more.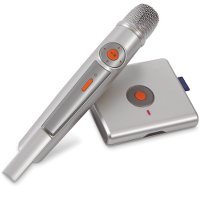 Just in time for the kick off of the ninth season of American Idol, there is the lengthily named The Only Scoring Karaoke Game to tell you just how pitchy your rendition of "Hey Jude" really is.  Featuring a wireless microphone with an adapter that plugs directly into your television, this karaoke game measures your pitch while singing and displays on screen whether you're too high or low.  I'm not sure about that "the only scoring karaoke" claim though as several versions of SingStar may beg to differ.
This microphone system is pre-loaded with 100 songs from the oldies-but-goodies catalog featuring The Beatles,  Frank Sinatra, and Elvis with the ability to download additional songs to an SD card–not included.  Details are a little sparse from the catalog description like what the game interface looks like, where additional songs can be downloaded from, whether duets are possible, etc.  It's available exclusively through Hammacher Schlemmer for $199.95.