We use affiliate links. If you buy something through the links on this page, we may earn a commission at no cost to you. Learn more.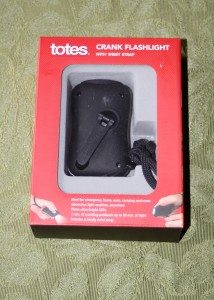 Darn those displays in the middle of store aisles packed with countless inexpensive 'gadgets'.  I get suckered every time.  Light bulb filament replacement kit; yeah, got one of those.  Nose hair weed-wacker; my brother got suckered into that one.  Tell me you've never been in one of those As Seen on TV stores…
Anyway, once in a while you find a diamond in the rough.  I have owned countless flashlights since I have had children and ONE of them presently works.  It's the one I hide that recharges by plugging in to an outlet.  Any flashlight that used batteries is always dead; not sometimes, always! What kids need a flashlight for in the middle of the day outside is beyond me.
Enter the totes crank flashlight!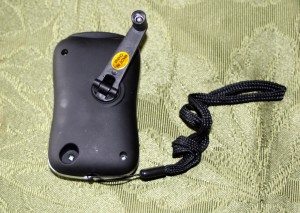 A flashlight that you can crank!  I snatched one right up.  The package says one minute of cranking gives up to 30 minutes of light.  I haven't had 30 minutes of flashlight light total in the past 8 years.  So I cranked it for a minute and turned it on.  30 minutes later I still had light that hadn't seemed to diminish at all in strength.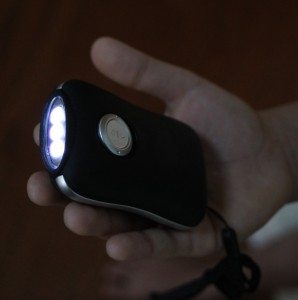 Here is a picture of my eight year old holding the palm sized light.  This was taken after the light being on for over 30 minutes.  (I told him this would be the only time this flashlight would be in his hand!)
At an hour the light seemed to be dimming a bit but was still strong enough to use.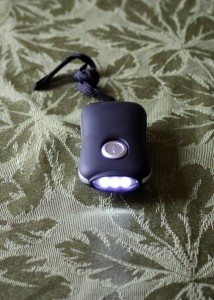 (In the holiday spirit I took the photos on the holiday tablecloth- covering the gravy stain…)
The retail price for the light is $14.99, but I was able to get one for $9.99.  I'm going to use the  $5  I saved to buy batteries for my other flashlights….

Product Information
Price:
$14.99
Manufacturer:
Totes
Pros:

NO BATTERIES included OR NEEDED!
Long lasting light
Lightweight and inexpensive

Cons: