We use affiliate links. If you buy something through the links on this page, we may earn a commission at no cost to you. Learn more.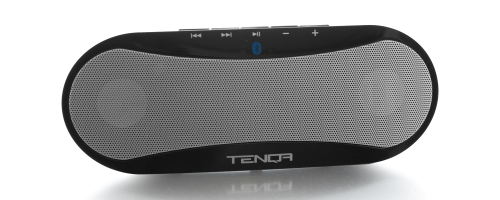 We carry more and more music with us every day- MP3 players, cell phones, laptops, and more. We are also carrying a dizzying array of ways to play this all back- earphones, headphones, mini-speakers, big speakers, travel speakers, radio docks, stereo docks and more. What does the Tenqa SP-99 Bluetooth Speaker add to this mix?
Well, in a nutshell- wireless connectivity to all of your Bluetooth stuff. While it has both a stereo in and stereo out jack, and comes with a handy 15″ M-M 1/8″ stereo patch cord, its strength is that it connects easily to your Bluetooth gear- and as a bonus, can even act as a remote control if the Bluetooth device is AVRCP compatible (my HP Mini laptop is, my Blueberry Curve 8300 is not).
Let's talk specs.  The SP-99 is packed with the 15″ patch cord, a nice long power supply (classic wall wart design), and a short instruction booklet. It can run on AC or 4AA batteries (not included).  It does OK on the Gadgeteer Creak Test, and feels fairly solid in your hands.
Bluetooth v2.0, Class 2
A2DP (stereo music) and AVRCP compliant
15″ x 6.3″ x 7.1″ (My own measurements show it to be 8″w x 3″h x 1.6″d- I don't know where the got the others, they seem to be the box size.)
2 watts of power per speaker
Controls for next and last songs, play/pause, and louder and softer
LEDs for power and Bluetooth connections
If your player is AVRCP compliant, the controls pictured below will work. if it is not, they will not. The controls are well-placed and well-labeled, but offer no tactile feedback.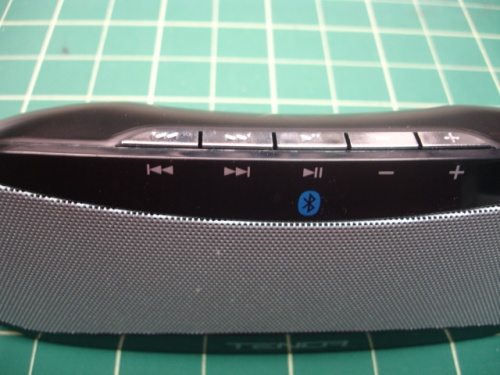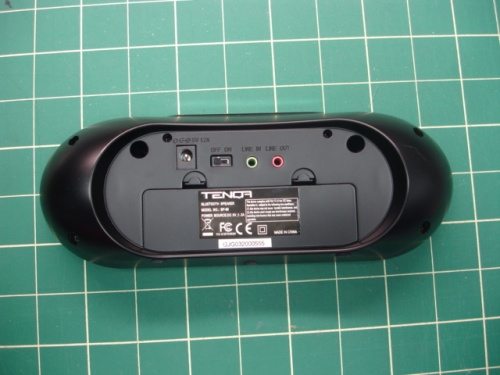 The instructions walk you through the easy set-up. I paired up with my Blackberry and HP Mini quickly, although the HP did not immediately send the music to the SP-99 until I restarted the HP. The instructions do not tell you much about using the remote controls on the SP-99 but describe taking and making calls nicely.
The quality of the SP-99 is about what you might expect for a pair of inexpensive speakers. When the speakers are on and the music is paused, there is soft static and noise. You can hear details in the music, like the movement of fingers on guitar strings, but there is a definite muffling or lack of clarity, as well as not much in the way of bass and treble. I do not hear much of a difference if I use a different Bluetooth source or if I use the patch cord instead of the Bluetooth. Bottom line, they sound like a lot of other small portable speakers.
You can crank up the volume quite a bit. Using my Blackberry, it can be made loud enough to be uncomfortable to be near- but you will get the typical distortion from that.
OK, so this is not an audiophile gadget. Who would want it?
Never miss one of our posts again. Sent MON, WED, and FRI with the latest gadget reviews and news!
I find it great to have around for 'casual amplification'- using my Blackberry as a music player when teaching classes, for music in the park, to listen to my Blackberry in the car, and to offset the rather poor speakers in an older laptop with a Bluetooth card. I also see it acting nicely as someone's main small-room, low-cost iPod speaker system that can be carried with if needed (workshop, bedroom, dorm, etc.)
It packs nicely into several pockets of my gear bag, and is easy enough to carry since it does not need other cables. A pouch would be nice, though.
Overall, a nice set of inexpensive speakers, especially if the Bluetooth wireless convenience is worth it to you! (And Amazon's
Product Information
Price:
$79.99 (less than $40 at Amazon)
Manufacturer:
Tenqa
Pros:

Wireless/Bluetooth
Portable
Can act as a remote for some systems

Cons: