We use affiliate links. If you buy something through the links on this page, we may earn a commission at no cost to you. Learn more.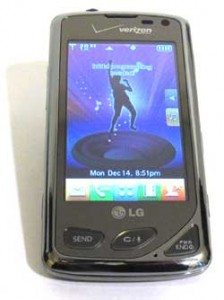 This is a Sponsored Post written by me on behalf of LG Chocolate Touch. All opinions are 100% mine.
After I purchased the first generation iPhone, I stopped using my iPod classic and transferred all my music listening activities to the iPhone. Do you use your phone for music? Did you buy your current phone based on its phone features or its multimedia features? Today I'd like to tell you about the LG Chocolate Touch Music Phone from Verizon. It has Dolby Digital for Mobile, which sounds pretty impressive. Let's see if it really is.
This isn't going to be a typical phone review where I go through all the features and focus on phone capabilities. I'm mainly just going to talk about the music features of the LG Chocolate Touch. Why? Because the phone that I was sent to review hasn't been activated for Verizon and I don't have a Verizon account to use with it.
Hardware Specifications
Technology: CDMA
Frequency: 1.9 GHz CDMA PCS, 800 MHz CDMA (Digital Dual-Band)
Data Transmission: EVDO† Rev. 0
Expansion: microSD slot
Bluetooth: 2.1 EDR
Camera: 3.2 Megapixel
Camera Resolutions: 2048x 1536 (default), 1600x 1200, 1280x 960, 800x 480, 640x 480 Pixels
Zoom: up to 1.6x
Video Resolutions: 320x 240, 176x 144 (default) Pixels
Video Recording Time: up to 30 sec. (for sending) or up to 1 hr. (for saving)
Video Player for WMV, MP4, 3GP, and 3G2 Formats
Dimensions: 4.30″(H) x 2.20″(W) x 0.47″(D)
Weight: 4.23 oz.
Display: 262K Color TFT, 400 x 240 Pixels, 3.0″
Standard Battery: 1,000 mAh
Usage Time: up to 306 Minutes
Standby Time: up to 470 Hours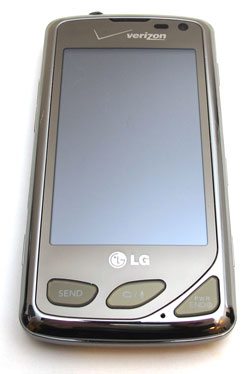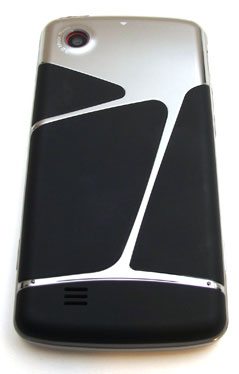 The phone has a chromed metal and plastic shell that you've probably already guessed is a fingerprint and smudge magnet. The back cover is easily removable. They even give you a 2nd one that has Purple rubber grips on the back like the Black one shown in the image above.
The front of the phone has a large color touchscreen and three buttons below it for call send / end, voice command and power.

The right side has a lock/unlock button, camera app launch button and music app launch button.

The opposite side has a micro USB connector that is protected by a small plastic cover, volume up/down buttons and a speakerphone button.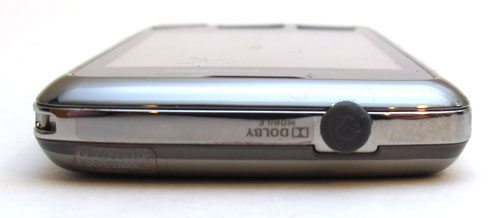 On the top edge you'll find a standard 3.5mm headphone jack. Next to the headphone jack is a Dolby Mobile label. I am pretty sure that this is the first mobile device that I've seen with this feature. I've seen Dolby labels on home electronics and in movies but I'm going to have to admit that I didn't really know what the heck it was for. One of my co-workers saw the phone on my desk and asked about it. When I mentioned Dolby, he said he thought it was for noise reduction. I decided to google it and here's what I learned from Dolby's site:
Dolby® Mobile brings the excitement of live performance and state-of-the-art movie theatres to mobile phones and personal media players. With Dolby Mobile, you can enjoy the kind of full-body surround sound experience that you know from the cinema and the concert hall—anytime, anywhere. No longer will you feel like you're watching a movie at arm's length on your mobile phone. Dolby Mobile plunges you into the action with top-quality audio and awesome surround sound.

Dolby Mobile Benefits
Immerses you in surround sound for a more compelling entertainment experience
Extends bass response, adding depth that you can feel to the music
Enhances high frequencies so you can hear every detail
Ok, that all sounds interesting, but does music "sound" better on the LG Chocolate Touch than on a regular old MP3 player? To answer that question, I had to first get music on the phone. The first thing I tried was plugging it into my iMac using the provided USB cable. I expected the LG to show up as an external flash drive. It didn't.
Then I went to Verizon's Wireless site and downloaded the VCast Music Manager and installed it on my HP Mini netbook. I then plugged the phone into the computer using the same USB cable. No luck… The software would not connect to the phone (FYI – the LG Chocolate does not yet show up as a compatible phone for this software). My next try was downloading Rhapsody software from Verizon's site. Rhapsody is sort of like iTunes. Unfortunately it didn't work either. I finally noticed that the LG had showed up as a 2GB external drive on my netbook and I could drag and drop music into the Music folder. I was also able to take the back cover off the phone, eject the microSD card and copy music to it that way too.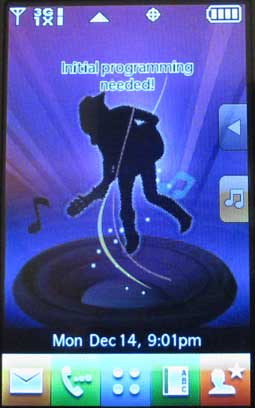 Accessing music that you have copied to the LG is really very easy and can be done two ways. You can press the music button on the right side of the phone or you can tap the musical note on the right side of the display.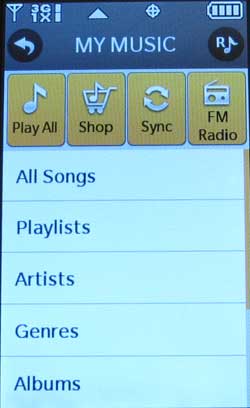 Doing either one will present you with the music application interface that you see here. You can then filter your music in different ways to choose the songs you want to hear.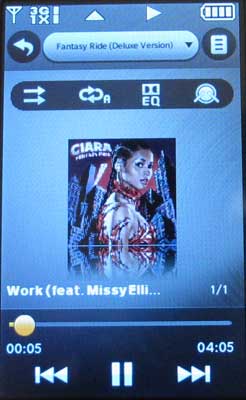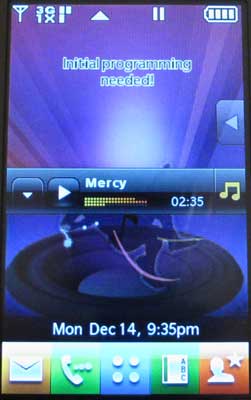 The what's playing screen shows album artwork if you have it and gives you quick access to the EQ.
Guess what? The audio quality is very good. Listening to the same song on my iPhone and the LG, the difference wasn't over the top noticeable, but I found the LG's bass to be just a little deeper and the trebles to be a little bit sharper. After going back and forth between the two devices it is really a toss up as to which one I like better. That said, listening to music on this phone should not be a disappointment at all.
In addition to listening to music on this phone, you can also play music.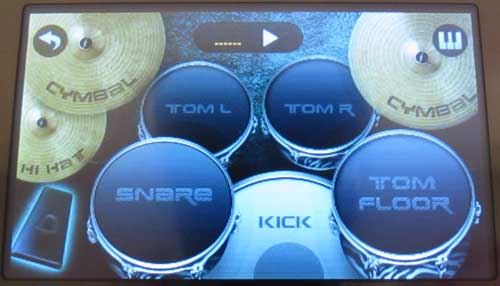 There's a drum pad that you can play with your favorite songs or even by itself.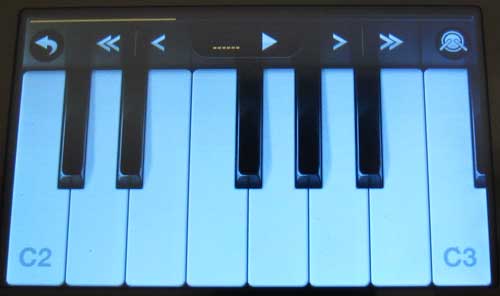 There's a piano too. Kind of fun…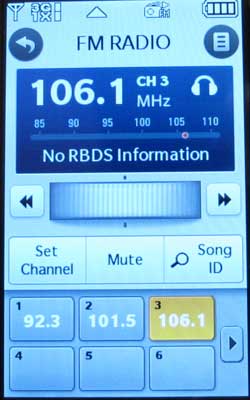 There's even an FM radio built into this phone. You can only use it when you have earphones plugged in though as they are used as the antenna.
Overall I'm really happy with the audio capabilities of this phone. I wouldn't have a problem using the LG as my MP3 player.
Now let's check the camera / video camera capabilities.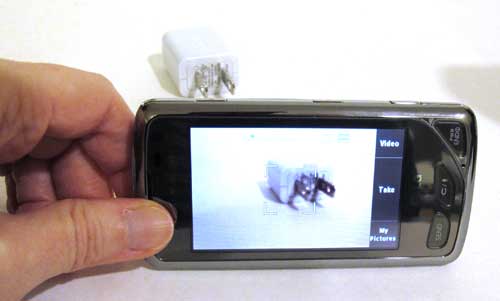 The LG has a 3.2mp camera that can take still images and record videos. Let me say right now, you aren't going to be blown away by images captured with this phone. To launch the image capturing app, you can just press the camera button on the right side of the phone. Almost the entire screen becomes the viewfinder. You can then tap the Take button or press the camera button on the side of the phone to capture an image. One problem that I did notice is that holding the camera to take a picture sometimes positioned my thumb on the speaker button on the opposite side of camera button. When I would use the camera button to snap a picture, I would also sometimes accidentally press the speaker button at the same time. Kind of a pain…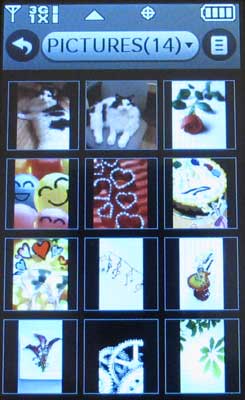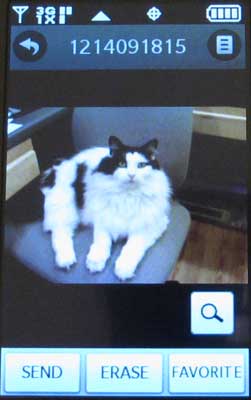 Pictures can be saved to the phone or card.
Click the sample pictures above to view the image quality. Regular shots turn out ok, but if you want to do macro pictures, forget it…
The video capabilities are about as good as the picture capabilities. Captured videos can have a maximum resolution of 320x 240. They end up being a little blurry and a bit jerky. I wouldn't use this phone as your only camcorder.
When it is all said and done, I can't tell you how well this phone functions as a device to make calls, but I do think the LG Chocolate Touch Music phone makes a decent feature phone for someone looking for above average audio features in their phone. I haven't had the phone long enough to get a good idea of the battery life per charge, but so far it seems to last really long even when playing a lot of music.
Let's hear from those of you that have this phone. What do you think of it?

Product Information
Price:
$129.99 with 2yr contract from Verizon
Manufacturer:
LG
Pros:

Good audio quality
Built in radio
Touch screen

Cons:

Mediocre camera / camcorder capabilities
Speaker button is sometimes activated when taking pictures