We use affiliate links. If you buy something through the links on this page, we may earn a commission at no cost to you. Learn more.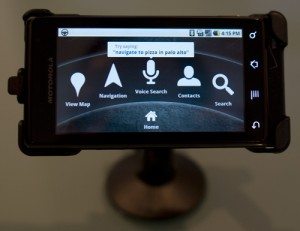 I was able to talk the Verizon PR representative into letting me review two of the accessories for the Droid as a ploy to keep the it a little longer, I mean, as a nice companion to the series of reviews on the Droid. In this post I will look at the Car Mount, and later I will look at the Dock.
What's Included:
Mounting arm with suction cup.
Disk to attach to dashboard for non-windshield mounting.
Cradle for phone.
Instructions.
What's Not:
Car Charger. This isn't a "Car Kit" it's a Car Mount.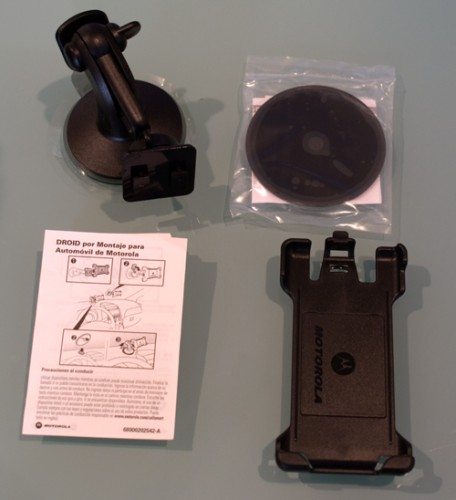 I did not use the disk. I attached the holder to the windshield. One of the nice features of this accessory (and the dock) is that there is a small magnet in both that tells the Droid that it is attached. This means as soon as you turn on your phone it displays the Car Home when when it is in the cradle.
To see more information on how navigation works with the Droid, look at the Navigating with Verizon's Droid post. You can rotate your phone vertical, or horizontal, but I think the horizontal position works best for navigation.
I was surprised how well the suction cup holds the phone and holder. There is a lever you press down to engage the suction cup: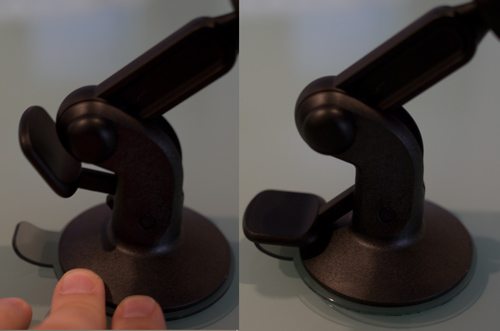 The clear tab underneath the lever is used to break the suction after you release the lever. Even after releasing the lever, it would be difficult to remove it without this handy tab. I did not get to take that long of a trip with it, but it seemed very secure.
The cradle works very nicely. The phone fits very securely in it. The design utilized the little step down on the bottom part of the phone (where the Verizon logo is), and the angled edges of the phone very effectively to hold the phone.
I was very impressed by the thought that seemed to go into this accessory. It is a safe and convenient way to mount your phone. My only disappointment is that it does not come with a car charger.
Product Information
Price:
$29.99
Manufacturer:
Motorola
Pros:

Custom-designed for Droid
Secure mount
Droid senses mount
Well-designed cradle

Cons: