We use affiliate links. If you buy something through the links on this page, we may earn a commission at no cost to you. Learn more.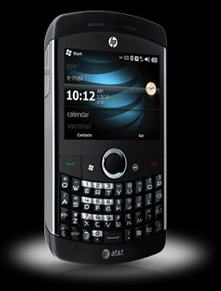 Today HP announced a new smartphone – the iPAQ Glisten, which will be available through AT&T. The iPAQ Glisten is a 3G world phone, running Windows Mobile 6.5 and features the improved Internet Explorer Mobile 6. It has a comfortable, full-QWERTY keyboard and touch-enabled AMOLED screen. The HP iPAQ Glisten will be available in the coming weeks for $179 after a $50 mail-in rebate. Full press release after the jump.
AT&T AND HP INTRODUCE HP iPAQ GLISTEN,
3G WORLD PHONE FOR MOBILE PROFESSIONALS
DALLAS, November 24, 2009 – AT&T* and HP (NYSE: HPQ) today announced the upcoming availability of the new HP iPAQ Glisten, a  feature-rich 3G world phone that meets the increasing demands of modern mobile professionals.  AT&T's first smartphone with an AMOLED (active-matrix organic light-emitting diode) screen, the HP iPAQ Glisten is loaded with features tailored with the business power user in mind.
Featuring the Microsoft Windows® Mobile 6.5 operating system, the iPAQ Glisten offers a touch-friendly user interface and improved browser with Flash support.  Connections to your favorite people, content and applications are a fingertip away on the redesigned Start Menu, and Internet Explorer Mobile** supports the rich experiences that many Web pages offer for desktop computers.
Users can easily move between work and leisure with advanced mobile e-mail capabilities, built-in Wi-Fi and GPS functionality as well as rich multimedia features and applications.  AT&T supports Windows Marketplace for Mobile for access to a variety of applications.
The iPAQ Glisten features a full QWERTY keyboard and five-way directional pad for fast, easy and accurate messaging including SMS/MMS and e-mail. The touch-enabled AMOLED screen, among the best displays on the market, allows users to easily navigate through menus, windows, and links with the touch of a finger.
"iPAQ Glisten adds to our innovative Windows Phone portfolio," said Michael Woodward, vice president, Mobile Phone Portfolio, AT&T Mobility and Consumer Markets.  "It meets the demands of our business customers while boasting a beautiful AMOLED touch screen and a full package of multimedia features."
"The iPAQ Glisten packs a powerful punch with its multiple input methods, variety of  connectivity options, and a familiar, consistent email experience that allows mobile professionals to connect with the people and information that matter most to them," said Susan Macke, vice president, Marketing, Handheld Global Business Unit, Personal Systems Group, HP. "Our strategy for success in growing the iPAQ business and customer base is working with industry leaders, like AT&T and Microsoft, and leveraging our collective strengths in the business and prosumer markets."
Manage and take control of demanding professional lifestyle
Power users stay more connected with Outlook calendaring, Microsoft Word and Excel as well as the ability to view Microsoft PowerPoint and Adobe PDF documents. The HP iPAQ Glisten gives users the ability to manage a single contact list and synchronize them wirelessly or with a PC using a supported e-mail account. It also comes with an integrated inbox that summarizes recent emails, calls, and texts.
In addition, users can take advantage of the built-in speakerphone and enjoy the freedom of hands-free control with Voice Commander, voice recognition software which reads text messages, emails and appointment details and lets users begin messages and dial contacts using simple voice prompts.
Bridge work and social life
Web browsing and streaming video on the HP iPAQ Glisten are fast and enjoyable with the improved Internet Explorer Mobile 6. Users can turn on the built-in Wi-Fi quickly with a dedicated on/off button and enjoy high-speed Internet access – featuring automatic access to over 20,000 AT&T Wi-Fi hotspots included at no additional charge with select smartphone data plans.
Users can also connect with friends and colleagues on their favorite social networking sites, including a preloaded Facebook application. Mobile professionals can capture pictures and videos with the 3.1 megapixel camera and view them in brilliant color and clarity or edit them with HP Photosmart Mobile and easily share them via email or on the Web using Snapfish.
Pricing and availability
The HP iPAQ Glisten will be available in the coming weeks for $229.99 (receive a $50 AT&T Promotion Card with two-year agreement, smartphone data plan). The smartphone will be available through AT&T business services, HP corporate sales, small and medium business and consumer Websites at AT&T.com and HP.com as well as through third-party e-commerce sites.
More information on HP iPAQ Glisten is available at www.att.com/hpipaqglisten and www.hp.com/go/glisten.   For the complete array of AT&T offerings, visit www.att.com
*AT&T products and services are provided or offered by subsidiaries and affiliates of AT&T Inc. under the AT&T brand and not by AT&T Inc.
**Advance Mobile Email Capabilities: Standard GSM/GPRS/EDGE/UMTS/HSPA infrastructure, Wi-Fi network access, other Bluetooth-enabled devices, separately purchased equipment, and a service contract with a wireless service provider may be required for applicable wireless communication. Wireless Internet access requires separately purchased Internet service contract. Check with service provider for availability and coverage in your area. Not all web content available. Normal GSM Data Calls (CSD) are not basic GSM data services. These services may not be available via all service providers, and may require separate subscription. Establishment and continuation of a wireless connection depends on network availability, provider support and signal strength.  Coverage is subject to transmission limitations and terrain, system, capacity and other limitations.  Wireless transmission speeds may vary due to location, environment, network capabilities and other conditions. Not all features and service options are available in all areas.