We use affiliate links. If you buy something through the links on this page, we may earn a commission at no cost to you. Learn more.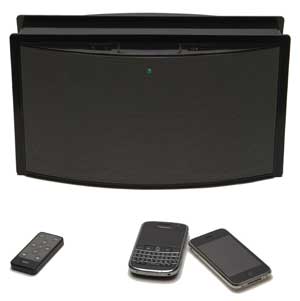 iPod speaker systems are wonderful because they can contain 1000's of songs in such a tiny package. The only problem with them is trying to control the docked iPod across the room by a small handheld remote control. How the heck can you navigate to your favorite album without being able to see the display? Cignias is going to fix that problem with their new duo of NAO wireless Music Stations. These 40 watt speaker systems can be used two ways. You can use them to stream music from any stereo Bluetooth enabled device including BlackBerry phones, iPhones and others. You can also use a BlackBerry or iPhone to wireless control a docked iPod using a special free application available at the appropriate app store. Check out the full press release after the jump.
Cignias Launches NAO Family of Advanced Wireless Music Stations
Wirelessly Stream Tunes or Control Your Docked iPod Using a BlackBerry Smartphone, iPhone or iPod touch
TORONTO – November 24, 2009 – Cignias today launched its NAO Music Station line of products, including NAO Symphony and NAO Symphony Noir. Both products offer a powerful, high-quality music solution that transforms smartphones into wireless home entertainment devices.
The NAO Music Stations interact with smartphones in a variety of ways to give music lovers the freedom they demand. Any stereo Bluetooth-enabled device can stream music to a NAO Music Station while in Bluetooth mode. Also, a BlackBerry smartphone or iPhone can wirelessly control an iPod docked in the music station through free MusicNAO apps available at corresponding app stores. Lastly Wi-Fi-enabled BlackBerry smartphones can wirelessly connect and stream music to a NAO Music Station from anywhere within the home via Wi-Fi.
As new software capabilities are released for NAO Symphony and NAO Symphony Noir, Cignias will provide free feature updates to future-proof and enhance the systems. Navigating the sleek music stations is easy with intuitive color LEDs:
Green – Wi-Fi capability lets a smartphone stream music to the NAO Symphony with minimal battery usage
Blue – Any stereo Bluetooth-enabled device can stream to the music station Yellow – Docked iPods can be controlled with a smartphone from anywhere in the house, including access to playlists
Purple – Auxiliary input accepts any audio source
"Smartphones evolved into excellent portable music players, but the music is trapped on the device once at home," said Shawn Saleem, CEO of Cignias. "We designed NAO Symphony specifically to strip out the complexity of listening to your favorite music at home wirelessly with your smartphone."
NAO Symphony and NAO Symphony Noir Features:
•       Plays music wirelessly from iPhone, iPod touch* and BlackBerry smartphones
•       Wi-Fi and Bluetooth support
•       Wirelessly control docked iPod with BlackBerry, iPhone or iPod touch
•       View playlists, albums, artists, genres, etc from docked iPod
•       Integrated performance equalizer
•       Upgradeable firmware
•       High-quality stereo system
•       Auxiliary input
•       Instantaneous song skipping
•       40 watt speaker system
•       4" performance speakers
Pricing and Availability
NAO Symphony and NAO Symphony Noir are available immediately at www.cignias.com for US$299. Free apps for iPhone, iPod touch and BlackBerry smartphones are available at respective apps stores.
About Cignias Inc.
Cignias transforms your smartphone into home entertainment by offering smartphone apps and premium speaker systems that combine to deliver an elegant wireless solution with authoritative sound. Cignias is committed to unleashing multimedia content trapped on smartphones and wirelessly delivering it to the living room. Founded in 2008, Cignias is headquartered in Toronto, Canada with offices in the United States and Asia. For more information, visit www.cignias.com.
For Cignias updates become a Fan at www.Facebook.com/NAOMultimedia or follow us on Twitter at www.Twitter.com/NAOMultimedia.
###
Cignias, MusicNAO, NAO, NAO Symphony and NAO Symphony Noir are registered trademarks of Cignias Inc. All other trademarks and product names are the property of their respective companies.
*iPod touch second generation and newer. For a complete list of supported devices please visit the Cignias website.