We use affiliate links. If you buy something through the links on this page, we may earn a commission at no cost to you. Learn more.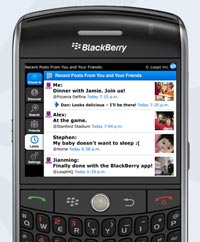 I'm going to sound like a big stick in the mud, but I don't really care where all my friends are at any given moment of the day. Maybe that's because I only have 2.5 friends in the first place. Don't get me started about the .5 thing… If you are not like me and have a bazillion buddies, and a BlackBerry (or iPhone), you'll probably love Loopt. It will let you see where everyone is and what they are doing. So go check it out while I sit here in my basement office, all alone. No, I'm not bitter. Really, I'm not.
Loopt Launches Major Update to Unite Mobile, Social, and Local Discovery on BlackBerry Smartphones
Enhanced Application Demonstrated at the 2009 BlackBerry Developer Conference
San Francisco, CA – November 9, 2009 – Loopt announced today at the BlackBerry® Developer Conference that it has launched a major update for its free application for BlackBerry® smartphones, which is designed to connect users to the most relevant places and people nearby using background location updating.  This brand new version of Loopt enhances users' ability to discover the world around them – revealing who's around, what to do, and where to go.
At the 2009 BlackBerry® Developer Conference, Sam Altman, CEO of Loopt, was invited on stage to perform a live demonstration of the new Loopt mobile application for BlackBerry smartphones.  "Loopt has always been focused on building a ubiquitous interoperable service for the mobile space and we're thrilled to be showcased on the BlackBerry platform," said Altman.  "We are especially excited to take advantage of background location updating on BlackBerry smartphones to help power social, local discovery on this latest version of Loopt."
Loopt on BlackBerry smartphones runs in the background, which allows users to update their location in real-time while they are on the move, even when the Loopt application is not running in the foreground.  The world around them never stops moving so Loopt on the BlackBerry should not either.
"The BlackBerry platform excels in enabling multitasking and deep integration between applications and functionality on the smartphone.  Loopt has done a tremendous job of bringing location-based services and social communications together to enable BlackBerry smartphone users to discover, share, and connect," said Tyler Lessard, Vice President, Global Alliances and Developer Relations at Research In Motion.
Loopt now offers dynamically-generated, relevant local content about places and events from some of the best sources on the Web to help users meet up with nearby friends, explore new places to grab food, and find local events happening now.  Feature highlights include:
·    Discover the best places and events, including those rated highly by your friends on Pulse
·    See where your friends are on maps – view their latest updates listed in real-time and comment on them
·    Check-in to instantly share your updates with friends – easily update Facebook and Twitter with your photos and places in one Loopt check-in
·    Browse and rate local places and events – peruse detailed information from Zagat, Citysearch, and the Loopt community
·    Save money through special offers from nearby retailers with local coupons
Loopt is proud to partner with Zagat, the world's leading provider of consumer-survey based information.  Zagat's quality, trusted information is based on the collective experiences of thousands of avid consumers.
"We are excited to offer the Loopt community access to Zagat's top lists and information about special Zagat events in their area," said Nina S. Zagat, Co-Founder and Co-Chair of Zagat Survey.  "It is our mission to provide consumers with Zagat content wherever they are and whenever they need it."
Loopt is available for free for the BlackBerry® Curve™ 8900, BlackBerry® Bold™ 9000, and the BlackBerry® Tour™ smartphones on BlackBerry App World™.  Go to http://www.blackberry.com/appworld and search for "Loopt".
About Loopt
Loopt, based in Silicon-Valley and backed by leading venture capital firms Sequoia Capital and New Enterprise Associates, has created an interoperable social-mapping service that allows individuals to use their location to discover the world around them – enabling them to find and enjoy the people, places, and events that mean the most right here and now using their mobile phones. With Loopt, individuals will always know who's around, what to do, or where to go. Loopt is available across all the major U.S. carriers and supported on over 100 mobile devices. Loopt was designed with privacy considerations at its core and offers a variety of effective and intuitive privacy controls.
For more information, please visit http://www.loopt.com.
The BlackBerry and RIM families of related marks, images and symbols are the exclusive properties and trademarks of Research In Motion Limited. RIM assumes no obligations or liability and makes no representation, warranty, endorsement or guarantee in relation to any aspect of any third party products or services.