We use affiliate links. If you buy something through the links on this page, we may earn a commission at no cost to you. Learn more.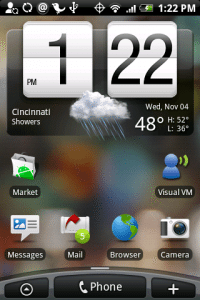 Continuing my streak of good luck, I received a Droid Eris to review. This is the second Android phone that Verizon is releasing. Some have referred to it as the Droid Light because it comes with a slower (528 mhz) processor and no keyboard. It is also shipping with Android 1.5 (Cupcake) with the HTC's Sense UI interface. This puts it one version behind my G1, and 2 behind the Motorola Droid. I assume this is due to the need to update the Sense UI to work with the Android releases.
You can see the details in the press release. It is essentially a thinner HTC Hero.
Let's start off with my preconceptions. I have spent just over a week with the Motorola Droid at this point. The Eris has a slower processor, older OS, smaller and lower resolution screen and no physical keyboard. I knew this going in. I did not expect this phone to be such a strong alternative to the Motorola Droid.
What the Eris Has
The Sense UI is very nicely implemented. Instead of only a centered tab to open the applications panel, this UI moves that tab to the left, places a large phone button in the middle and a button to add to your home screen on the right. You can still "long-press" to add an item to the screen, but the add button makes that option a little more accessible. I like the Phone button, but with this phone you get physical call begin and end buttons, so it is not really necessary.
HTC has loaded the phone with a number of HTC-designed widgets. Some are entirely new, others are improved versions of the Android widgets. My first impression of them is that they begin to fully realize the potential that the Android widgets have. Here is an example of the Music widget.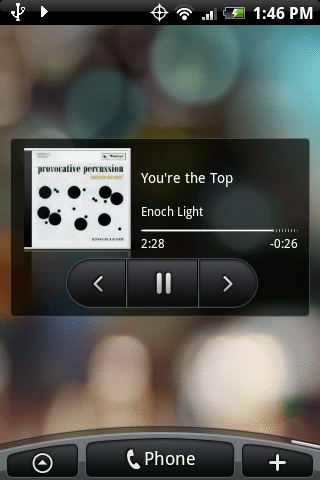 Like many widgets, you can choose among multiple styles. I chose the smaller style. Here is a look at the larger style.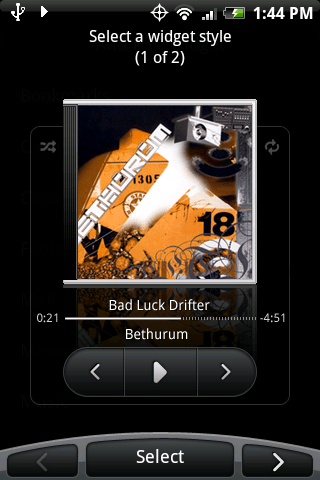 There are quite a few widgets including ones for your contacts, calendar and mail. It would not take long to fill up your three home screens, so the Sense UI has seven home screens. You have the center home screen, and three on each "side".
I was not expecting Exchange support since it was added in 2.0, but it does provide support for Exchange accounts. It was easy to set up my exchange mail account. It allows you to sync your Mail, Contacts and Calendar. There is also the option to sync to your PC (just your contact and calendar) in case your Outlook mail is not on an exchange server, or you cannot access your exchange server. Here is a look of the mail widget displaying my Exchange mail: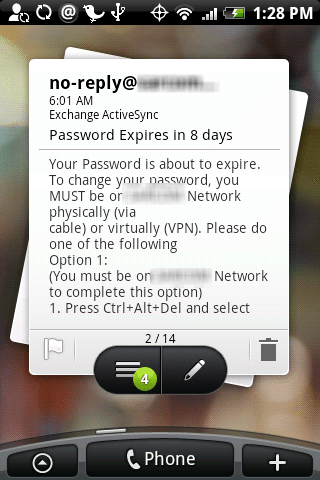 This phone also supports Facebook, and Flickr accounts and updates. I really like the Flickr integration, since that seems to be the one area of my life that Google doesn't own. You are alerted of updates for your contacts. Here you can see both a Flickr and a Facebook update appearing on the same screen.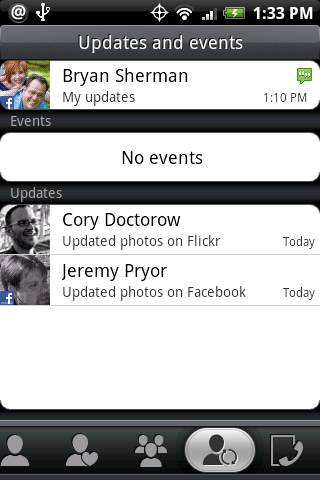 The music player is improved in both looks and functionality over the stock Android music player. Here is a look at the Music Player: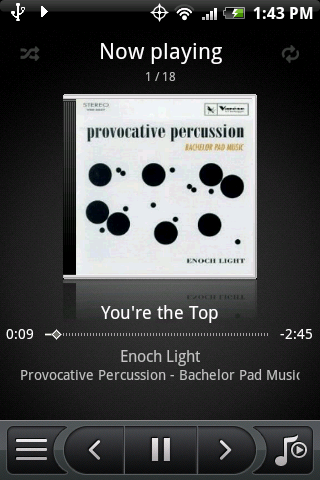 A really nice touch is what the Eris does when you wakeup the phone while playing a song. You actually get some controls without unlocking: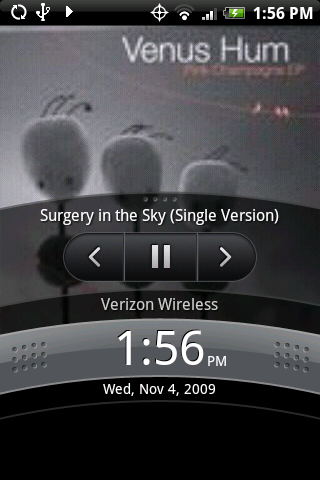 The Eris comes with a 5MP camera, but no flash like the Motorola Droid. However, in early tests, the Eris' camera is much better. I had no issue using Shop Savvy with it. I'll need to do some more in-depth comparisons, but my initial impression is that it is a better low-light camera.
So far this phone has really surprised me. I look forward to putting it through its paces. I would like to get a review up tomorrow (since it is releasing with the Droid) but not sure if I can pull that off. This will be a shorter series than the Motorola Droid series. Right now I am only planning a post on the Sense UI and then the review.