We use affiliate links. If you buy something through the links on this page, we may earn a commission at no cost to you. Learn more.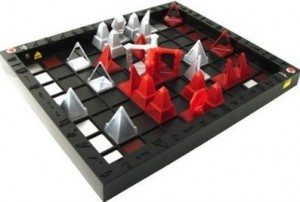 Khet, a boardgame from Innovention Toys, LLC, combines lasers, Egyptian-themed playing pieces, and chess-like strategy in a two-person game.  Innovention says the game is easy to learn because all pieces move the same way.  Players may move a piece or rotate it up to 90 degrees during a turn.  After each turn, the laser is lighted.  Unless there is smoke or fog on the board, the laser is invisible until it hits a non-reflective surface.  Any playing piece that is illuminated is removed from the board.  The object is to use your mirrored pieces to illuminate your opponent's Pharaoh.
There are expansion packs available.  One pack adds an Eye of Horus beam-splitter to each player's arsenal.  The Tower of Kadesh expansion pack turns the playing board into a 2-level field.
You can order directly from Innovention or Amazon.com.  The game is carried in some brick-and-mortar stores as well.  Use the store locator on the Innovention website to find stores in your area.  Amazon carries both the original game and the 2009 version, though they don't describe what the differences are.
Note:  The game carries a warning that it uses 2 Class II lasers and is for players aged 9 and up.   The game costs about $50, depending on your source.  Expansion packs are about $15 to $25.