We use affiliate links. If you buy something through the links on this page, we may earn a commission at no cost to you. Learn more.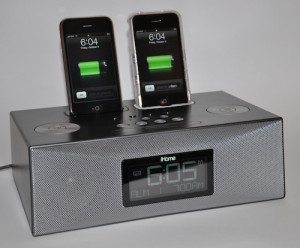 It's strange to think that it was only four years ago that iHome released the iH5, the first clock radio ever to feature an iPod dock, because these days iPod/iPhone-compatible clock radios are everywhere. Name a company that makes clock radios, home theater speakers, or other home audio equipment, and odds are that they've tried their hand at making a clock radio to work with your iDevice. This being the case, iHome has not had an easy time distancing themselves from the crowd; after all, there's only so much a company can do to further clock radio technology. Does iHome's latest entry into the market, the dual-dock-wielding iP88 stand out enough? Find out after the jump.
Design
From the beginning, it was clear that iHome was designing their iPod-compatible clock radios to mimic the styling of the iPod itself. The lines of the iH5 were evocative of the iPods and first-party accessories of 2005, down to the fact that the iH5 was available only in white. The descendents of the iH5 have continued in that vein for the most part, maintaining styling similar to the iPod, and becoming available in additional colors to keep up with the ever-expanding rainbow of iPods. The designers at iHome must have gotten tired of mimicking Apple, however, because the iP88 fully abandons the styling of the previous models, presenting instead a design that is decidedly un-Apple, but also complementary to Apple's latest products. Gone are the rounded corners and the plethora of colors; the iP88 instead flaunts hard corners and few right-angles, and a single gunmetal color, offset by shiny faux-brushed-aluminum dials on the top and a white-on-black LCD display set right in the center of the front speaker mesh. It's a very modern (if stark) design, and whereas some of iHome's previous products have had a sort of toylike appearance, this is anything but. Just looking at it, you know that this thing is substantive and solid long before you ever put your hands on it.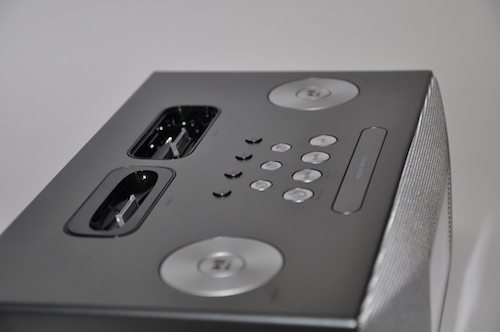 Features
I'll not waste your time going over the obvious features here; we all know what a clock radio is and what it does. Instead, let's focus on the things that make the iP88 a little different.
Dual Universal iPod/iPhone docks: That's right, the iP88 has two universal docks for charging your devices, and they accept standard Apple universal dock inserts. It's a good thing, too… iHome includes six inserts in the box, but they are in matched pairs: two each for the iPhone 3G/3GS, the iPod Touch, and the iPod Nano 4G/5G. Looks like iHome is betting on the iPod Classic disappearing in the near future.
iPhone time sync: To be honest, this is probably the coolest feature on this device. Press and hold the Time Sync button on the back of the unit, and the iP88 will synchronize its time to that on the first docked iPhone that it finds. Makes me wish that every other device I own with a built-in clock could do the same thing.
Three alarms: This may not sound terribly special at first, but the sheer variety of settings on this unit make for a nice change from your standard clock radio.
DST switch: Ever get tired of having to waste time resetting your clocks for Daylight Savings Time? On the back of the iP88 is a switch that allows you to easily bump the current time forward or backward one hour.
Gradual wake/gradual sleep: Alarm audio fades in to the volume you've selected, and sleep audio fades out. No more being jolted from sleep by a sudden blast of sound.
Remote control: Okay, to be honest, the remote controls that iHome includes with most of their iPod-compatible alarm clocks have allowed me to oversleep far more often than I care to admit. But when it isn't allowing me to hit the snooze button from across the room, the iP88 remote is pretty handy, allowing you to control pretty much all of the everyday functions of the unit.
Bass, treble, 3D sound and balance controls
High-fidelity stereo drivers in specially designed Reson8® speaker chambers
Performance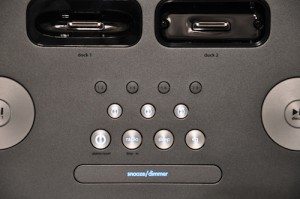 Generally speaking, everything about the iP88 performs as it should or better. The LCD displays on iHome's clock radios seem to get better with each generation, and the iP88 is no exception. The display is attractive, and the snooze button allows you to cycle through several levels of brightness, so it can be legible in the brightness of your kitchen, or it can be dim enough not to keep you awake in your bedroom. The alarms on the iP88 are far more robust than you'd normally expect from an alarm clock. Not only are there three programmable alarms, but in addition to being able to set the alarm time, you can also set the alarm frequency: every day, weekdays, or weekends. Now you can sleep in a little (or a lot) on the weekends without having to mess with your regular weekday alarm time. In addition, each alarm can wake you from one of several alarm types: buzzer, radio, iPod/iPhone, and playlist. The buzzer is obvious, and waking to radio is pretty standard, but the iP88 actually allows you to set a specific station for each alarm. In theory, you could listen to your local pop station while you brush your teeth, wake to your local metal station on the weekdays, and wake to your local classical station on the weekends, and never have to adjust the station again once you have all of these set. Waking to the iPod/iPhone is equivalent to hitting "play" on your device, picking up wherever you left off, whereas waking to a playlist tells the iP88 to find a playlist on your device called "iHome" and play from that. Naturally, you can specify which of the two docked devices to wake from on a per-alarm basis.
The build quality overall is fantastic. I was a little disappointed to discover that the dials on top of the unit are actually textured silver plastic, when the photo on the box really does make them look like brushed aluminum. It's not a big deal, nothing about the iP88 feels cheap at all, it's just not nice to get a geek's hopes up about exposed metal. The audio quality is great for a clock radio — certainly better than what you'd get from your average clock radio — it could still be better. Even with the bass control cranked all the way up, the iP88's speakers sound a little thin… they simply aren't able to compete with any audio system that has a dedicated subwoofer. Given that the midrange and treble already seem to be sufficient, I have to wonder how this unit would sound with a separate, active subwoofer. Which brings me to one thing I don't like about this unit: the iH5 that I bought in 2005 had a 3.5mm line out port, but the iP88 does not (nor did the iP99 that eventually replaced my iH5). When I wanted big, full sound from my iH5, I could connect a set of 2.1 computer speakers, giving the sound the added oomph of a powered subwoofer. I can't do that with the iP88. I would love to see iHome start including an audio out port again.
But even with all of these things aside, the real reason that anyone is interested in the iP88 is the dual docks, and if you have a multi-iPhone household (or even if you simply own multiple iDevices), the iP88 is worth every penny. I'm a big fan of eliminating an extra cable anywhere I can, and the iP88 allows me to eliminate two. Not only that, but in a certain sense, using a device like the iP88 to charge your devices is the energy-efficient way to do things, because it eliminates up to two power bricks (however tiny they may be) from needing to be plugged into your wall. $150 may seem like a lot of money to drop on an alarm clock, but keep in mind that there are more expensive options out there that do far less, and that there isn't another clock radio out there that will provide a home to two Apple devices at once. If you're in the market for a clock radio and there are two or more iPods/iPhones floating around your home, you'd be hard-pressed to make a smarter choice than the iP88.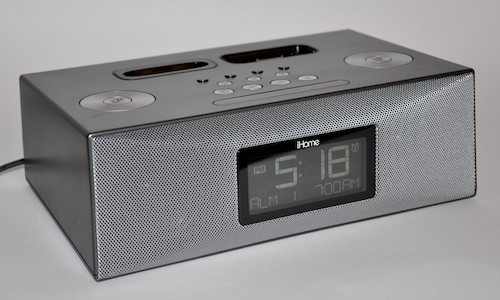 Product Information
| | |
| --- | --- |
| Price: | $149.99 |
| Manufacturer: | iHome |
| Pros: | Docks two devices, plenty of alarm options, very good sound for a clock radio |
| Cons: | Could use an audio out port or a powered subwoofer, some might find the design a little too boxy, rear controls can be hard to reach while devices are docked |