We use affiliate links. If you buy something through the links on this page, we may earn a commission at no cost to you. Learn more.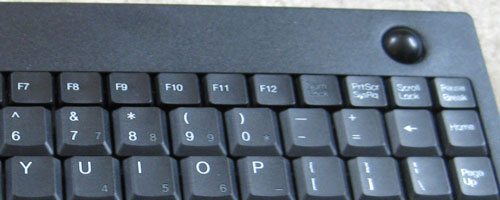 Like most hardcore computer geeks, I own eleventy thousand computers – including an Acer L310 HTPC I bought on impulse one afternoon on eBay. I love my little HTPC. I can play old-school Nintendo ROMs on it, Windows Media Center looks beautiful on my 40″ LCD TV, and I can browse the Internet from the comfort of my couch (without a laptop, that is).
There was just one small problem – the only wireless keyboard and mouse I had handy was my old Logitech Elite Cordless Duo I bought way back in 2003. It's a great set, but (a) there's minimal Vista support from Logitech for this particular set, and (b) the keyboard is enormous. It's not exactly the kind of setup you want for a media center PC. Julie mentioned the Adesso Wireless Mini Trackball Keyboard to me, and it sounded perfect. We'll see if it made the cut…
In the box
Adesso provides you with everything you need right off the bat:
Black keyboard with integrated trackball
2 AA batteries
USB receiver module
User manual
I like that batteries were included. This seems to be a pretty common trend with wireless keyboard and mice, and I hope it doesn't change. When you're spending $60 or more on something, it's nice to have the batteries included.
The Hardware
The keyboard itself is pretty nice-looking. It's about 12″ wide and all-black. The top of the board has (shocker) the keyboard keys, as well as two mouse buttons in the top left corner and a black trackball in the top right corner. The trackball offers fluid, frictionless movement, and the mouse buttons have a nice clicky feedback. It feels very natural to hold the keyboard with both hands and use my thumbs to operate the mouse.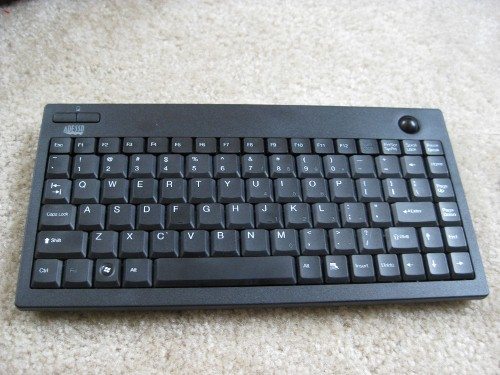 The keys are a laptop-style low-profile scissor switch design, although they are noticeably clickier than standard laptop keys. The layout is fairly standard, although the right Shift key is directly to the left of the Up arrow key, which can be annoying to touch-typists who use the right Shift key frequently. Fortunately, my eeePC 701 also has this layout, and as a result I've already subconsciously trained myself to use the left Shift key whenever I can.
There are dedicated keys for Home, End, Page Up/Down, and those three rarely-used keys found at the top of every keyboard since 1989: PrtScr/SysRq, Scroll Lock, and Pause/Break. There are also dedicated Insert and Delete keys, although these are in a nonstandard position, directly to the left of the Left arrow key. This isn't the best layout, but it's better than not having those keys at all.
There is also a Function key that is solely used to toggle the NumLock, which behaves like the number pad found on laptop keyboards.
A small but inevitable complaint: the Backspace key is the same size as the other keys, and its placement directly to the left of the Home key means that I keep accidentally hitting Home when I mean to hit Backspace. I'm a very fast touch-typist (I average around 125 WPM), so this trips me up a little too frequently. Fortunately, I don't intend on using this keyboard as a primary input device; it's more just for navigating around my HTPC when I'm not in Windows Media Center.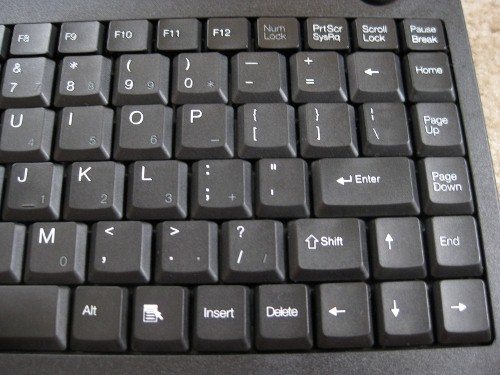 The bottom of the keyboard was obviously very well-thought-out. There are flip-out feet to tilt up the keyboard, but there are two features that I really love – an on/off switch to conserve battery life, and a nice little slot where the USB receiver can be stored.This is really excellent – these two features combined mean that this keyboard can easily be tossed in a laptop bag. I can see on-site service technicians taking this board with them in order to avoid using customers' keyboards of questionable states of cleanliness.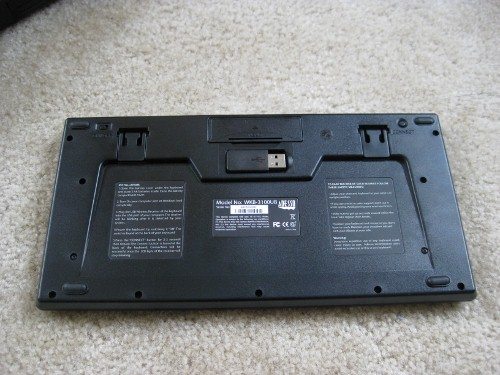 The Software
This is a standard, run-of-the-mill keyboard, so there is no software provided or necessary. This is both good and bad – I think these kinds of keyboards are definitely geared toward usage with an HTPC setup, so it would have been really nice to see some media control keys across the top. A scroll wheel on the left side of the keyboard would have been extremely handy, as well.
The Verdict
I like this keyboard. It definitely does what I need. However, at $79.99 MSRP, it's more than a little overpriced. It can be found online for $55-$70, but I still think that's a bit expensive for what it does. Unfortunately, in my online bargain-hunting, it seems like any compact wireless keyboard with an integrated pointing device is going to be overpriced compared to less svelte alternatives.
The keyboard is solidly built, and the ability to store the receiver in the bottom of the board is definitely a major bonus in my mind. I can definitely recommend this peripheral to anyone who's willing to swallow the $80 price premium.
Product Information
| | |
| --- | --- |
| Price: | $79.99 |
| Manufacturer: | Adesso |
| Pros: | Compact, Receiver stores in board, Ergonomic trackball |
| Cons: | Expensive, No media keys, A little too clicky |