We use affiliate links. If you buy something through the links on this page, we may earn a commission at no cost to you. Learn more.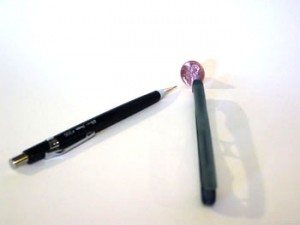 From the picture it may be hard to tell what the object on the right is – is it a pen, a pencil?  Hint – look at the shadow.  The Swingtime Readers are as narrow as they appear.  The next photo shows the same objects from a different angle.
And they are as flat as they appear.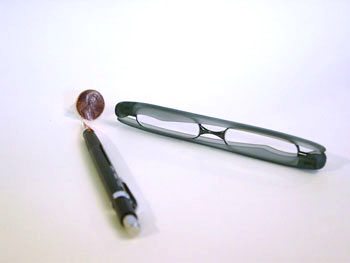 While most of the travel or mini-readers I've investigated have been sufficiently small they have also been sufficiently awkward in some way or another.  Readers-in-a-tube, for example, are fashionable but I don't like carrying a tube that is as large as a thick marker and they are kind of exacting in extracting them from and returning them to their tube enclosure.  The clamshell type folding readers are small and compact and very interesting, but are uncomfortable and difficult to get back into their original foldable position (kind of like a folding map- they open nicely but are a bugger to refold).  The lenses of the clamshell glasses also tend to become clouded with fingerprints as one manipulates the frames like a chiropractor in getting them back in their closed topography.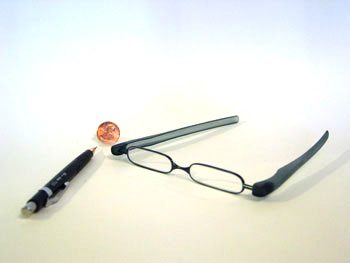 The Swingtime readers, however, are easy to fold and store flat.  This means that I can slip them (flat) inside my Kindle or e-notebook and they are . . . boom – always there.  They are also very lightweight and not uncomfortable.  The arms are slightly concave, allowing a little trough for the lenses to be shielded when in they are in their folded position.  These are just yet another pleasant and practical product for the peripatetic presbyopic.
Product Information
Price:
$19.95
Pros:

Folds flat
Easy to fold
Comfortable
Narrow

Cons: