We use affiliate links. If you buy something through the links on this page, we may earn a commission at no cost to you. Learn more.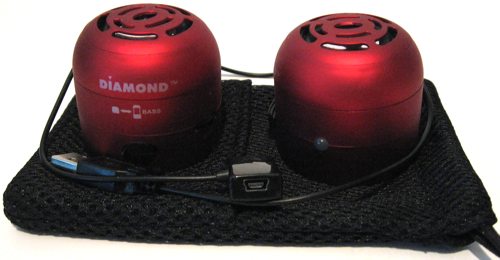 Let me start by saying that these Diamond Mini-Rockers are probably the best sounding small speakers I've ever heard. I kept asking people to listen to them, to see if I was imagining it, but everyone who listened to these speakers was impressed. The Mini-Rockers are rated at 4 watts, they're only 4×2 inches, the built in battery provides 6 hours of play time, and they're perfect to travel with. They're great little speakers to enjoy a movie or play some video games between a couple people.
The first really nice feature I noticed was the well thought out retractable cable system connecting everything. This makes setting up or packing up and moving a 10 second experience. They're battery powered, or USB powered so you can save the battery. They use a MiniUSB cable with a double connector on one end so you can listen to the speakers while they are charging using a USB port. The charging is controlled by plugging the included cable into a USB port and plugging the right speaker into the MiniUSB connector. There's a switch on the side the turns the speakers on and off, with the 'on' state is indicated with a big bright blue LED so you can't miss it and forget to turn off the speakers before putting them in the included carrying bag. While charging, the LED glows red and turns to blue once the Mini-Rockers are completely charged. And the left speaker then has a 3.5mm Headphone jack that plugs into your audio source.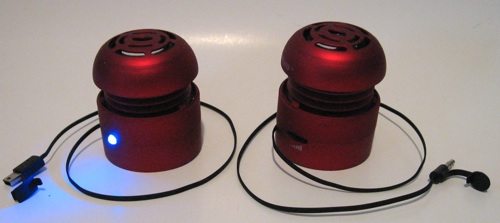 And the speakers look great too. The Mini-Rockers come in Metallic Red, Black, and White. I had the Metallic Red version which were a really nice deep red with a metallic sheen, with a nice soft-touch finish that made them feel quite expensive. I took these speakers with me on a mini-vacation, and used them to listen to music and watch 2 whole movies one night on my MacBook. The MiniRockers were perfect, with deep enough sound and a much wider sonic response to the internal MacBook speakers. They're not perfect… Close, but the size factor simply limits the power these can put out. Sure, they sound a little tinny, but I'd say they're about 4x more powerful than my MacBook's speakers in terms of bass and 'bite'.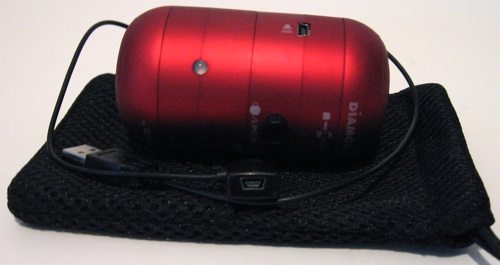 Then Diamond's really neat 'expansion' feature comes in play; You twist the top of the MiniRockers a bit and the top 'pop' up. This gives the speaker a bit more volume, and although they're still a little tinny, it does improve the sound a bit. And I found that I forgot all about the MiniRocker's size or features when listening to a movie; I just enjoyed the experience. They're basically almost desktop speaker quality sound that you can use anywhere with anything that has a standard headphone jack. And the battery does last; while listening to music and then watching a movie at about 2/3 volume, I saw 4 hours of use and there was still enough of a charge left to do a 30 minutes skype call. I plugged the MiniRockers in at that point, but they were still going.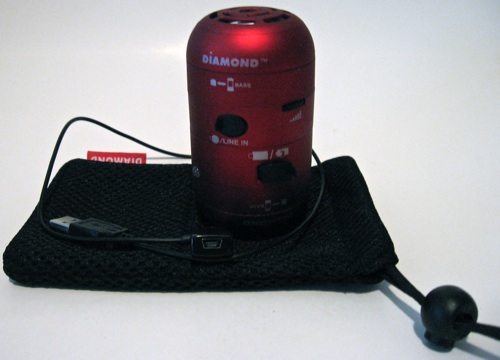 Overall, I find these speakers are exactly what I've been searching for – compact, portable, decent sounding speakers that last for a couple hours ( about 6 hours according to Diamond and I confirmed at least 4.5 hours ). The only two issues I have with the MiniRockers are that the cross speakers cable length could be longer and I have to put in the fact the speakers are a little tinny. I honestly do not think they could do anything about that; There's simply not enough mass to overcome the problem. But that's the catch; I think these are perfect because I'm willing to sacrifice that extra mass for extra portability.
The Diamond MiniRockers are just that; Mini and they sure do rock. I've had so many different speakers that I'm sure I've forgotten more pairs I've had then I can remember. But these are the most impressive small speakers I've heard in a long time, and I highly recommend them especially for the $49.99 price.
Product Information
Price:
$49.99
Manufacturer:
Diamond Multimedia, Inc.
Pros:

Sound Quality
Battery Life
Small Size

Cons:

Cable between speakers is not long enough
Cable covers do not always attach tightly
A little 'tinny'