We use affiliate links. If you buy something through the links on this page, we may earn a commission at no cost to you. Learn more.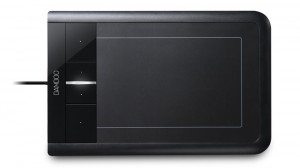 The rumors had been circulating for weeks, but yesterday Wacom officially announced the addition of multitouch features to their Bamboo line of products:
The Bamboo Touch ($69) provides multitouch functionality in a 5.4″ x 8.2″ tablet
The Bamboo Pen & Touch ($99) allows both multitouch and pen input, is a slightly larger 9.8″ x 6.9″, and includes an assortment of software.
The Bamboo Pen ($69) is identical to the Pen & Touch model, but forgoes multitouch in favor of a lower price point.
The Bamboo Craft ($129) is identical to the Pen & Touch model, but comes in a silver finish and includes a more extensive selection of software.
The Bamboo Fun ($199) is the largest in the line at 8.8″ x 13.3″, and includes pen & multitouch input, and the same software package as the Bamboo Craft.
All of the tablets in the Bamboo line are powered over USB, and support Windows XP through Windows 7, and Mac OS 10.4.8 or higher (though the press release specifically states that it supports 10.4 and 10.5, so support for Snow Leopard is unclear, though likely).
The complete Bamboo line of tablets are available for purchase now, both through retailers and through the Wacom online store.
Personally, I'm looking forward to finally being able to use MacBook-style gestures on my desktop.  Are you interested in multitouch on your desktop or non-multitouch laptop?  Please share your thoughts in the comments.