We use affiliate links. If you buy something through the links on this page, we may earn a commission at no cost to you. Learn more.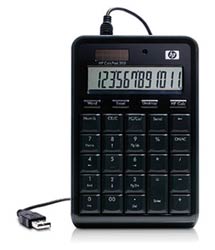 Ok, rejoice might be a bit of an exaggeration… But if you are a notebook user that wishes for a numeric pad, HP just made your wish come true. The HP CalcPad 100 connects to your computer via USB and is immediately recognized by Excel and other apps. Kick it up a notch with the CalcPad 200, which adds a calculator and LCD display. Both CalcPads are powered by USB and both have a built in 2 port USB hub. Full press release after the jump. 
HP Takes Computing On the Road with CalcPad Series for Mobile Professionals
HP introduced two new members of its home and office calculator family – the HP CalcPad 100 and HP CalcPad 200. As these notebook accessories offer extended keypad function and USB connectivity, they provide easy-to-use and convenient tech tools for use at work and on the go.
The HP CalcPad 100 and CalcPad 200 are the most recent examples of HP's accurate, reliable and stylish solutions designed to meet the increasingly mobile needs of business. These "plug and compute" accessories add desktop features to notebooks and offer performance and convenience for on-the-go business professionals and college students.
Quick crunching
Many smaller notebooks use a compact keyboard. For users needing the convenience of a 10-key for quick numerical input, the HP CalcPad 100 serves as an extended keyboard number pad or calculator. It features basic math functions and quick-launch keys for one-touch access to Microsoft Word®, Excel® or HP Calculator software, enabling mobile professionals to input calculations directly from the CalcPad to the notebook.
Two built-in USB 2.0 ports allow people to use the CalcPad as a USB hub for added peripherals without additional hardware or cables. The HP CalcPad 100 can also use the USB connectivity to the notebook as a power source.
Two for one
Packed with a calculator and external numeric keypad, the HP CalcPad 200 provides mobile professionals with an accurate, reliable basic business calculator and easy data migration between the calculator and notebook.
In addition to the features of the HP CalcPad 100, the HP CalcPad 200 has a 12-digit LCD screen and three optional power sources: USB power when connected to the PC or notebook, solar power with a light source when unconnected and a battery backup for when the light source is too limited to activate the solar power, allowing for use as a stand-alone calculator without a notebook.
For added convenience, the HP CalcPad 200 allows business professionals to send their last calculations directly from the CalcPad device to the PC rather than entering the information again once the devices are connected through USB.
Additional details about the new HP CalcPad series are available at www.hp.com/go/calcpad100 and www.hp.com/go/calcpad200 . Information about the complete line of HP graphing, scientific, financial and home and office calculators is available at www.hp.com/calculators.
Pricing and availability
The HP CalcPad 100 and HP CalcPad 200 are available now at the HP Home & Home Office for $19.99 and $29, respectively.(1)
About HP
HP, the world's largest technology company, simplifies the technology experience for consumers and businesses with a portfolio that spans printing, personal computing, software, services and IT infrastructure. More information about HP (NYSE: HPQ) is available at http://www.hp.com/.
(1) Estimated U.S. retail prices. Actual prices may vary.
This news release contains forward-looking statements that involve risks, uncertainties and assumptions. If such risks or uncertainties materialize or such assumptions prove incorrect, the results of HP and its consolidated subsidiaries could differ materially from those expressed or implied by such forward-looking statements and assumptions. All statements other than statements of historical fact are statements that could be deemed forward-looking statements, including but not limited to statements of the plans, strategies and objectives of management for future operations; any statements concerning expected development, performance or market share relating to products and services; any statements regarding anticipated operational and financial results; any statements of expectation or belief; and any statements of assumptions underlying any of the foregoing. Risks, uncertainties and assumptions include macroeconomic and geopolitical trends and events; the execution and performance of contracts by HP and its customers, suppliers and partners; the achievement of expected operational and financial results; and other risks that are described in HP's  Quarterly Report on Form 10-Q for the fiscal quarter ended July 31, 2009 and HP's other filings with the Securities and Exchange Commission, including but not limited to HP's Annual Report on Form 10-K for the fiscal year ended October 31, 2008. HP assumes no obligation and does not intend to update these forward-looking statements.
© 2009 Hewlett-Packard Development Company, L.P. The information contained herein is subject to change without notice. The only warranties for HP products and services are set forth in the express warranty statements accompanying such products and services. Nothing herein should be construed as constituting an additional warranty. HP shall not be liable for technical or editorial errors or omissions contained herein.