We use affiliate links. If you buy something through the links on this page, we may earn a commission at no cost to you. Learn more.

Most people probably wouldn't think of their phone as a primary tool for helping them find a new apartment. I mean, other than making calls to different apartment buildings to ask for information, what else could you really use it for? However, if you happen to have an iPhone and the new
MyNewPlace iPhone app
, you can do a WHOLE lot more than just call for info.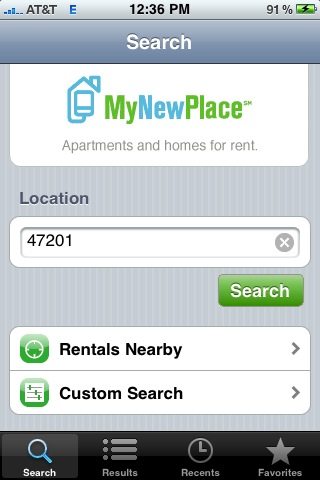 MyNewPlace is a free application that can be downloaded from the app store. It uses the iPhone's GPS for location-based search to find apartments in your local area or any other area by searching on city, state or zip. This application comes from one of the biggest apartment rental sites on the internet that provides listings for more than 6 million apartments and rental homes nationwide.
I really like that you can apply quite a few filters to your searches, so that you can find exactly what you're looking for.
After the filters are applied, the search results will show a scrollable listing of all the properties in that area. Listings will either display a default icon for each apartment, or an actual photo of the building along with the address and price info.
Clicking on an entry will show you even more information about that listing. If available, images of the interior of the property are included.
You can click a button to quickly view a map to the location.
From the details screen, you can also call the phone number associated with the property, send them a message so that someone will contact you or email the listing to a friend. There's even a feature that will allow you to take notes and use the iPhone's camera to attach additional pictures of the apartment while you're checking it out in person. You can then save the property as a favorite so that you can view it again later, when you're trying to decide which one you want to rent.
See it in action
I think this is a pretty cool program. It's easy to use and saves you time because it provides enough detail about a property to give you an idea if you want to go view it in person. For as many features as it has, it's surprising that it's free. If you're getting ready to start shopping for a new place to live, I'd definitely check out http://www.mynewplace.com/iphone. You really don't have anything to lose by doing so.
Product Information
Price:
FREE
Manufacturer:
MyNewPlace
Pros:

Easy to use
Free
Lots of ways to filter information
Can save notes and photos

Cons: