We use affiliate links. If you buy something through the links on this page, we may earn a commission at no cost to you. Learn more.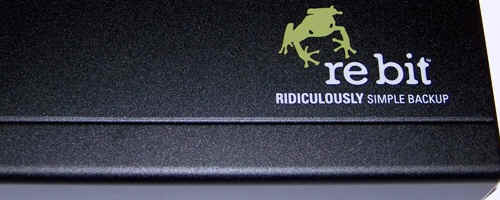 Have you ever experienced a hard drive failure, losing critical data such as pictures and music?  As I begin this review, my main desktop computer is currently on life support and my data is in (little) jeopardy.  Fortunately, I have an external hard drive that I utilized for routine backup. So it is only fitting that I have the opportunity to review the Rebit 1 TB multi-PC backup USB hard drive.  Let's see what it has to offer.
MINIMUM REQUIREMENTS:
XP Service Pack 2 or Vista
CD-ROM Disk Drive
Available USB 2.0 port
200 MB available hard disk space
FEATURES:
Plug and play
Configuration free – no settings or buttons
Backs up file versions and open files
Use software (on supplied CD-ROM) to restore an entire PC hard drive
Never have to worry about Rebit filling up.  Automatically deletes off oldest backup data if and when hard drive gets full.
Recovers individual files and folders by drag-and-drop
Ability to back up 6 different PC's
Can disconnect and reconnect, drive will pick up where it left off
Dimensions:  9″ x 6.5″ x 2.25″
Weight:  4 lbs.   7 oz.
IN THE BOX:
Rebit 1 TB Multi-PC Backup USB Hard Drive
PC Disk Recovery CD-ROM
USB 2.0 Cable
Power supply
Quick Start Instructions
1 Year Limited Warranty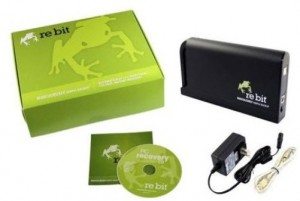 Opening the shipping container, I immediately notice the brightly green colored product box.  Rebit's logo is a frog and the packaging plays nicely off that theme with the eye-catching color choice.  The product packaging provides a great amount of protection with form-fitting material in which the drive and accessories sit snug.  I would have very little concern with the Rebit drive being shipped.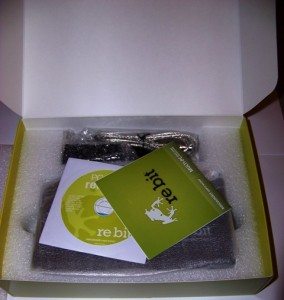 At first glance, I am surprised by the size and the weight of the device.  It is much larger and heavier then the Toshiba and Western Digital portable hard drives that I utilize regularly.  Although I was initially disappointed, this drive is never described as "portable".  In fact, Rebit markets this as a desktop backup solution and they do have a separate line of portable backup options.  All that said, the size, which is slightly smaller than a standard hardcover book, of the drive should not restrict easy transportation.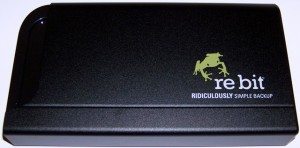 The product has a unique shape, with some rounded corners and recessed sections, and is black in color.  The recessed sections work nicely as handle when grabbing the drive.  The exterior shell of the drive provides a robust and sturdy feel, which is always nice when you are depending on the product.  The size and weight also contributes to the feel of dependability.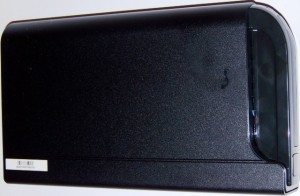 In terms of external features, there is not much to it.  One end has a power switch, a power adapter connector and a USB port.  That is it.

Speaking of that is it, the user manual is less like a manual and more of a pamphlet or over-sized postcard.  It nicely describes the 3 simple steps (Connect Your Rebit, Click Ok, That's it) to use the device with easy to understand graphics.  I have honestly never encountered a more simplistic user guide.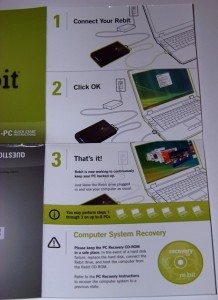 So after my initial inspection of the contents in the product's packaging, I am starting to believe that Rebit's tag line of "Ridiculously Simple Backup" might actually be more then a clever way to hook potential buyers.  Could this be the backup drive that my mother could utilize?  It is time to check it out.
I connected the power adapter, the USB cable, and turn it on, my computer immediately recognized the device.  A pop-up dialog box presented me the option to "Start Rebit".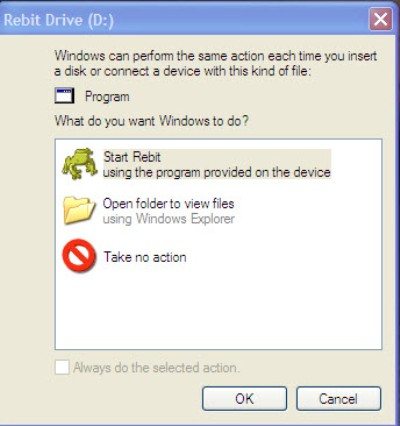 Installation of the pre-loaded software completes and a simple welcome message pops up notifying you that you are ready to go, being protected by Rebit.  Pretty simple installation, just the way I like it.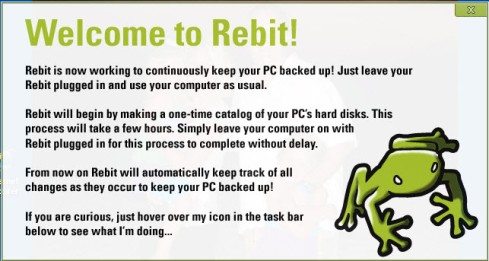 There is no required step to set-up a backup job or select which directories you want to protect.  Rebit backs everything up.
The drive is recognized and appears under the Hard Disk Drives section of My Computer in Windows Explorer and an icon is placed on the desktop and the taskbar.

Again, notice the use of the frog icon to represent the Rebit drive.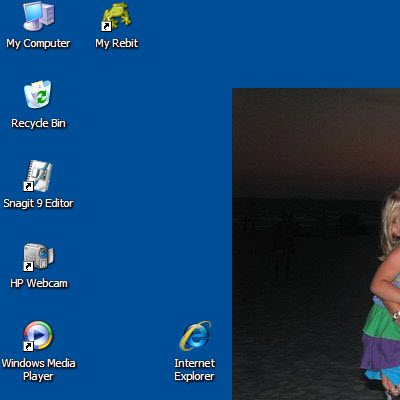 The thing that sets this backup drive apart from others that I have utilized is the ability to use it on multiple computers.  Six being the maximum.  You just disconnect the USB cable from one and plug it into another.  Rebit recognizes the new computer and stores the information from each computer in separate locations accessible under the "My Rebit" menu.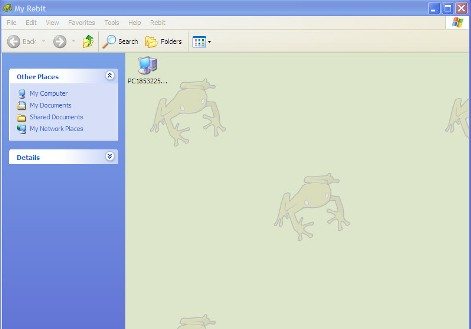 You can also remove a PC from the drive through the "My Rebit" shortcut.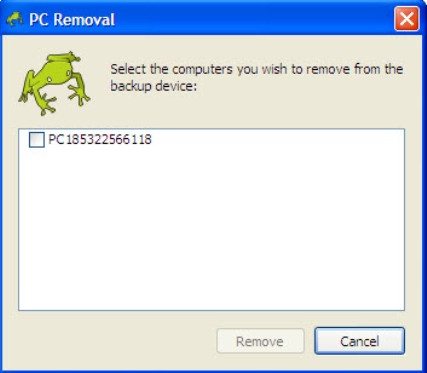 I was concerned with connecting and disconnecting the device from multiple units.  Would the device get confused?  Would I be able to find and restore files from a specific PC?  The Rebit drive's software is  intelligent enough to know where it left off when it was last connected to a certain computer.
Another example of a benefit of this software is that you never have to worry about the Rebit drive filling up.  If you do have enough data to fill a drive, it will recognize the lack of space and remove the oldest version to make room for the newest version of the data.  No worries, just trust the Rebit drive to do it's job.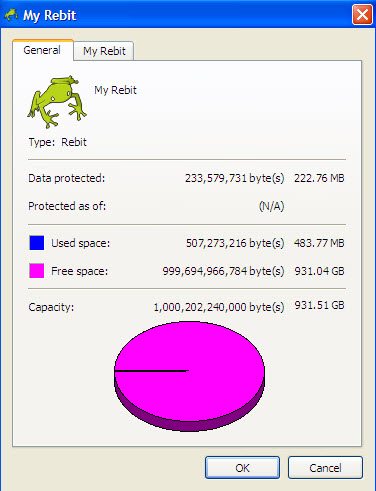 In terms of retrieving data, users have the option to retrieve individual files or complete file folders.  Once the desired file or folder is located on the backup drive, it just a simple drag and drop from the Rebitdrive to the location on your computer.  Rebit does include a software CD that is designed to assist if a complete system restoration is required.
In conclusion, the Rebit 1 TB multi-PC backup USB hard drive is an impressive option to protect the valuable pictures, music and data on your computer.  The ability to use the single drive on multiple computers and for the built-in software to recognize the different computers and segment the data accordingly is nice.  The fact that the drive will delete off old file versions when space is necessary is another feature I have not found in other units.
The price tag is my biggest complaint against this gadget.  At $319.95, it is $150-$200 more than other units with a capacity of 1 TB.  That combined with the fact that the unit requires two connections, USB and an additional power supply, are the only things I can hold against the product.
Even though  the price would initially concern me if I was evaluating the Rebit against others in the market, after many weeks of use I am confident that device is worth the extra money.  It is far and away the easiest backup utility I have ever used.  I found the Rebit 1 TB multi-PC backup USB hard drive lived up to it's tag line of a "Ridiculously Simple Backup".  Yes, I even think my mom could set-up this product to use on her computer.  Although I might have to convince my dad to have faith in her and the simplicity of the product.
I now trust the Rebit hard drive to back up all five computers in my house.  Even my brand new desktop (Yes, my old desktop finally died).
Product Information
Price:
$319.95
Manufacturer:
Rebit
Pros:

Ability to backup multiple PCs (up to 6)
Extremely easy to set-up and use
Automatically deletes oldest backup data if and when hard drive gets full
Drag and drop to retrieve individual files or complete folders

Cons:

Price
Requires USB and a power supply