We use affiliate links. If you buy something through the links on this page, we may earn a commission at no cost to you. Learn more.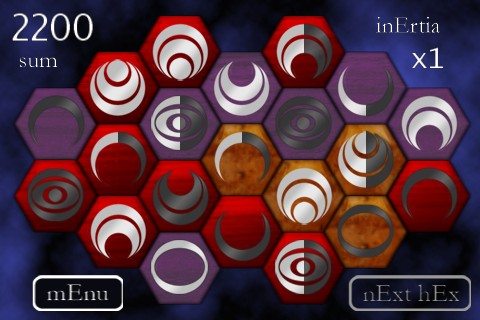 Are you good at pattern matching puzzles? Do you like games that move at your pace, not the game designer's pace? hExistentialism – the "Casual Puzzle Brain Game" by Ayumusoft might be for you. Just resist the urge to fling your iPhone into the wall while you're figuring out how it works.I'll admit it, I really enjoyed the phase in my child's development when we used to play all those memory/matching games. hExistentialism plays right into that space, but it does so in a very unique, almost maddening complex way. This is a double edged sword – in my case I was really close to giving up on it until it "clicked" in my head and I started to grasp what they were trying to get me to do in the game. Now I see it as a game with real staying power – you're less likely to get bored of the approach to "matching" used, that's for sure!
Install and setup/tutorial
Like all iPhone/iPod Touch apps, you purchase hExistentialism in the App Store and then sync it onto your device, or it just appears there if you buy it on the device itself. Launch time is a reasonable 8 or so seconds while you stare at the company logo, and then you're at the spartan main menu: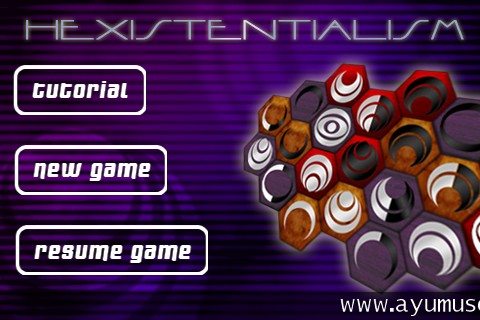 Going into the tutorial, you're gently walked through the various ways three hexes are considered a match: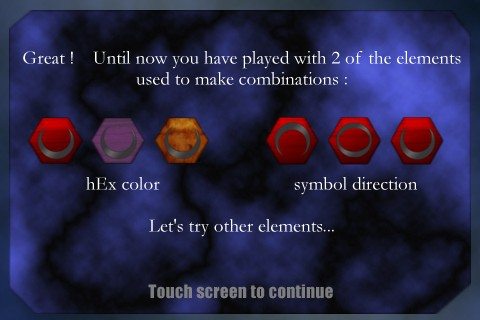 Game Play
Once you're feeling confident, you can begin a game. Here's one after a few moves: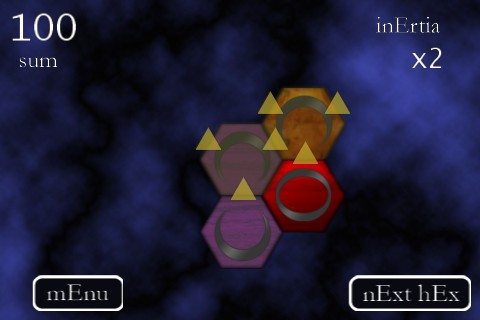 "sum" is your score. I have no idea how its calculated, but it goes up as you remove more hexes. Apparently "inErtia" has something to do with your score – it's the number of sets of three hex tiles you've removed correctly in a row. Make a mistake and it resets to zero. You may get more points for more difficult matches, but I'm not really sure! Tapping a tile selects it (shown with those yellow triangles) – tap it again to de-select it.  Tap three of the tiles and if they match, they disappear. If they don't they just de-select.
The "mEnu" button goes back to the main menu – but keeps your game state intact if you change your mind. "nExt hEx", if it's not grayed out, adds the next hex tile onto the board if there is an open space for it. It also resets your inErtia.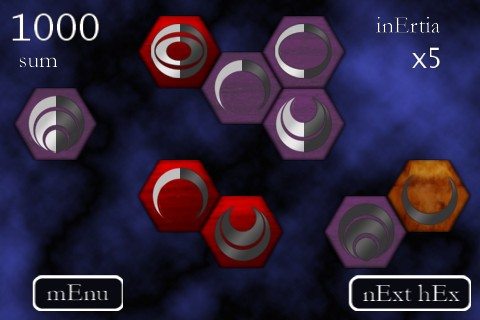 Here we are a little further into the game, after a particularly satisfying run of matches (hence my inErtia of 5… yay me.)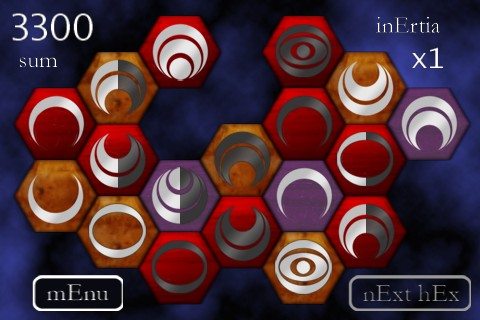 Above you can see we are nearing the end of this game. There are no more hEx tiles available.  If I'm not mis-recalling there is only one match left… After I tapped it in, I got to this screen: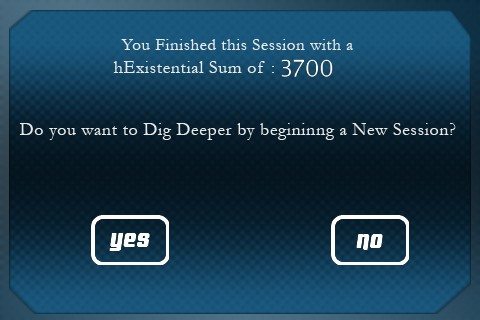 I have no idea if that's a good score or not, but I was really happy to get here!
Impressions
hExistentialism is a seemingly simple, yet maddeningly additive game. The ability to combine the "types" of patterns/series into a three tile match gives you a lot of flexibility and variety when playing the game. I'm not sure my brain is any better off after playing it, but it sure passes the time.
Product Information
Price:
$2.99
Manufacturer:
Ayumusoft
Requirements:

iPhone or iPod Touch, OS 2.2.1 or later

Pros:

Simple
Fun
No sound (can play while listening to iPhone audio)

Cons:

Hard to figure out how to play at first
Not fully explained by tutorial