We use affiliate links. If you buy something through the links on this page, we may earn a commission at no cost to you. Learn more.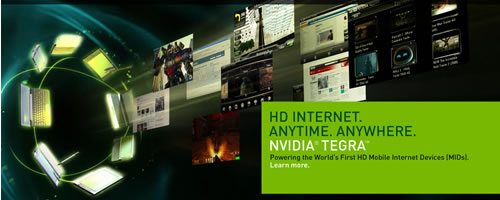 A who did what? Huh? Ok, so Tegra itself is not a gadget, and many of you have probably never heard of it. We talked about it a little bit in The Gadgeteer's ZuneHD Rumor Mill Roundup  a while back. What Tegra is, is a platform, an entire system on a chip, geared for mobility. There are two Tegra variations at this point:
Tegra 600 Series
Tegra 600 Series products are true computers-on-a-chip in a package smaller than a US dime. With advanced multimedia functionality and low-power design, the Tegra 600 Series will power the next-generation of visual computing on Microsoft Windows CE-based mobile internet devices (MIDs).
Key features:
Up to 1080p HD video playback
Ultra-low-power GeForce GPU for intuitive and smooth 3D user interfaces
Integrated media processor for over 100 hours audio and 10 hours HD video playback
Image processor with advanced DSC and HD camcorder processing
Connectivity to support Web 2.0 and social media applications
Display support for up to 1080p HDMI, WSXGA+ LCD, SXGA CRT, and NTSC/PAL TV-Out
Tegra APX Series
Tegra APX applications processors bring the power of visual computing to the palm of your hand, powering next-generation Microsoft Windows Mobile, Windows CE, and Android-based smartphones, portable navigation devices (PNDs), and portable media players (PMPs).
Key features:
720p HD video capture and playback
The lowest power for demanding applications like 720p HD video
3D user interface that enhances browsing and content navigation
Premium HD video playback with NVIDIA® PureVideo® technology
Ability to access visually intensive online applications like mapping and gaming
So is it clicking? The 600 series will most likely power the new "Smartbook" category that is emerging, something larger than your smartphone, yet smaller than your netbook, with the functionality of a fairly well equipped laptop. The APX Series will power the next generation of smartphones and other PMP devices.
What's it all mean? We're here, at least very close to here. Everything is portable and integrated into one device with REAL functionality and performance that won't frustrate you. Movies, music, games, Internet, it's all in there. True convergence.
I can't wait to see what pop's out of the factories over the next year. Is this the platform for the elusive Zune Phone? Will Tegra power my next car stereo with mobile Internet, GPS, and media capabilities? Who knows, but keep your eyes peeled, things are about to get very, very gadgety.
Never miss one of our posts again. Sent MON, WED, and FRI with the latest gadget reviews and news!