We use affiliate links. If you buy something through the links on this page, we may earn a commission at no cost to you. Learn more.
I do my best to be a steward of the environment through recycling, reusing, composting, minimizing fuel and electricity use when ever possible. As the story goes, this past year we purchased a new home in need of much updating and remodeling. My wife and I have taken it upon ourselves to integrate as much energy efficiency as we can into each remodeling effort. Our most recent home improvement project involved the complete gutting and redesigning of our kitchen area. Along with buying Energy Star appliances, installing a mountain of insulation, sealing every nook & cranny; we researched the most environmentally sound and energy efficient lighting technology available. Other than sunlight, the new LED technologies win hands down when compared to incandescent and compact fluorescent lights.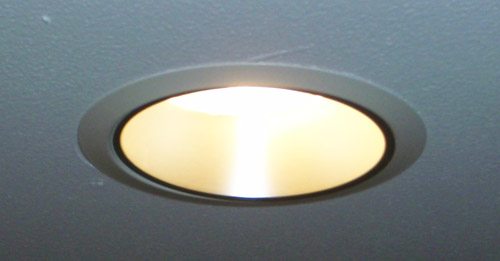 There are many LED bulbs available to retrofit a typical recessed (canned) light but only one (that I could find) that manufactures a true LED recessed light.  The engineers at Juno have created a very well made light called the 'Juno LED Downlight'.  Juno's Downlight is the best made canned light I have ever seen and integrates several very high-tech features as well. And while these Juno LED lights are not a true gadget, LED lighting is a great use of new technologies to reduces your carbon footprint and electrical bills in the process.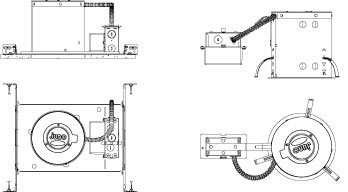 The Downlight is available in five and six inch housings and each size comes in new construction and remodel styles. Historically, the retrofit LED option did not provide enough light output and generated a good deal of heat.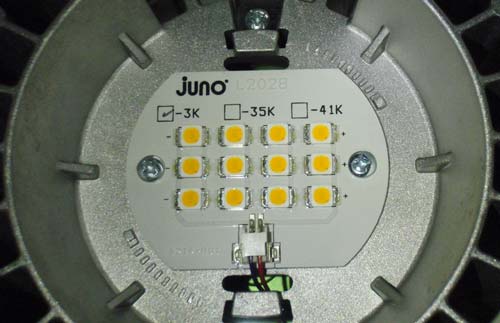 Juno has incorporated the latest generation Nichia high lumen LED light engines into the Downlight. Each size and style comes in three 'flavors' of light, 3000k, 3500k, and 4100k. These numbers are the temperature of the light itself. The lower the temperature the 'warmer' the light the LED gives off. The 4100k LED's give off a much purer white light that I have read many think is too harsh. We went with the 3000k, 6 inch new construction Downlights and the lighting they produce is just what my wife and I were hoping for.

Installation of the Juno LED Downlight is no different that any other recessed lighting. My electrical buddy installed them quickly and easily.

The only thing I was surprised about, is a one second (or there a bouts) delay between the flipping of the switch and the light coming on. I believe the delay is from the capacitor charging. One of the great features of the Downlight is that it can be controlled by a standard dimmer switch (something most retrofit LED bulbs cannot do).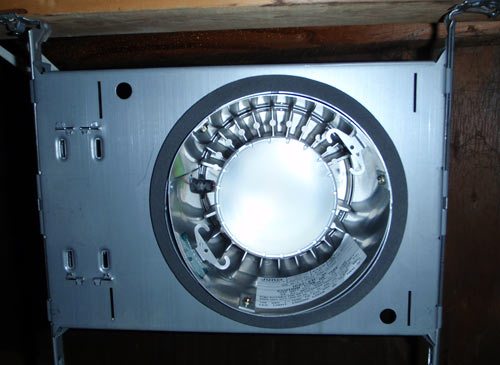 The cast aluminum heat sink is integrated directly into the housing providing excellent heat management/dissipation to ensure the long life of the LED and can be completely covered with insulation. The housing is engineered for use in IC (insulated ceiling) or non-IC construction and the .032" thick aluminum housing sealed for Air-Loc compliance. The LED is rated for at least 50,000 hours of use and produces 600 lumens using a mere 14 watts of energy. The point is that these and other LED based products use a tiny fraction of the energy and last several orders of magnitude longer than an equivalent incandescent light.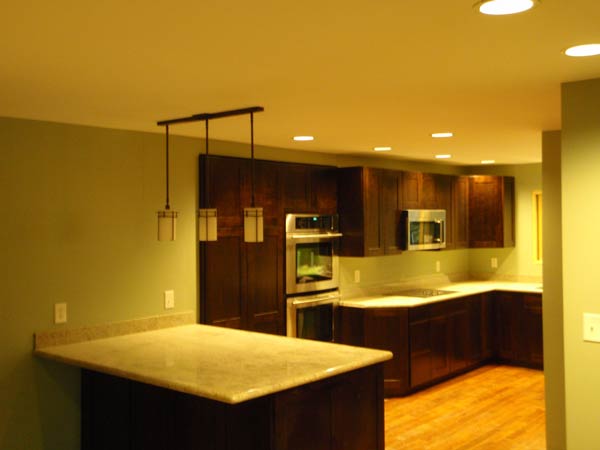 The Juno LED Downlight produces an excellent light, will last long after I am dead and gone, and use very little energy along the way (remember, every little bit helps 😉 ). However, I have to admit these lights are not cheap. Actually they are the most expensive recessed light I have ever purchased/seen. The cost of the Downlight at your average lighting store is over $200. But even at this high dollar price tag, these LED lights are in very high demand. At the time, I bought the last case of new construction 6″ 3000k in my end of town.
Product Information
Price:
$165-210
Manufacturer:
Juno
Pros:

Highly energy efficient (save on electrical bills)
Incorporates the latest LED technology
Dimmable
Comes in many varieties (sizes, color spectrum, & new/remodel construction)
No more difficult to install than other lighting

Cons: