We use affiliate links. If you buy something through the links on this page, we may earn a commission at no cost to you. Learn more.
How much technology do you carry into the wilderness with you? Camera, GPS, mobile phone, paper map, plus the requisite trail mix bars, maybe a water bottle? Or do you go off the beaten path, with a full trek pack, keeping track of where you are with a local topo map, stopping to update your location in case of a sudden storm. If either of these are the case, the fine folks at Civilian Lab have a product that may interest you. It's called the Ventrapack, and, while it's not for everyone, for those who need the features, it may be just what the doctor ordered.
When you first remove it from the packaging, it seems as though it is little more than a confusing array of webbing held together with a rectangle of Cordura. Once you've taken the time to follow the logic behind why each strap is placed where it is and either hide it, adjust it, or unclip it, the various uses and benefits start to show themselves.
First off: colors. The outside, including all the straps and webbing, is black. The inside, for the most part, is bright, day-glo orange. That's the only scheme available. The orange interior makes it easy to see things, but if you're out in the sun, I can imagine there are times it would be a little jarring. Another use is as an emergency signal. Should you become lost and see a plane or helicopter, waving the pack inside-out would be seen easily in a natural setting. (Well, except in the fall.)
The pack is meant to be clipped to the compression straps of a backpack and worn on the chest. There are easy clips that allow this to happen, along with orange quick-release buckles that let you keep everything together when taking your pack off. If your backpack is a pain to wrestle on and off, or if you're trying to track your movements carefully on a map or tracking with other instruments, the Ventrapack can prevent having to unsling constantly when you access your tech.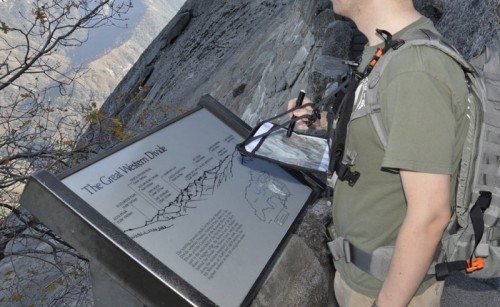 While in the front position, the outer side of the pack drops down to 90º and is held there by two narrow web straps. This can be adjusted to less than 90º, but not released or let out beyond that level. (They also can't be unclipped or removed, so they are somewhat in the way when writing. Note the strap across the writer's hand in the above photo.) This outer side is lined with a heavy, clear, stiff piece of vinyl, so that a map can be folded and placed behind it. You can use a grease pencil or dry erase markers (or probably overhead pens – I didn't have any to test with) to write on the vinyl, or you could pull the map out and mark on it, using the flap as a writing surface. For search-and-rescue, field scientists, cartographers, geo-caching hobbyists, orienteers, or birding folks wanting to refer to notes in the field, this is quite a nice arrangement. You can place your field glasses, cameras, pens, GPS, etc., in the pockets on your chest, and the paperwork in the flap, and it's like a walking desk. There is a pass-through from the inside for headphones as well.
While clipping it to your backpack as a front pocket is the major designated use case, there is also a shoulder strap included so that it could be used alone. With a few guide books, a camera, GPS, and various other small pieces that usually require a bag when touring in a city, this could be more useful than a fanny pack or a day pack. If it just weren't for the large clips and the adjustment buckles, it would not look particularly odd at all. You could even fit some models of Netbook into the Ventrapack, but I don't know that I'd want to use it as that all the time. There is not a lot of protection, and none of the pockets really are set up for a device of that size.
Speaking of pockets, beyond the pen silos and the few pockets for iPod, phone, or maps, there is a complete modular web system sewn onto the front face. This means you can get any accessory pocket that uses web strapping and attach it. Civilian Labs, of course, makes a complete line of special add-ons, but so do police and military gear houses. It's a fairly standard system. The Cluster Flap was one I used in testing. (It's a drawstring enclosure large enough for a 200 mm lens under a web buckle-closed flap along with a pocket large enough to hold an iPhone or a small point-and-shoot camera.) Another module they sent for testing is the Koala sheath. This hook-and-loop fastened Cordura envelope is elastic on both sides, and can hold a Victronox Super Tinker, or a standard Original Leatherman tool. The weave-and-snap attachment looks confusing at first, but it is designed to be sturdy, yet difficult to unsnap or fall off under stress. You really have to work to thread the modules onto and off of the grid base, but once attached, they won't slip off easily.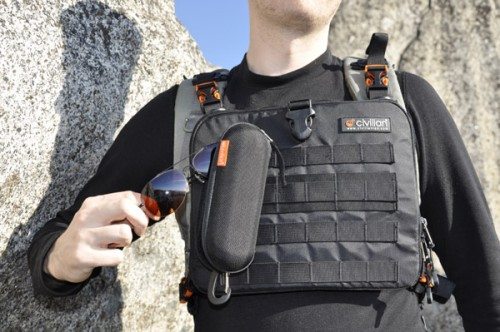 So, moment of truth – is it a good value? Would it be a worthy addition to your geek stash? If you have any time that you do one of the above mentioned activities or similar ones, where you're wearing a pack and don't want to have to constantly stop and pull it off to bring out a map, pen, or small electronics, This could be for you. If you'd like a mini-messenger bag for touring around town and don't want the traditional tote, daypack, or belt/waist bag, the Ventrapack could easily fill your need.
If, however, you or any of your travel companions are sensitive to looking like you're carrying a piece of military kit, with straps and buckles dangling from every corner, you may want to seek another alternative. And because of the amazing variety of adjustments, it suffers from being lumpy and overly-engineered, no matter which configuration you're currently using. In the top center, for example, is a full-sized clip with an adjustable strap that lets you clip the writing flap in place without having to zip it closed. (It's the large clip centered on top, visible in the picture just above.) This is great for wildlife studies (very quiet) or as a back-up if you've over-stuffed the main compartment. But the bulk and awkward placement of the buckle takes away from general use: it's in the way unless in active use. And this is only one example.
There was one thing that, while not a show-stopper, still caused me confusion every time I opened the main flap. The pass-through for the headphones is on the flap, facing the weather-side, and on the opposite side of the pack from any of the pockets that would hold devices with headphones. If it's not in use, I could see rain seeping into this hole and getting straight into the map compartment. When headphones are being used, every time you open the flap to notate anything, the wire is stretched across exactly where your right hand comes into the writing area. It would be better to place the hole on the back, away from paperwork, and closer to the electronics you'd want to connect to, while routing the cord away from the writing area.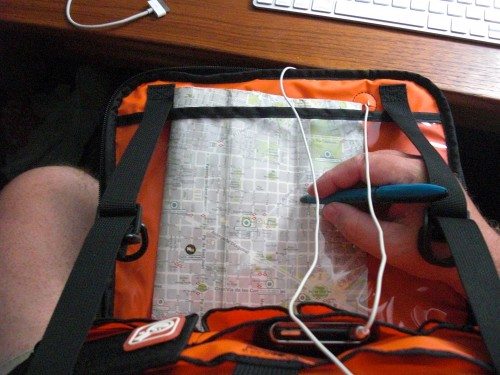 For construction quality, concept, and feature planning, I give this four stars out of five. It's really well made. But for execution – making the tough decisions about leaving in or removing (or changing the size of) some features – I have to give them only two stars. That may sound harsh, but every single time I loaded it with gear for a different scenario, there was some other feature interfering with how I had planned to use it. Elegance of design is as much about what you leave out as what you put in. And adding all those buckles, straps, and bar-tacked seams makes the thing much more expensive than it should be.  So, over all, three out of five stars.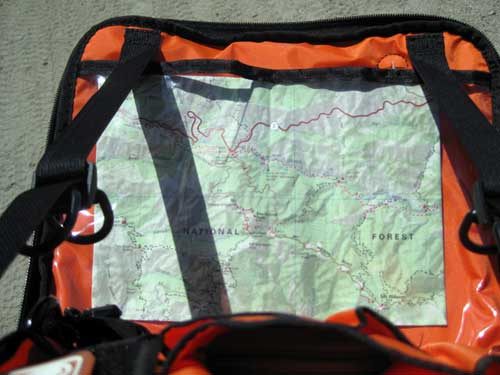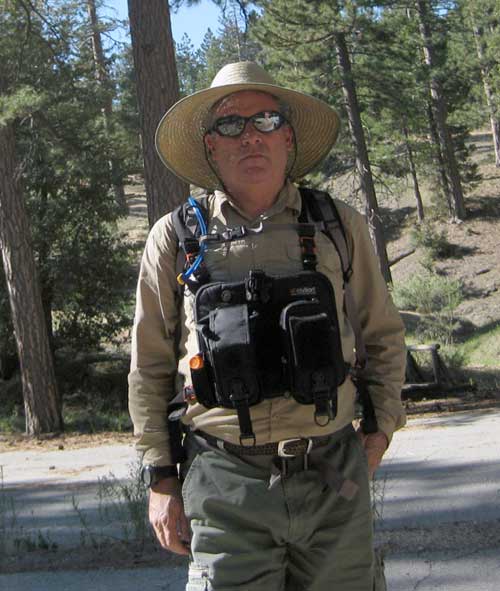 Product Information
Price:
$59.98 for basic pack
Manufacturer:
Civilian Labs
Pros:

Versatile
Well constructed
Nicely sized

Cons:

Over-featured
Para-military feel ("strappy")
Awkward to use in many contexts