The Gadgeteer is supported by readers like you! If you buy something through links on our site, we may earn an affiliate commission. Thank you! Learn more.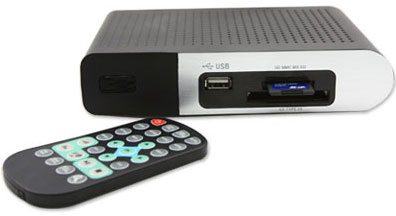 There's been a lot of interest in Digital Media Adapters and several companies are promoting them; WD, Iomega, Seagate, IOgear and now a newcomer, Hi-Denvision. Today we'll take a look at the HD-0310 and see how it stacks up. I've had a chance to put it through its paces with various media formats and there were some unexpected surprises.
A Digital Media Adapter allows you to move various media from your PC to your TV using the tried and true sneakernet networking. I had plans to use the HD-0310 as a transport for recorded TV shows between my full time home, where I have cable TV and my summer cottage which has very limited TV reception.
Hardware Specifications:
Memory Card Type: Direct Slot: CF Type I/II, SD, SDHC, MMC, MS, MS Pro, MS PRO Duo, SmartMedia
With Adaptor: Micro SD, T-Flash, Micro SD, xD
USB: USB 2.0
Picture format: JPEG/HD JEPG
Background Music Playback: YES
Music format: MP3/WMA/MPEG-Audio Level1,2
Video format: Mpeg1/2/4, Divx4.1/5.0/5.1, AVI, XVID, MP4, Nero Digital
Hard Disk Support: FAT32 Multi-partition
AV Out: HDMI, CVBS, YUV, YPbPr
AV Out System: NTSC/PAL
Audio Output: Digital Optical
Power In: DC 12V/1000mA
OSD Language: English
HDMI: Output: 1080P / 1080I / 720P / 480P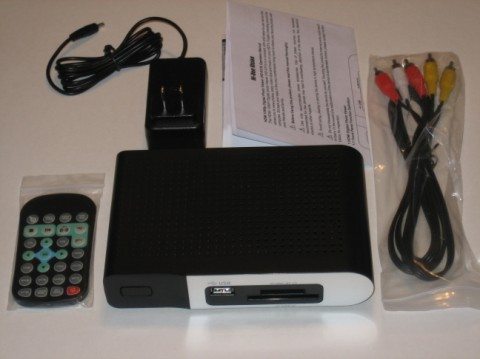 In the box are:
HDMI Digital Photo viewer (HD-0310)
Remote Control
AC power adapter
Composite Video cable
Operation manual
The product appeared to be very early in the production cycle, as it came in a plain brown cardboard box and the "operation manual" was mostly a spec sheet.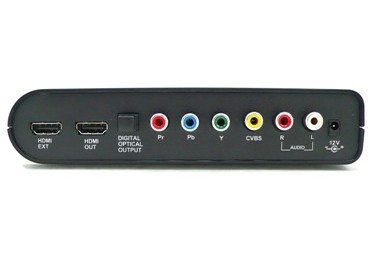 The connectors on the rear panel are clearly marked and easy to access.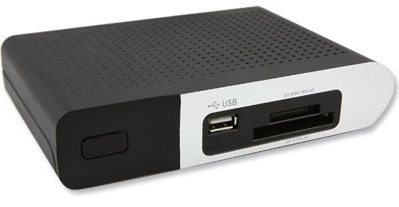 The front of the unit provides the connectors for a USB device and the several media cards. It also has the infrared sensor and a power indicator lamp.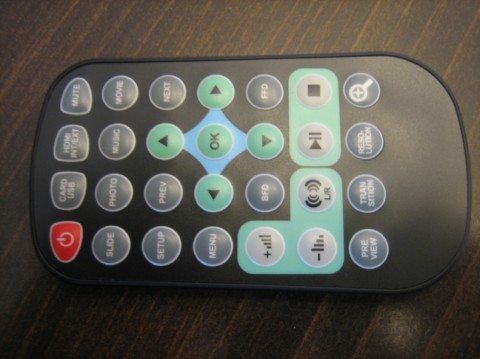 The remote is light and necessary. Lose it or break it and the rest of the device becomes a paper weight. The buttons are the bubble type. It also is very directional.
There are no setup instructions in the documentation, but it seemed intuitive enough, so I plugged in the power, the provided composite video cables and loaded up a USB drive with some photos and various videos in different formats. I switched my TV to the correct AV input and pushed the power button on the HD-0310 remote.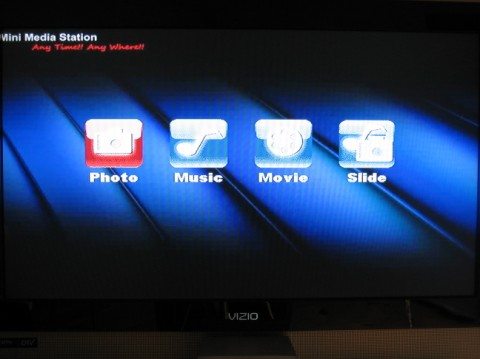 I was presented with the main menu. Notice in the upper left hand corner that the letter M from Mini is cut off. No matter what resolution or aspect ratio I set the device or TV to would fix the problem. From this screen the different media can be selected or the remote button can directly select the function. I started off browsing some jpeg photos from my library.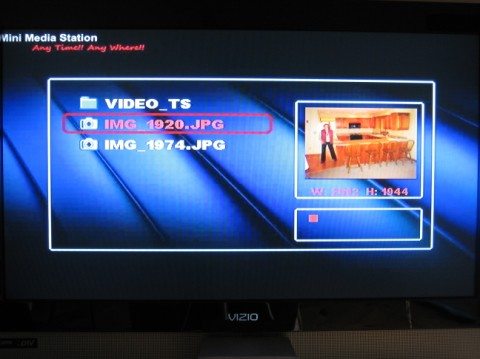 You can scroll through the list of photos and a preview will appear in the box to the right. Selecting the photo and hitting play will generate a full screen image. If there are additional photos on the device, they will play sequentially. There appears to be no way to display a single image for an extended length of time.
I next moved to the music feature.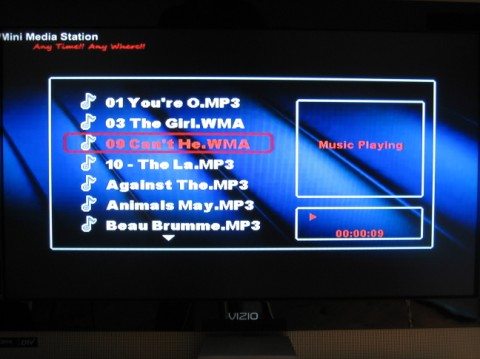 I was able to play the specified formats, but as with the photos, once you select a song in a list, it and all the others play in turn. There is no repeat or random function. I was also disappointed that the mp3s didn't display more of the ID3 tags I had laboriously entered for all the tunes.
Movie mode was next.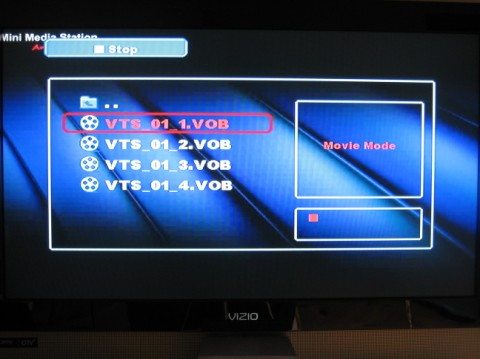 My first attempt was to play an avi file taken by my Canon camera. It did not play, even though avi's are part of the specification. I was able to get an DIVX encoded avi to work fine and to my surprise, VOB files played. I was able to show a ripped DVD, however, there was a significant pause between each vob file comprising the movie. Mpeg 2 files were no problem.
The last mode test was Slide. This allows you to sequentially show photos while also playing music that is on the same attached device. A secret I found out about slide mode is that you must be in it for the preview button on the remote to work. Nowhere in the documentation does it tell you this. Preview shows 9 photo thumbnails, of which you can select one to display full size.
Up until this point I was operating the unit with a thumb-drive. It was my intention to repeat the tests using USB hard drive. I loaded up a drive and plugged it in an was told it was "unsupported USB". That had me going for a while. I tried several other drives and got the same result. After several days I discovered on Hi-Den Vision's web site different technical specs than the ones listed on the supplied documentation. Apparently, only FAT32 formatted media is supported. This was almost a show stopper for me.
In the interests of a complete review, I reformatted one of my drives for FAT32. It worked the same as my thumb-drive. The only problem I had with the drive was I couldn't copy a 4+gb movie clip from the PC to the drive because of the file size limitation of FAT32. A confusing feature of the device is that you can have both a usb device and media card plugged in at the same time and using the remote, switch between them. Because the display doesn't show which one is active, I wasn't sure which one I was using. I also used SD and memory stick cards and both worked exactly as the other devices.
The device bills itself as a High Def player, so I gathered up a spare set of component video cables and plugged them in. In 480p mode everything operated as before, but when I switched the device to 720p all I got was a green screen with random lines running thought it. One time I was able to get the main screen OK, but when I attempted to display a photo, again the screen went berserk. I tried different combinations of turning the TV and unit on and off with no better result. My TV works fine with my Linksys Media Center Adapter using component video, so I believe there's a problem with the Hi-DEN unit.
Finally, I bought an HDMI cable and tried it. It worked better than the component video, but every time I went from displaying one photo to another, it would present a blue screen for several seconds and then re-synchronize. I didn't bother to check out the built in HDMI switch. With today's TVs having multiple HDMI inputs, it seems redundant.
I wanted the Hi-Den Vision unit to be a winner, but unfortunately I don't think it's ready for prime time. In addition to the shortcomings noted above, many times when I pressed a button on the remote I would get "not allowed" errors displayed on the screen. I never found an explanation for the errors and sometimes the function would activate anyway.
This device has poor documentation and the learning curve is too steep. I was also concerned that the support section of their web site is under construction. With the number of similar devices available I'd suggest you look elsewhere.
Update 01/08/15
Power supply burned up about 6 months after the review.
Support The Gadgeteer
:
The Gadgeteer is supported by readers like you! If you buy something through the links on our site, we may earn a small affiliate commission. Thank you! Learn more.
Product Information
Price:
$67.98
Manufacturer:
Hi-DenVision
Pros:
Cons:

Poor documentation
Erratic operation
HD doesn't work