We use affiliate links. If you buy something through the links on this page, we may earn a commission at no cost to you. Learn more.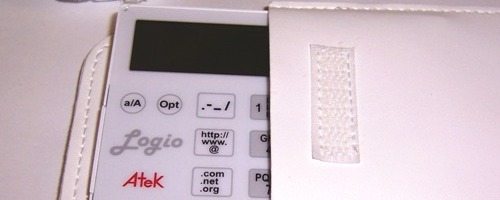 Security is important to all of us and when it comes to technology our passwords are often a critical component.  Everyone knows that our passwords are only as good as we make them.  It is crucial that a password is not easy to guess.  No names, birth dates, need to use both upper and lower case letters, numbers and special characters.

The problem is how do we remember them all  because if you have a complex password written on a post-it hid under your keyboard, what good does that do.  Personally, I have a lot of different passwords for different web applications and databases.  The only reason I still use my decade old Palm V is because it has a reliable password application called Keyring.  Maybe it is time for me to finally retire my Palm V.
Today I am reviewing the Atek Logio Secure Password Organizer.  Let's see how it stacks up as a password repository solution.
PRODUCT SPECIFICATIONS:
Data protected by sophisticated AES encryption implementation
Set up your own master passcode and change it whenever you want
Store website names and/or addresses, user IDs, and passwords
Store desktop logins, ATM and debit card pin codes, credit card numbers, frequent flyer program numbers, password and driver's license numbers, etc.
Holds over 200 records – no data loss if battery runs down
Save your three favorite user IDs for easy entry in records
Generate random passwords automatically or manually enter numbers, uppercase and lowercase letters, symbols, and punctuation marks
Quick entry of special characters for Web and email addresses
Go directly to records by pushing the number or letter at the beginning of the record you are looking for
Audible button tones for easy operation
Optional display of lost and found information
User-configurable settings for button tone volume, screen contrast, and auto-off time
Advanced navigation and editing functions for power users
Available in two colors: black and white
One year limited warranty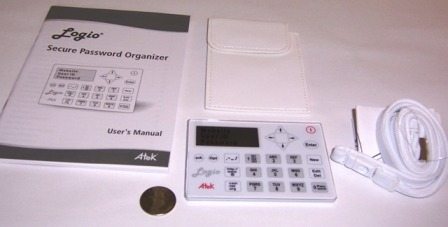 IN THE BOX:
White Logio Secure Password Organizer
White carrying pouch
White lanyard
Coin cell battery
Lanyard safety instructions and installation manual
User's Manual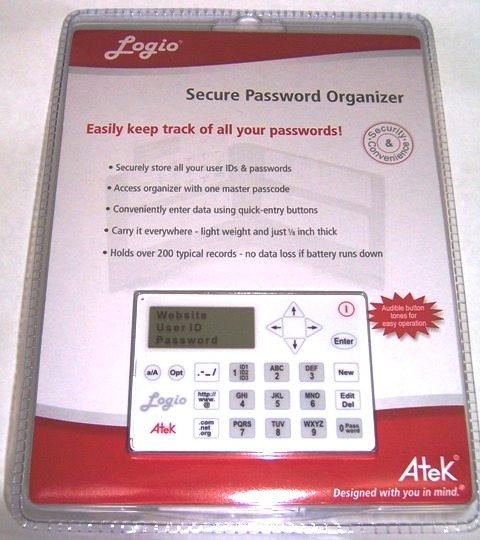 The device is nicely package in a compact, clear blister package.  The packaging is rather difficult to get through, even though it has a perforated opening in the rear.  If the device provides as much security as the blister pack, it will be a very good investment.
Never miss one of our posts again. Sent MON, WED, and FRI with the latest gadget reviews and news!
At first touch, the Logio Secure Password Organizer feels more like a cheap novelty item then a robust gadget.  Roughly the size of a credit card and constructed of flimsy, thin plastic, it is very light but fails to pass the creak and crackle test on nearly every touch.  I am not sure this unit will be able to survive much wear and tear.

The functional layout of the device is very straightforward, in that all the buttons are on the front-face of the device.  Twenty-three buttons comprise all of the user options.  The alpha-numeric keys are just like the ones on a standard phone.  The number 2 button is also "ABC", 3 is "DEF"……9 is "WXYZ".  This gives all the alpha-numeric options with ten buttons.  The negative is it can take multiple presses for some letters.  For instance, "S" and "Z" both require users to hit the button four times.  To enter the "7" or "9" requires five times.
The alpha-numeric buttons are surrounded by miscellaneous buttons.  Two of these buttons are dedicated for the routine text and symbols that you might need to track for web sites passwords, "http://, www., @" and ".com, .net, .org".  Added convenience for the user although I am not sure I would really need the "http://" as I tend to just record site information without the preface.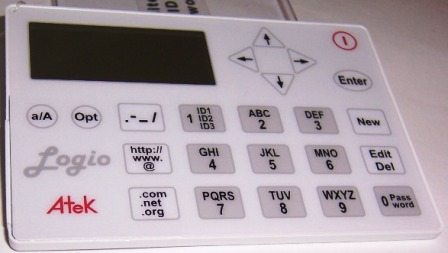 I inserted the CR2016 coin cell battery via the slide load mechanism located on the left side of the device and powered it up by pressing the power button in the upper right corner.  Immediately I stepped back into time.  Into the time of dot matrix computer screens.  The screen lacks any backlight and I found that I had to adjust the contrast to the highest setting to see the display.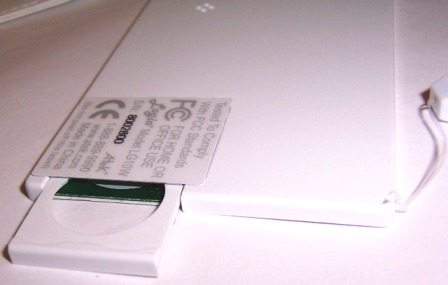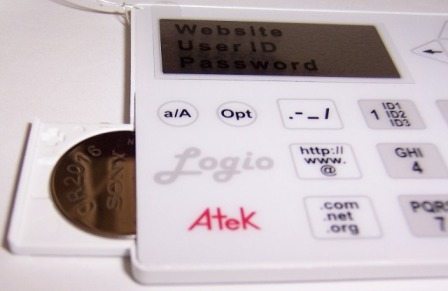 One of the first steps of the initial set-up is to establish a master password which is 8 to 15 characters in length and is only numbers, no letters.  It is critical to remember this password because there is no method to reset and recover if you lose/forget it.  I know this is for security purposes but users really need to make sure their master password is something they easily remember or the device can become worthless.
Other initial set-up steps include lost and found information (name & phone number), tone volume, auto-off time and contrast level.  The set-up also provides users with the options of storing up to three commonly used user ids.  So if you normally use "1CoolDude" as your username when creating an account, you can save that id and you will not have to type it in every time you create a new username/password account.  That is pretty cool.
I selected ten accounts and decided to load them in.  Unfortunately, that is where my disappointment started.  Manipulating the keypad to enter account information is not easy, to say the least.  I had difficulty, especially when I made a typing mistake.  Not easy to fix.  First you have to maneuver to the incorrect letter or number, once it is flashing you press the "Edit, Del" key.  Not like your expectations from a standard keyboard operation.
I should have known that the Atek Logio Secure Password Organizer was not going to be as easy to operate as I had hoped when I noticed the user manual was 55 pages in length.  YIKES!
To make it worse, the device would sporadically turn itself off.  I thought it might be a bad battery, so I bought a new one and installed it but the failure mode persisted throughout  the review.   I never could determine the failure mode that caused it shut down but it definitely made it more difficult to complete the review.
The accessories include a leather carrying pouch with soft plush lining to protect the device.  As I mentioned previously, touching this device makes you believe you need a Hummer to protect it from shattering into a million tiny pieces.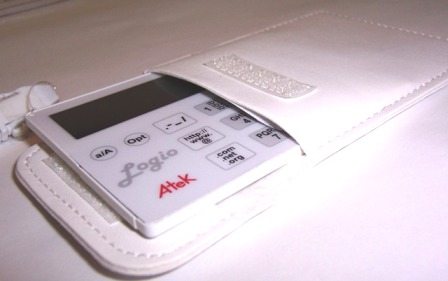 The included lanyard connects to the unit via what looks like fishing line pushed through a tiny pass-through in the upper left corner.  Now I know that some fishing line can be very strong but it just looks not expensive and not durable.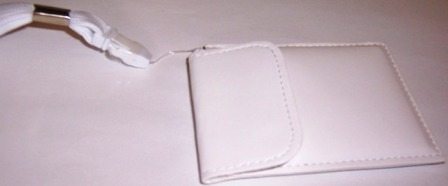 In conclusion, the premise behind the Atek Logio Secure Password Organizer is sound and I am sure that there is a huge consumer market for a reliable tool to help manage passwords.  The compact size, ability to store your 3 favorite usernames, not losing data when the battery is removed and dedicated buttons for commonly entered text are the biggest positives from the device.
Unfortunately there are some definite negatives that outweigh the positives.  The biggest is probably the impression of  inexpensive manufacturing.  In other words, it feel cheap.  There were times when I was using the keypad that I was concerned I might press too hard and shatter the unit into pieces.  That might have been a factor in why the unit I utilized for this review kept sporadically shutting down.  I might have pressed hard enough to break something internally.
I found it difficult to use (remember the user manual is 55 pages long) and the old school dot matrix display without any backlighting is horrible.  Considering it all, I would not recommend the Atek Logio Secure Password Organizer as a password management solution.  Looks like my Palm V will survive another day.
Product Information
Price:
$29.95
Manufacturer:
Atek
Pros:

Compact & thin (roughly the size of a credit card)
Does not lose data when battery dies
Dedicated buttons for standard text
Ability to store 3 commonly used usernames

Cons:

Difficult to use
Inexpensive feel; fails crack test
Sporadically shut down
Poor dot matrix display with no backlighting